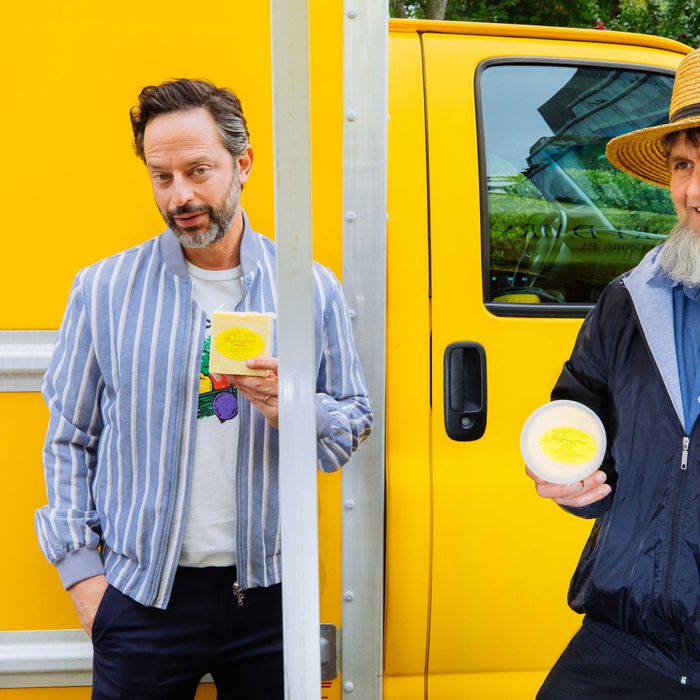 When I track Nick Kroll down at the Union Square farmers' market, his five-ten frame is hunched over a crate of baby gourds, looking very little like his animated avatar on Netflix's Big Mouth. Perhaps because he voices a puny suburban tween with a nascent Napoleon complex, I expected him to be shorter. But I'm pleasantly surprised to see the non-animated 44-year-old Kroll sporting some grizzled stubble, his furrowed eyebrows lending him a slight mad-scientist look — which is offset by an extremely Brooklyn-dad outfit of a striped bomber, colorful sneakers, and a graphic tee that says "Don't panic, it's organic." (He later confesses that his stylist came up with the T-shirt and wonders out loud if it was too on the nose for our meetup.)
Kroll is multitasking. He's in New York promoting his new Netflix stand-up special, Little Big Boy, while also answering a lot of questions about his other recent stint as a supporting actor in Don't Worry Darling. When we meet, he's about to head home to Los Angeles, and he wants to stock up on some local produce for his son to snack on during the plane ride. "He's a real cherry-tomato head," Kroll tells me, "and he has really taken to corn, which … you can tell from his diapers." He briefly considers a loaf of babka but settles on some apples, presliced salami, and a hunk of smoked salmon whose spice level he's a little concerned about. "'Hot' refers to the temperature it's smoked at," the saleswoman assures him before politely asking to take a photo.
Kroll and his wife Lily, a landscape designer and botanical installation artist, welcomed a baby in January 2021, a few months after they eloped. Kroll is acutely aware that he's slightly on the older side for a new dad — something that squares with the delayed adolescence he experienced as a kid, as portrayed in Big Mouth. His recent stand-up special, Little Big Boy, also mines that pattern. He initially wrote the material for Little Big Boy in 2019 with plans to film the special in June 2020. For obvious reasons, that didn't happen, and Kroll ended up taking a few major life steps that year instead. By the time he went back to touring, his show about being a man-child had to change: He was now a man-child with a wife and kid. The result was a personal, sometimes serious account of his life as a late bloomer with plenty of his signature oversharing.
After filming the special, Kroll spent this past summer with his new family in upstate New York, frequenting the Cold Spring farmers' market every Saturday and visiting his parents and siblings, who live nearby. From there, along with his wife and son, he headed to Italy for the Venice Film Festival and joined his arguably buzzier co-stars for the premiere of Don't Worry Darling. "I don't know if it got any coverage," he deadpans, giving me a beat to catch on and then cackling when it clicks. Venice, it turned out, was a major chapter of the ongoing tabloid frenzy around Don't Worry Darling's behind-the-scenes drama. That weekend, most of the attention was turned toward Florence Pugh's rumored feud with the movie's director, Olivia Wilde, and, in an indication of just how surreal the rumor mill got, the possibility that Harry Styles spat on Chris Pine's lap at the movie's premiere.
When I ask Kroll about the Venice drama, he takes a deep breath and starts his sentence over several times. "It's so weird to be inside of something and then watch drama unfold around it," he says finally. Kroll, who plays the husband to Wilde's character in the film, managed to stay largely removed from what he calls "the eye of the storm" at Venice but has "a tremendous amount of empathy for the people who did not have the experience I had because of everything going on around them." The most involved he got that weekend was during the premiere's standing ovation, when Styles, mimicking a scene from the first five minutes of Don't Worry Darling, planted a big kiss on Kroll's lips. Kroll says both kisses — the one in the film and the one we saw at Venice — were unplanned. It was the last scene they shot for the movie, and he says Wilde wanted it to feel like they were in the Rat Pack. "As is wont to happen …" Kroll says before settling on feigned annoyance: "People like Harry Styles are always trying to kiss me."
Ahead of the Venice premiere, Kroll posted a video taken from inside his car to the red carpet, where he and another of the film's supporting actors, Sydney Chandler, jokingly informed the throng of fans peering into their vehicle that they were "not Harry, not Olivia, not Florence." He spent the rest of the trip as peacefully as you might expect: He went sightseeing with his family and took his son to Doge's Palace, watching him "experience the enormity of Renaissance art."
While Kroll may have felt under the radar in Venice, a lap around the Union Square farmers' market is anything but nondescript. He can't go a few steps without an enthusiastic fan nervously requesting a photo or telling him they just watched his special. He runs into two people he actually knows, one of whom, he tells me, did "the sourcing for Gjelina in L.A." Surprisingly, there is no typical Kroll fan — a 30-something woman in running gear stops to tell him she loved his 2019 Santa Barbara set, and later, a gaggle of middle-aged women on a scavenger hunt ask him to take a picture with them. Eventually, we sit down at a metal table inside the park, Kroll facing the playground in the hopes of scoping out a good afternoon activity for his son. A Gen-Z-looking girl with pink hair and a belly chain comes up, apologizing and introducing herself as Isabella, and earnestly says, "I'm a really big fan of your work." I offer to take the photo, but Kroll says he's got it. "Selfie king," Isabella gushes.
I'm weirdly elated to see that Kroll has actual teenage fans, maybe because I sometimes wish his show, Big Mouth, was around when I was a teen. Since it premiered in 2018, Big Mouth has evolved from an absurdist show about Kroll and his co-creator Andrew Goldberg's pubescent selves to a bizarrely moving animated comedy that uplifts its flawed, confused, and deeply gross kids — all without veering into preachy PSA territory. "We quickly realized this was a show about much more than two straight Jewish white boys from Westchester," Kroll says of the show's conception. "By now, the characters and the stories have taken on a life of their own." Before sitting down to write each season, Big Mouth's writers go out to psychologists, sex educators, adolescence experts, and, of course, actual kids, who've helped them build a much more inclusive cast of characters and work in nuanced story lines about race, sexuality, and gender. While they've fumbled in execution a few times, they've also made a point of listening to critics and not letting backlash stop them from taking another stab.
In the show's sixth season, which premieres on Netflix on October 28, the writers of the show respond to the many requests they've received to write an asexual character into the script. "You don't want to force these story lines," Kroll says, and the writers took some time figuring out how to organically introduce an ace teenager into the show's plot. "You don't want to limit a character to, like, This kid, his whole thing is that he's ace." Meanwhile, another episode called "Vagina Shame" focuses on three different female characters in the throes of various body-related crises — including a tween with a yeast infection and her pregnant stepmother, who's reeling after being told she'll have to get a C-section. Like a lot of the Big Mouth story lines, it's funny — but not at the expense of the characters — and surprisingly touching.
While he doesn't see his life as Big Mouth's primary source material anymore, Kroll was building his family while writing this season, which also mainly focuses on family themes. Having a wife and kid, he says, "has opened me up emotionally, and I think artistically. I have access to different emotions I had only experienced as a bystander, watching my siblings or friends have kids." He's not sure how much of his new life will make it into his work — privacy, he says, is top of mind. Sure, he's willing to publicize the most graphically personal details of his own life, but he's not looking to overshare when it comes to people who don't have control of the narrative. He puts it more simply: "I'll tell you all day about shitting my pants, but you're never gonna see a picture of my child."
When we part ways, Kroll is waiting on a text from his wife about whether he should buy horseradish. "I'm kind of obsessed with it," he says, but he's concerned about the transportation. "Nothing like breaking a bottle of horseradish on the plane." It's a little hard to believe this is the same guy who opened his comedy special with a story about being pantsed at a party while talking to his crush — but maybe balance is something that comes with age. "Starting a family later means I'm walking into it with my eyes wide open," Kroll says after making an executive decision to skip the horseradish stand. "There are advantages to being a late bloomer."