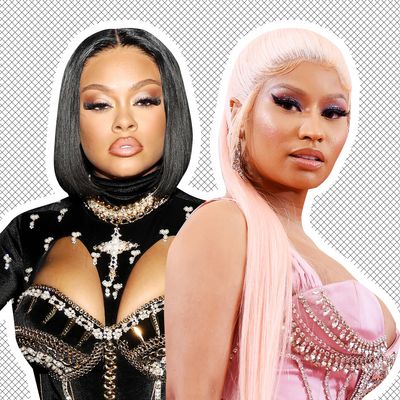 Photo-Illustration: by The Cut; Photos: Getty Images
Once it was revealed that iconic rapper and agitator supreme Nicki Minaj's first No. 1 solo hit, "Super Freaky Girl," had been classified as a pop hit by the Recording Academy for potential Grammy nominations despite being submitted to the rap categories and topping the rap charts, she expressed her displeasure on Twitter and Instagram. "They stay moving the goalposts when it comes to me," Minaj is reported to have said about the Academy on Instagram Live. "Why is the goalpost only ever moved when it's Nicki?"
Left on its own, the comment would be innocuous enough — another rapper venting their fairly myopic frustrations over the more bureaucratic components of the music industry that are out of their control. But it comes on the heels of weeks of unceasing back-and-forth between women in rap online, something jokingly referred to as the "rap girls' civil war." Ever since Minaj dropped her remix "Super Freaky Girl (Queen Mix)," featuring five new guest verses from JT, Katie Got Bandz, Akbar V, Maliibu Miitch, and BIA, endless subliminal jabs have been thrown online and on Minaj's Queen Radio podcast (now hosted on Amazon's Amp platform) with the participation of a bevy of new players beyond the standard trio of Minaj, Cardi B, and Megan Thee Stallion.
Stan bases actively monitor each tweet and fan the flames, reporting back to their favorite artists on who liked which shady remark to kick-start drama for public view. To date, we have seen Cardi go up against Akbar V, Cardi feud online with City Girls' JT, Cardi and Maliibu attempt to meet each other outside, Cardi and Minaj make extended comments about each other, and Minaj make comments that fans have said are about Megan Thee Stallion and the Atlanta-based rapper Latto.
Given Minaj's history of contentious social-media posts, this tweet of hers immediately has different implications: "If SFG has 2B moved out RAP then so does Big Energy! ANY1 who says diff is simply a Nicki hater or a troll." ("Big Energy" is Latto's hit single.) Regardless of the statement's accuracy, it served as bait for yet another internet skirmish with the Barbz — and Latto fell for it hook, line, and sinker.
Grammy submission and nomination time is always fraught for performers and their fan bases, and as much as people would love to divest themselves from the chaos of an awards system that has consistently missed the mark over the years (in 2021, the Grammys infamously shut the Weeknd's After Hours out of all nominations despite its monumental success), it's difficult to expect artists to just walk away from the prestige of acknowledgment by their industry peers. The process was once a feigned meritocracy; now, it's a game-theory mechanism: Artists and their labels employ tactical approaches to ensure the best possible chance of their being screened for a variety of genres and categories (a process conducted by 350 experts in various fields) and making the first-round ballot for review by all voting members of the Recording Academy. While separate from the nomination-review committees, which were done away with in 2021 and had historically been called out for their lack of diversity in representation, the process still creates a window in which a governing body defines and articulates a genre classification without much space for recourse.
Minaj's main point of contention with the Grammys has merit, and she's far from the first artist to express this frustration. In 2015, her song "Anaconda" — the closest analogue in style and format to "Super Freaky Girl" — was nominated for Best Rap Song. What has changed since then? Why wouldn't "Super Freaky Girl" fit the bill?
Such complaints go back years: From 2011 to 2012, the number of Grammy categories for R&B went from eight to four, constricting the means through which artists could be lauded. A later category, Urban Contemporary Album, added more confusion to the ways R&B is perceived in the industry compared with how it is experienced by Black artists and their audiences. In November 2016, Frank Ocean decided not to submit his critically acclaimed second studio album, Blonde, for Grammy consideration. "That institution certainly has nostalgic importance," Ocean said in an interview with the critic Jon Caramanica. "It just doesn't seem to be representing very well for people who come from where I come from and hold down what I hold down." And in 2020, Tyler, the Creator expressed irritation over his Grammy win for Best Rap Album for Igor, stating, "On one side, I'm very grateful that what I made could just be acknowledged in a world like this. But also it sucks that whenever we, and I mean guys that look like me, do anything that's genre-bending, they always put it in a 'rap' or 'urban' category."
Awarding bodies constantly struggle with categorizing the multitalented, multidisciplinary star Doja Cat, whose work moves between rap, pop, and R&B categories. When you expand globally, the picture becomes even more questionable: Beyoncé's Lion King: The Gift album, heavily featuring African artists, was nominated for Best Pop Album, while Burna Boy's Afro-fusion African Giant, which featured American artists, was relegated to the incomprehensible potpourri of the World Music genre. Within the Recording Academy and the industry as a whole, there is a lack of capacity to truly understand the direction and evolution of Black music and its nuances, which innovate quicker than new classes of Academy members are inducted. Megastars the Weeknd and Drake recently announced their intent to boycott the Grammys for the second year in a row, and the Carter-Knowles family did not attend the Grammys in 2020 or 2019.
Given the fact that Minaj's perception isn't off base, it's even more unfortunate that the legitimacy of her stance will end up being overshadowed by yet another confrontation between herself and a younger artist. Atlanta rapper Latto has been caught in the seemingly unceasing internet fracas, calling Minaj a "40-year-old bully" who has "ignored countless subtweets since March" and making it clear that she will no longer publicly support Minaj after attempting to privately address the matter of having been included in the conversation against her will after the artists endured a private falling-out. Minaj addressed Latto directly, calling her a "Karen" who refused to speak up for a Black woman and suggesting she is an opportunist who used her name until she declined her multiple feature requests: "says she waited in line for Pink Friday w/her Barbie Chain on, bangs, pink hair … but today, scratch off decides to be silent."
The argument quickly escalated with both artists referring to their professional or personal associations with convicted or accused rapists (Latto has a feature with Kodak Black, and her track "Big Energy" was produced by Dr. Luke). Minaj and Latto accused each other of using writers in a genre that clings to the myth of performers being their own wordsmiths, while Latto shared a partial recording of a contentious phone call in which she alleged Minaj had told her she was delusional to say that newer women in rap are "flourishing."
Minaj has made it quite clear that she is not obligated to be anybody's mentor or role model, emphasizing that she had to earn her stripes on her own and demanding that others do the same. That's fair for her to say, but it is frustrating to see the rapper weaponize what is clearly a systemic issue in the industry to suggest to her fans that she is being uniquely targeted. She has an opportunity to illustrate that the Recording Academy has greater work to do if it wants to understand the diverse sounds of Black musical artists. But instead of having a thoughtful dialogue about the industry's economies and its consistent failure to support Black and other non-white artists and their contributions to the musical canon — a can of worms that was popped open by Recording Academy president and CEO Deborah Dugan with her EEOC complaint and attempts at diversity efforts — we have to watch talented musicians litigate songwriting credits, weaponize allegations of sexual assault for retweets, share DMs of feature requests, and argue via subliminal tweets and allegations that largely rile up the fan bases. None of that addresses the larger systemic questions.
Forcing the Academy to address its inconsistency could have far more of an impact on Minaj's legacy than winning an internet argument with a rapper 18 years her junior who, by her own admission, doesn't compare in stature, hits, or record sales. Instead, against her better sensibilities, the artist who dominated the rap charts for a decade and became a formative voice for millions now seems to be facing the opposite of a quote she gave in 2010: "You know what scares people? Success," Minaj told radio host Angie Martinez in a live interview with Hot 97. Referring to a feud she'd had with the trendsetting icon Lil' Kim, Minaj said, "When you don't make moves and you don't climb up the ladder, everybody loves you because you're not competition. I feel like you are going to go down in history now as a sore loser as opposed to going down in history as the queen." It is tragically poetic to see the same words start to apply to her.