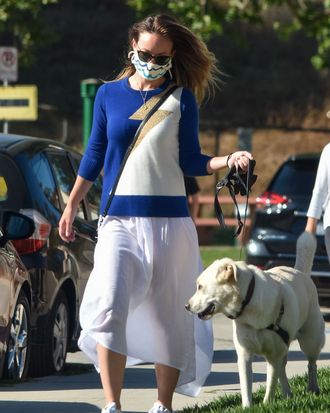 Photo: BG015/Bauer-Griffin/GC Images
As alleged ex-employees of Olivia Wilde and Jason Sudeikis continue to speak to the press, one organization is standing up for the former couple. After their former nanny claimed that Wilde had rehomed the family dog, Gordon, to spend more time with Harry Styles at the beginning of their relationship, Los Angeles' MaeDay Rescue pushed back on the allegations, calling Wilde "a responsible pet owner," and giving an update on the pup.
The "Wilde gave up her dog for Styles" narrative was sparked last week, after the unidentified nanny's interview with The Daily Mail was published, kicking off another round of rumors and worldwide speculation about Wilde's mysterious salad dressing recipe. In addition to her claims about the sanctity of this salad dressing, the nanny also accused the Don't Worry Darling director of giving away her dog, Gordon, weeks after meeting Styles and starting production on her film. "She came for a visit and said, 'We have to find Gordon a new home,' nonchalantly," the nanny told The Daily Mail. "Jason doesn't really care for animals and wanted him out of their home ASAP." She went on to claim that she was the one who arranged for Gordon to be rehomed with his New York City dog walker (not to be confused with the L.A. dog walker, who supposedly wrote an anonymous Gawker post about their experience).
Sudeikis and Wilde — who share Otis, 8, and Daisy, 6 — released a statement, calling the nanny's claims "false and scurrilous." They continued, "Her now 18 month long campaign of harassing us, as well as loved ones, friends, and colleagues, has reached its unfortunate apex. We will continue to focus on raising and protecting our children with the hope that she will now choose to leave our family alone."
Now, MaeDay Rescue is backing them up, revealing their side of the Gordon saga. Posting a few photos of the pup on Instagram, the official MaeDay account explained that Gordon was rescued in 2018 as a newborn puppy, and adopted by Wilde at 2 months old. (Wilde first confirmed the adoption in an Instagram post shared in December of 2018.) "After giving him much love and training and travel adventures, she realized that Gordy didn't love the travel life and wasn't happy around toddlers," the caption read. "Gordy had formed a very strong bond with his dog walker and in Gordy's best interest and after much consideration, he was rehomed to his Brooklyn dog walker."
The organization also wrote that Wilde called MaeDay Rescue to discuss the possibility of rehoming the lab mix before making a final decision, explaining that Wilde "rehomed Gordy out of compassion and love for him," and that the dog was now "living his best life."
It's unclear when, exactly, Gordon moved from Los Angeles to Bushwick. The first photo shared to Gordy's Instagram account, @gord_sounds, was posted in May of 2021. After the dog became tabloid news, the account shared a photo of Gordon seemingly basking in the New York City sun with the caption "#GordonLives." And, in the account's most recent post, he was seen frolicking in a lion mane dog costume with friends for Halloween. Seems like he's living his best, child-free life.