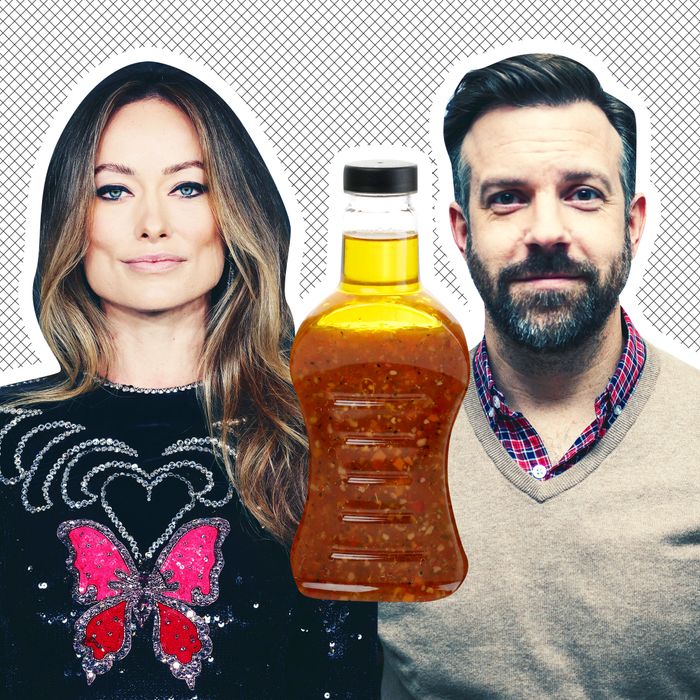 Photo-Illustration: by The Cut; Photos: Getty Images
For months now, tabloids have been updating us on what appears to have been a very messy breakup between Jason Sudeikis and Olivia Wilde. Their separation played a prominent role in the behind-the-scenes drama of Wilde's movie, Don't Worry Darling, mostly because Wilde met her new boyfriend, Harry Styles, while directing him in that very film. Their custody battle over their two children also bled into the movie's promotion when Wilde was served court documents onstage during CinemaCon. But the movie's release has not marked the end: This week, more painful details of their breakup emerged, courtesy of the couple's former nanny.
On Monday, the Daily Mail published a long-winded saga from an unnamed woman who says she took care of Wilde and Sudeikis's children for three years. She claims that, toward the end of 2020, Wilde left the family to be with Styles, leading Sudeikis to spiral into rageful drinking binges. After getting caught in the cross fire, the nanny claims she was suddenly fired by a drunk Sudeikis in early 2021 without severance or a recommendation letter. The situation sounds very sad and tense for all parties involved, and there are many questions left unanswered. Most pressingly: What is the deal with Olivia Wilde's special salad dressing?
Much like Styles, the dressing played a major if not critically acclaimed role in the drama. It was frankly impossible to ignore its presence in the Daily Mail's telling of what went down. Sudeikis allegedly told the nanny, "She made this salad and she made her special dressing and she's leaving with her salad to have dinner with" Harry. When the nanny, who had been taking care of the family for years but was somehow unaware of such an important condiment, asked him to explain, he allegedly said, "She has a special salad dressing she makes for us and she's taken it to have it with him now." There is also one gutting text that appears in screenshots the nanny shared, purported to be sent from Sudeikis after Wilde left their children in bed to go see Styles:
Took her salad, and dressing and left them.
Questions abound. What, pray tell, is in this dressing? How long does it take to make? Is it more of a vinaigrette or a creamy ranch vibe? The nanny, unfortunately, did not have the answers (or did not share them with the Daily Mail). While recounting her conversation with Sudeikis about the dressing, she simply said, "I don't know what was in it."
Wilde and Sudeikis denied the woman's claims in a joint statement to Jezebel, calling them "false and scurrilous" and claiming she's been harassing them for 18 months. They did not provide any further details about the dressing until October 18, when Wilde posted a very pointed Instagram story showing page 177 of Nora Ephron's novel, Heartburn, which is famously about divorce. On the page, Ephron's narrator provides the recipe for a salad dressing she taught her soon-to-be-ex husband to make the night before she left him. The recipe — red-wine vinegar, mustard, and olive oil — is rather disappointing, but it is consistent with the astoundingly basic vinaigrette Wilde shared with the Food Network in 2020.
Whatever is in the dressing, I wish it the best and hope it's somewhere far from all this. Perhaps basking in a sea of oil and vinegar off the coast of Italy?