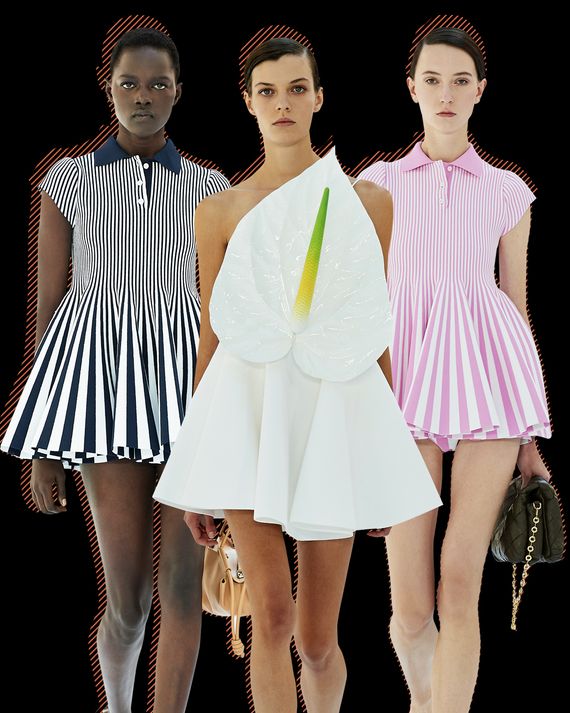 Photo-Illustration: by the Cut; Photos: Courtesy of Loewe
A year ago, Jonathan Anderson and his team at Loewe decided to go in a new direction, risking the success of a brand that has seen a fivefold increase in revenue since Anderson was appointed creative director in 2013. They scrapped the flowing dresses and eccentric details for which Loewe had become known, and in two consecutive collections tied broadly to Surrealism, moved forward. It was a clean and remarkable break from their past. Most astonishing of all, they dealt with the female body, its shape, as they never had before. They exposed it.
On Friday, in a pristine white box within the vast historic riding arena of the Republican Horse Guards, Anderson gave his answer to the question: Can he follow up those two brilliant shows? He could, and then some. This time the central notion was distortion — distortion of the body, distortion of reality. It's not a new concept in fashion. Elites in the 16th, 17th, and 18th centuries were doing weird things with devices like ruffs, farthingales, and panniers. The first model of the spring 2023 show was the actress Taylor Russell in a strapless black velvet dress, its skirt extending away from her hips by means of a hidden (and minimal) form. The style was an extreme reduction of early French court dress.
Yet, in the digital era, distortion means something altogether different. We are so used to seeing images manipulated and blurred to funhouse-mirror proportions that we barely think about it. But how do you realize that dimension in an object like a garment or a shoe? And I don't mean simply taking the image of, say, a Goya painting and manipulating it with a computer program and then printing it on fabric. I mean, rather, something that successfully reproduces in a form the distortions on a screen, that leaves no doubt in the viewer that that was the intention.
This collection did that in several ways. The most obvious was a pale-blue jacquard knit hoodie with a broken check pattern that seemed to mimic the squares of a computer game. Its khaki trousers did the same thing. The outfit looked blurry as the model crossed the white floor of the set, but the image of the outfit looks even more blurry. Don't ask me how that happens. But the hoodie, like other jacquard knits, was plainly wearable. It was both practical and photogenic in its blurred way.
More subtly distorting were polo mini dresses in that same knit (a compact viscose with a bit of cotton). You might not notice it at first but the shoulders and collar are quite tiny, like a detail in an image that has been stretched, while the models' shoes have their own confusing dimension. Some resemble the molded and seamless plastic pumps that Barbies used to wear, except now enlarged.
Anderson also included some trouser looks with either a cardigan or a fleece-trimmed aviator jacket worn over a stiff, padded layer that jutted away from the body and just grazed the chin. The object made you think of a baby carrier strapped to a parent or the armor-like shapes that result from bulky layers. These looks weren't so successful, and it doesn't matter. They are an exploration of proportion and silhouette — among the main ingredients of fashion — and they follow in the tradition of Rei Kawakubo's 1997 "lumps and bumps" collection, in which she created silhouettes and shapes based on the things that have become human appendages, such as cell phones and backpacks.
Despite some of the technical effects — the pannier dresses, bustiers in the form of a big anthurium bloom — the collection was quite austere, and that added to its power. Anderson offered a pair of mini dresses, one in dark tangerine and the other in lime, that were cut from glove leather and simply suspended, with an anthurium stuck on one breast. The palette itself was new and distinctive for Loewe, with perhaps a nod to the artwork of John Chamberlain.
For writers and painters alike, it's the work and the process of doing it that reveals their ideas, better sentences. That's probably what I admired most about Anderson's latest work. It revealed the radical, evolutionary progress of a creative director who is questioning not just clothing but its relation to other objects and ideas in the world.
More of Cathy Horyn's Paris Fashion Week Reviews
See All