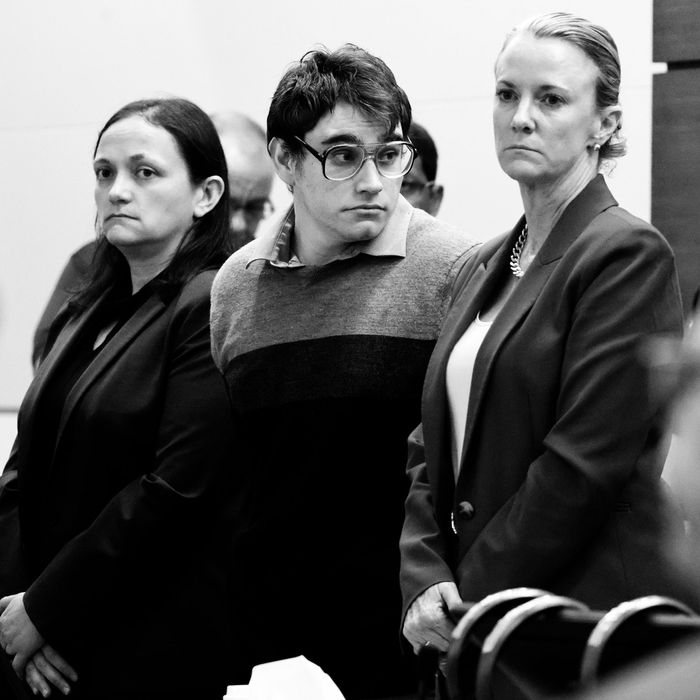 Nikolas Cruz, the Parkland gunman, in court.
Photo: Amy Beth Bennett-Pool/Getty Images
Nikolas Cruz will spend the rest of his life in prison, a jury sparing the shooter who murdered 17 people in Parkland, Florida, the death penalty. Last year, Cruz pleaded guilty to the 2018 massacre at Marjory Stoneman Douglas High School; next month, he will receive his formal sentence. But after the jury delivered its verdict on Thursday, family members of victims who had gathered in the courtroom expressed outrage over the outcome.
"What it says to me, what it says to my family, what it says to the other families, is that his life meant more than the 17 that were murdered," Debra Hixon — whose husband, athletic director Christopher Hixon, Cruz killed — told the New York Times. "He should give thanks to God that someone had grace and mercy on him that he did not show other people."
About half the states in the U.S. permit capital punishment, but Florida requires unanimous agreement by a jury, on at least one charge, in order to execute someone. In this case, three jurors voted against it, apparently after one said she would not be able to support execution because she believed Cruz to be mentally ill. "There was one with a hard no — she couldn't do it — and there was another two that ended up voting the same way," foreman Benjamin Thomas told CBS Miami. In their defense, attorneys for Cruz, 24, reportedly homed in on childhood trauma: They argued that his birth mother's heavy drinking and possible drug use during pregnancy left him with brain damage, and said he watched his adoptive father die in front of him at age 5. They also said that when he was 9, his 12-year-old neighbor raped him. Those "mitigating circumstances," they said, should override the "aggravating factors" — such as the crime's particularly heinous nature, its distinct atrocity, its premeditation — of the case.
Prosecutors, meanwhile, said Cruz has antisocial personality disorder, but that his behavior was consistently deliberate. He chose the day of the shooting, February 14, to prevent Marjory Stoneman students from celebrating Valentine's Day ever again. They pointed to his posts online, which clearly stated his intention ahead of time: "No mercy, no questions, double tap. I am going to kill … a ton of people and children," he wrote. They showed the jury photos of the high school's interior, its walls still spattered with blood. Their witnesses gave raw, emotional testimony, describing the aftermath of loss. Fred Guttenberg, a parent of one of the students Cruz killed, said the massacre "broke" him. His gun-control activism and his inability to keep a job, he said, "has made life harder for my wife and harder for my son, and for that, I am sorry." Guttenberg recalled telling his son, who was supposed to take his sister Jaime home from school, to get out once he heard about the shooting. "He struggles with the reality that he could not save his sister, and he wishes it was him," Guttenberg said of his son. "He's angry at me convincing him to run."
After the verdict was read out, many of those families reacted in anger. "The monster that killed them gets to live another day," one father told the Times. Though the jury recommended life in prison without the possibility of parole, the judge set Cruz's formal sentencing for November 1.