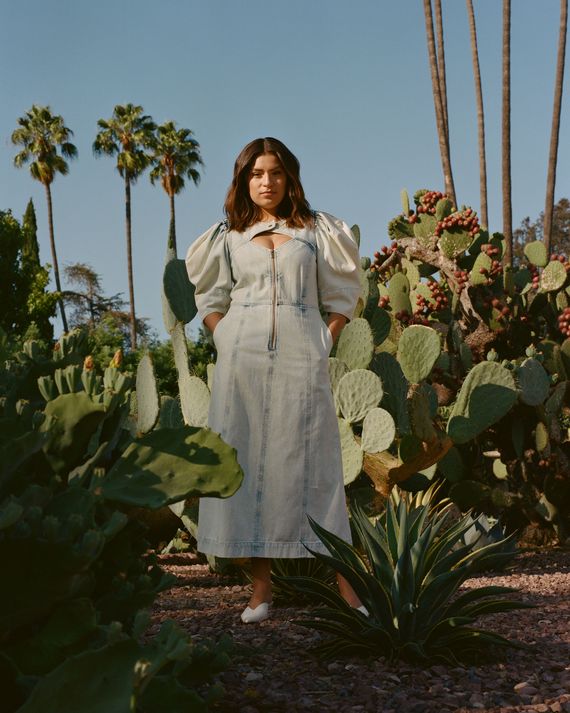 "What's up, shitass?" blared through my computer's speakers. A popular refrain uttered by Willie Jack, the character Paulina Alexis plays on Reservation Dogs, it never ceases to startle me when I hear it spoken aloud on such a mainstream channel. Not long ago, there was no way to watch a full-bore Native project like FX's wildly popular series. Before the creation of Reservation Dogs in 2021, Natives would have to go to YouTube and watch skits and clips of the 1491s, a five-person Native comedy troupe who are now the nuts and bolts of the show.
This summer, I watched as kids and adults of all ages dress up as Willie Jack at the annual Santa Fe Indian Market in New Mexico, which has since become a de facto Willie Jack cosplay convention. The character has rapidly become an icon with her trademark look: a backward cap or a black cowboy hat with two braids and a bolo tie and those Native-specific facial expressions that either convey "come here" or "fuck off."
The character was initially written for a boy, according to Sterlin Harjo, a member of the 1491s and Reservation Dogs's showrunner and co-creator (Taika Waititi created the series with him). But after meeting Alexis, he knew he found that proverbial someone with that special something. "She has to be in the show somehow," he remembers saying when he saw her audition.
"She's one of those actors you honestly model the character after," Harjo told me over the phone. "She's constantly improvising. It's just brilliant to watch."
When I spoke to Alexis, she was sitting in a hotel room in Beverly Hills, California, with her mom, Yvette, and her aunt Veronica ("Vern"), getting ready to zip over to a photo shoot. They travel as a posse to ward off any would-be predators who hide behind smiles, glad hands, and lascivious intentions.
But the room was full of good spirits when I spoke to the trio over Zoom. Yvette, gushing over her daughter, told me about the time she and her cousin tried to cook bacon at a park across the street from their house in Edmonton, Alberta, Canada. "She was only little," Yvette said, laughing. "She gathered some wood and took one of my pans; they were trying to make an outside breakfast."
Back on the Alexis Nakota Sioux Nation reserve, a one-grocery-store town in Canada where the actress grew up, she would watch friends and family cook outside all the time, so she didn't think anything of it to start a fire in a public park. "We didn't even know how to use the lighter," Alexis remembered, chuckling. Her mom only learned about the whole ordeal after she was called into the office by school administrators who gruffed that Alexis "was trying to start a fire!"
"This white girl told on me," she said. "That's how I got caught."
Growing up, Alexis was rambunctious. Her mom told me that her family "always had to keep an eye on her" no matter where they were, a trait that lends itself well to a burgeoning performer but not so well to a calm day of shopping with your family. "Even when we were in Walmart, they'd call us over the loudspeaker telling us where she was in the store," Yvette said.
A few years after her failed bacon barbecue, Alexis cooked up another scheme: conning her school. "I told them it was my birthday when it wasn't even my birthday," she said. "When my mom came to pick me up, I had balloons in my little cubby. They had a party and a cake. I was wearing a party hat."
Early on, it was clear that Alexis knew she could do and be a lot of things — a celebrity chef who cooks the best bacon in public parks, a cute con artist — she's even thrown elbows in the roller-derby rink. But she wasn't exactly planning to be an actor. "We didn't have role models back then," she said. "You didn't see Native people on the screen, and if you did, it wasn't always in a truthful way."
But that didn't stop her. She started to make up skits to act out with her cousins. One day, she'd be a Ninja Turtle, the next, Spider-Man, then a character from Lord of the Rings. A few years later, she and her family moved to the city where she experienced her introduction to racism, at least aimed directly at her.
While attending school in Edmonton, she was suspended more than a few times for standing up for herself. "I was too rez," Alexis said. ("Rez" is short for "reserve" or "reservation.") "I never lost my accent. Kids would ask, 'Why do you talk like that?'" And if boys would harass and threaten Alexis, she'd quickly remind them that she punches back. If they started it, she would finish it. "She thought it was normal to fight with boys," Yvette said. "They'd pick on me. But … I would warn them," the actress added.
Today, Alexis is still not the kind to suffer fools. She's a hockey player, so she knows how to check. She's a relay rider, so she knows how to ride. In fact, she taught herself how to ride a horse. A few of her friends had several of them roaming on their property, so she eased herself into it, bucking be damned.
As a rez kid, she was also a jingle-dress dancer. Indeed, Alexis comes from a large family of singers and dancers who hit the powwow trail. Now 22, she wants to grass dance, which is a category typically reserved for male dancers. Yet that's not going to stop her: If she wants to do something, she's going to do it.
Her journey to acting follows a similar path. One day, she decided she wanted to be an actor and just went for it. Now here she is, making her way through Hollywood by appearing in the Ghostbusters reboot universe and starring in Reservation Dogs. "She really inspired some of the writing," Harjo said of Alexis and her character, Willie Jack. "The light she brings to the show is the light she brings to everyone on set."
It's the same light that reverberates throughout Indian country, even into white-people circles. Rumor has it, at least on social media, that Willie Jack will be one of the more popular costumes this Halloween. And that's a hell of a lot better than the rancid faux-feather headdresses and "Pocahottie" costumes that still trundle through the door at frat parties all over the U.S. Alexis told me she despises those rotten forms of dehumanization and hopes that Reservation Dogs will help stomp all those stupid stereotypes into the ground at long last. "We're a beautiful people," she said in reflection.
After our conversation, I turned to more episodes of Reservation Dogs. Alexis was on the screen again, Willie Jack's voice, tone, and cadence in my ears. I was reminded that a colleague recently asked, "Is there really a Native American accent? And what does it sound like?" while we shared post-deadline drinks. I had told them to listen to Willie Jack for an example of the many different Native accents that exist.
Indeed, we should all keep a weather eye on Paulina Alexis. A few things are going to happen now that she's charmed audiences across the country and won an Independent Spirit Award and a Peabody for her work on Reservation Dogs. She'll continue to grace the screen with her talents in Reservation Dogs's recently announced third season as well as check men hard into the wall if they dare get out of line. And Indigenous storytellers will continue to tell our stories with our pens, voices, and cameras. So get ready for it, and bone up on your Indigenous slang. You're going to need it.