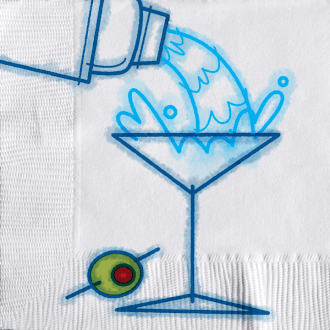 On Thursday night, a coalition of revered musicians, fashion VIPs, and clout chasers gathered to celebrate the launch of Pharrell Williams's new auction platform at a swanky party in Soho. The musician and fashion mogul will be selling 52 pieces of diamond-encrusted paraphernalia from his very stylish life via Joopiter later this month (did you really expect him to make a Depop?), and last night, guests were offered a preview of some of the knickknacks.
In a room lined with thick purple curtains and carpet, pedestals featured glittering chunks of jewelry and crystal-studded watches. Elsewhere, stools were draped with designer jackets or showed off sneakers and other miscellaneous accessories, all of which had been, I guess, biding their time in Pharrell's storage locker over the past few decades.
In spite of all this opulence, I was surprised to see that the buzziest item on offer — prominently displayed on the cover of the auction catalogue handed to me at the entrance — was a golden BlackBerry, though I preferred an old handheld PlayStation (also gold) that was on offer nearby.
Most of the items bore imagery from Pharrell's many creative endeavors, like glittery pendant chains with visuals from his band N.E.R.D., and a Goyard trunk with the icons for Bape and Billionaire Boys Club. There were several Pharrell-ified Adidas pieces, including three pairs of chunky Swarovski-coated Stan Smiths. My personal favorites were a set of grills with multicolored gems and a pair of diamond-coated Oakleys that looked like glammed-up protective goggles. (To my utter disappointment, Pharrell's enormous hat was nowhere to be found.)
When I arrived, Pharrell himself was standing near the entrance wearing his tiny Tiffany diamond sunglasses and a boxy, pale-pink button-up with matching pants. He was looking, as usual, like his dermatologist is a sorceress of eternal youth. He told me he was feeling "grateful" and explained the evening's purple theme ("It's regal") before informing me that he's engaged to Tiffany (the brand). "This is our first baby," he said, tapping his sunglasses. His actual wife and son were nearby, both looking upsettingly stylish.
Pusha T, who squeezed this in between shows in Austin and Atlanta, quietly surveyed the scene from one purple-curtained wall. "It's kind of bittersweet," he told me, reminiscing about buying silver and colorful gemstones with Pharrell 30 years ago. "To this day, I'm still doing replica jewelry of things that he's done. I don't know if I want to see it go!"
I do not know nearly enough about fashion, music, or BlackBerrys to assess the value of these items, though given their shininess and the general excitement surrounding them, I'd say it's high. Everything else I've rated on a scale of 1 to 10 crystals.
Clothes
The second I walked in, I became distinctly aware of just how unfashionably I was dressed. Somehow, on this very rainy night, everyone had brought out their buttery leather trench coats and niche designer sneakers. Actually, I couldn't see a lot of people's shoes given the wide assortment of oversize leather pants circling the room, but in the absence of Pharrell's giant hat, plenty of the guests came with compelling headwear: I saw a pale-blue fuzzy beret, a rainbow bucket hat, a fez-like item, and, of course, a Supreme beanie. There were many, many baseball caps, all bearing a sports team, a modern-art museum, or a mysterious, design-y logo. 9 crystals, minus one for the Supreme beanie.
Celebrity Esteem
Tyler, the Creator arrived around 9 p.m. and made a beeline for Slick Rick and Pharrell. For the next half hour, the three of them were trapped in the center of a horde of iPhone-toting fans but seemed to be enjoying themselves.
At one point, LaKeith Stanfield power-walked by me in a cropped furry black jacket and a beanie with a sword pin on the side. I caught Vic Mensa studying a red letterman jacket, which he told me was making him feel "inspired." Elsewhere, singer Snoh Aalegra lingered near a glass cube housing one of Pharrell's many Audemars Piguet watches, a puffy floral coat draped dramatically over her upper arms. Someone informed me that a nice-smelling man in a bright-blue suit was BMX star Nigel Sylvester, and later, I spied Moises Arias peering at a tiny diamond replica of Super Mario. Also present: Ashley Graham in an oversize collegiate sweater, KAWS dressed in all black, Venus X, and Sage Elsesser.
Around 9:40 p.m., Jaden Smith arrived in a cloud of cigarette smoke and swathed in what I can only describe as a crinkly bronze trench robe. He and Pharrell, both looking like they just stepped off a couture spaceship, glided to the middle of the room to pose for photos. 10 crystals, even though KAWS did not want to chat.
Music
A lot of nts-nts noise and loud enough that you had to lean close enough to smell someone's breath to hear them. Luckily, a lot of people had minty gum on hand. 2 crystals.
Food and drink
Servers circled the room with matte-black trays holding sushi and Champagne glasses. Pellegrino bottles and water were also on offer at a little table toward the back of the space. 4 crystals.
Conversation
Everybody, normie and celeb alike, was waxing poetic about Pharrell's influence and seemed pretty emotional about the significance of the artifacts on display. No one I spoke with said they were planning to bid on the auction, but one woman said, "Everything looks beautiful and sparkly and I want it all." One man who works at Columbia Records recalled drawing on his Timberlands as a kid to mimic Pharrell's custom pair. "It's so dope to see him say, 'Yo, it's for sale. Come buy it,'" he gushed. "If you were to loan me $100,000 …" 8 crystals.