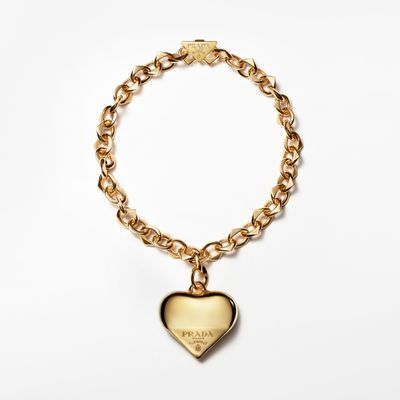 When we talk about Prada runway collections, it's easy to identify the "Prada-ness," the DNA of the brand, if you know where to look. Since Miuccia Prada joined her family's business in the mid-'70s, she's developed timeless signatures, from materials like black nylon to jolie laide prints and styling maneuvers. Of course, Prada-ness is always evolving. In 2020, Raf Simons joined the fold. And this week, the brand launched a new fine-jewelry collection called Eternal Gold. This is a first, and it raises a question: How do you bring Prada-ness to jewelry — specifically, gold jewelry?
In typical Prada fashion, when Timothy Iwata, the brand's jewelry director, first sat down with the team last summer, they started by asking even bigger questions: What even is jewelry? Why do people wear it? What are the archetypes? What are the clichés? "We felt like we could use our voice to make them relevant in today's world," said Iwata, who joined Prada last year from Cartier, during a press preview in Milan this week. In the same way that the brand will revisit classics like a tank top or miniskirt, for example, Iwata and his team sought to give a contemporary update to archetypal jewelry styles like, say, the heart-shaped charm. "Everybody sells love," he said. What's Prada's perspective on it?
Well, for starters, it's not heteronormative. According to the brand, the Eternal Gold collection is genderless. But with the heart-shaped charm in particular, you'll notice that it's large, about the size of your palm. It brings to mind Mrs. Prada's personal collection of vintage jewelry, which often includes a large, chunky necklace. Iwata also played with contrast: The top of the heart is voluptuous, like a Valentine's Day balloon, but the bottom is cut in very sharp angles, revealing the signature Prada triangle. On the whole, the piece is romantic, almost in a cheesy way, but also strong and bold. And although it may look heavy, it's weightless when you put it on.
Contrasting elements are used throughout the collection, which features 48 pieces, ten of which are available for made-to-order, and ranges in price from four figures to $60,000. A choker, for example, pairs soft velvet ribbons with the pointy Prada triangle, reinventing a style you'd perhaps find in the Victorian era for a modern-day wearer like Maya Hawke or Amanda Gorman, both of whom star in the campaign shot by David Sims. The piece can also be customized with add-ons. Chain links throughout the collection also play with soft and hard edges.
Another way that Prada is constantly pushing boundaries with its products is by using modern fabrication techniques. Italians have a long history as goldsmiths (the entire collection is made in Italy), and the advances in this category are perhaps best represented in a serpent armband — another jewelry archetype. The way Prada has interpreted it is with smooth, clean lines and the triangle logo for the serpent's head. The piece is also flexible, allowing customers to easily take it on and off their arm; expert goldsmiths need four weeks to create such a thing.
Finally, in addition to the design and technical elements of the Eternal Gold collection, what really sets it apart is its sustainability; hence the name. It's something many fashion and jewelry brands wish to claim but that Prada actually has a reputation for and in this case can back up. Comprising 100-percent certified recycled gold — meaning gold collected from objects like electronics or other pieces that have been melted down — each item is registered and certified by the Responsible Jewelry Council, and every step of the diamond production chain is verifiable and traceable using the blockchain — something offered by no other fine-jewelry or luxury fashion house in the world, according to Prada.
"We knew it was difficult, but it had to be done," said Iwata, who wore one of the brand's recycled-nylon jackets. "We took our time. To be honest, this took longer than the design and development. But we worked with the supply chain to ensure transparency to drive change in the industry."
Going forward, Iwata and his team will work to release one new collection a year, with some pieces from the most recent one remaining evergreen. Eternal Gold is currently available in select stores worldwide and will be available online starting October 17 in select countries as well. As the Prada-ness continues to evolve, the brand will also keep in mind what it isn't, which is just as important. For now, it won't produce its own watches, for example, since the Prada family doesn't have a history with them. "It wouldn't be authentic," said Iwata.