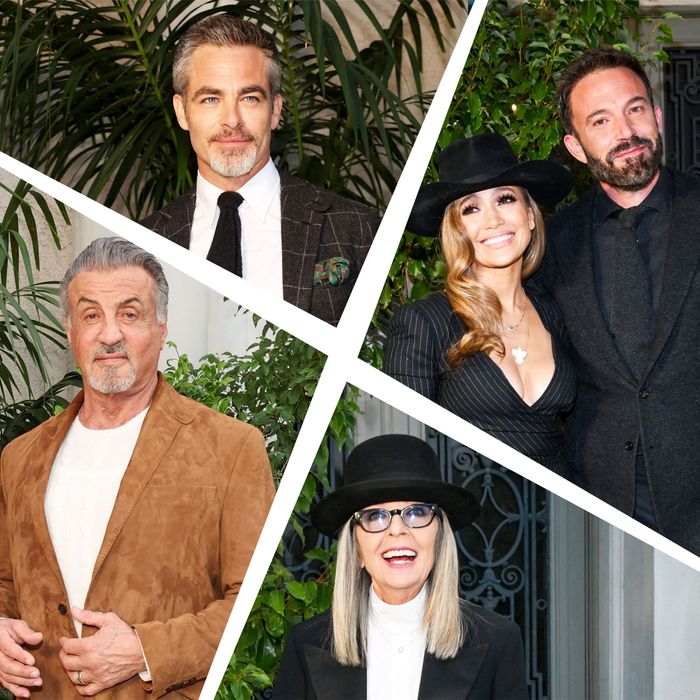 Photo: by The Cut; Photos: Getty Images
Within 15 minutes of arriving at the Huntington Library in Pasadena last night, I had already seen more celebrities than you can expect to glimpse during the lunch-hour rush at Sunset Tower: Near the entrance, Sylvester Stallone, surrounded by his daughters, chatted with Mila Kunis and Ashton Kutcher; icon of coastal grandma–dom Diane Keaton grabbed a drink; and salmon-smashing TikTok star Emily Mariko introduced herself to fellow content creator Noah Beck ("Another TikTok person is here," she said enthusiastically). "It's been forever," James Marsden said as he took a seat next to Lily Collins. Chris Pine came, as well as John Legend and Maggie Rogers, who sat down next to Angus Cloud and shook his hand. And that was before Jennifer Lopez and Ben Affleck arrived.
The occasion? Ralph Lauren's spring 2023 show. The East Coast legend gathered all those celebrities, along with the brand's top clients, for the first time in California. The show, which lasted for approximately 24 minutes, included over 100 looks (and concluded with Angus Cloud yelling "yeeee" into the crowd), combining his lines including Ralph Lauren Collection and Purple Label, Double RL, Polo Ralph Lauren, and childrenswear.
At approximately 6:45 p.m., the first look was shown, and out came a parade of what Lauren does best: aspirational American glamour. The looks included long printed dresses shown with cowboy boots and hats, paired with concho belts, and a lengthy ruffled skirt shown with a collared shirt, tie, and cropped jacket. Models did their signature Ralph Lauren walks, making eye contact and smiling, which, as a guest, makes you feel as if it's happening only to you.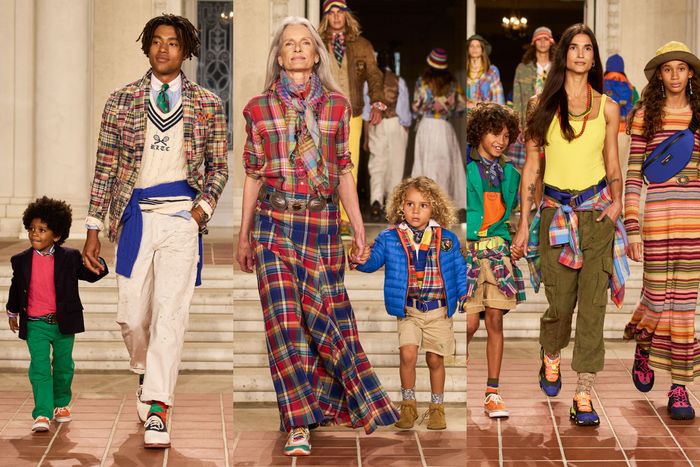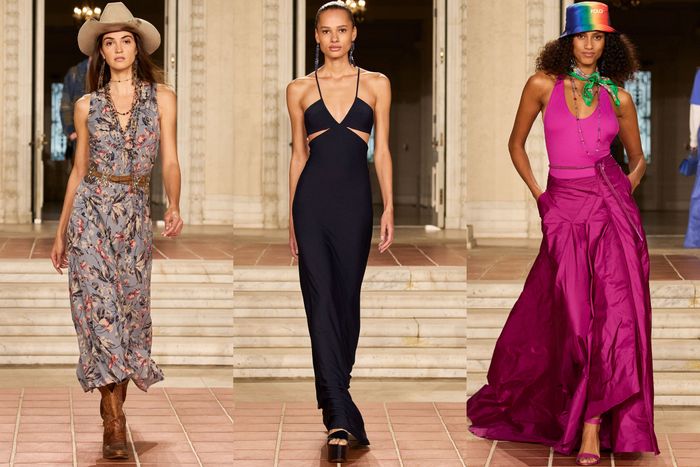 Then the music changed and the glamour dial turned all the way up to peak red carpet: smart pantsuits; backless, glittery halter dresses; and a gown with cutouts and a strappy back that would pair perfectly with a gold statuette.
Just when we thought it was done, cute little kids showed up. They walked down the runway showcasing the brand's childrenswear collection, while one child stole the show by waving at all the guests, including Mindy Kaling, who smiled big and waved back.
As guests were shown to another area where a dinner was set-up, JLo and Ben disappeared, most likely backstage to congratulate Mr. Lauren. At the dinner — long rows of tables with Ralph Lauren home table settings, naturally — Cloud pulled out a pair of sunglasses that were fresh off the runway. Literally. He had picked up a pair that had fallen off a model as was wearing them: "I was wondering if anyone was going to pick these up," he said.
The real finale came at dinner, in the form of waiters all coming out at the same time holding their signature Polo burger, a cult favorite at the hardest reservation to get, the Polo Bar in New York, placing it in unison in front of guests. Nothing beats New York glamour in Los Angeles weather.