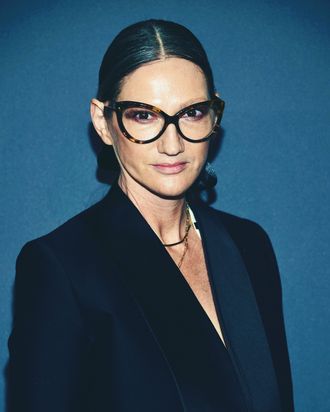 Photo: Evan Agostini/Invision/AP/Shutterstock
It can't get any worse than the 13th season of Real Housewives of New York, can it? The most recent season of RHONY, which aired in 2021, brought the franchise its lowest-ever ratings; the show skipped the reunion altogether, citing COVID-related delays (but probably just because the season sucked so bad). The series was put on time-out for months before Bravo announced the show would return in two parts: RHONY: Legacy (which will feature "classic" cast members, as yet undecided) and a new, refreshed RHONY with an all-new cast.
At BravoCon this past weekend, we finally got names, including one well-known fashion favorite: Jenna Lyons, the famed former president and creative director at J.Crew and star of the HBO Max reality show Stylish With Jenna Lyons. (It's unclear whether there will be a season two of Stylish.) Although she's not the first out queer Real Housewife — that title belongs to Julia Lemigova, Martina Navratilova's wife, on Real Housewives of Miami — Lyons will be the first one in New York, somehow. (She was famously outed in 2011 in an article published by the New York Post.)
As with any entirely new Housewives cast, it is unclear as of yet whether any of these women know one another outside Bravo and if any of them are actually friends in real life. We can expect these details to be explained/exaggerated for us when the show premieres in 2023. I can't wait!