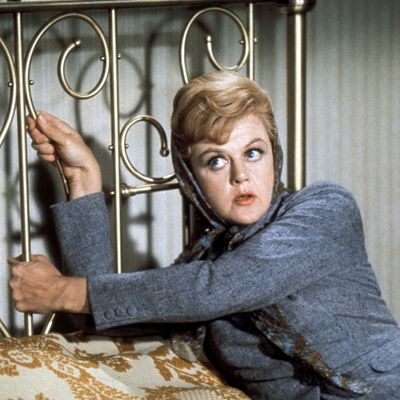 Photo: Disney/Kobal/Shutterstock
Angela Lansbury was a woman of many talents. The queen of musical theater, who died on Tuesday at 96, won five Tony Awards; she was immortalized as Mrs. Potts in Disney's Beauty and the Beast, and was nominated for three Academy Awards; and she became one of the most recognizable television stars ever with Murder, She Wrote (for which she earned 12 Emmy nominations). She even reportedly saved her daughter from Charles Manson. But I'll always remember her as the middle-age apprentice witch who used her powers to travel to underwater cartoon worlds and fight Nazis in Bedknobs and Broomsticks.
For those who don't know, Bedknobs and Broomsticks (1971) is a Mary Poppins–esque movie musical about Miss Price (Lansbury) — an unabashedly single witch-in-training before it was cool — who takes in three children fleeing bombing in London during WWII. Together, they set off on a witchy adventure across England and animated lands, traveling on a bed transformed into a magical mode of transportation. It is, without a doubt, the strangest Disney film I have ever seen.
Growing up, Bedknobs and Broomsticks was a movie that existed only at my grandmother's apartment in France. It was the one kids' movie she had on VHS in English, so it was the one my sisters and I watched when we visited. And thanks to its profound silliness and Lansbury's undeniable charm, it's one I've never forgotten.
Bedknobs and Broomsticks is full of horrifying problems solved by silly solutions. Three orphans have to leave London to escape the war, but they're taken in by a woman who takes witch classes by correspondence. They magically travel to the cartoon Isle of Naboombu only to find themselves lost underwater in the lagoon, but the fish there dress in three-piece suits and go clubbing, so it's really not so bad. And the Nazis try to invade England but are beaten back by an apprentice witch on a broomstick and an invisible army of animated armor.
To recap: In Bedknobs and Broomsticks, Lansbury plays a single, childless, singing-and-dancing, Nazi-fighting witch. And so, as the world mourns Lansbury by watching Murder, She Wrote and Beauty and the Beast, I, a childless Nazi-fighting witch, will be spending time with the strangest movie of my childhood instead.