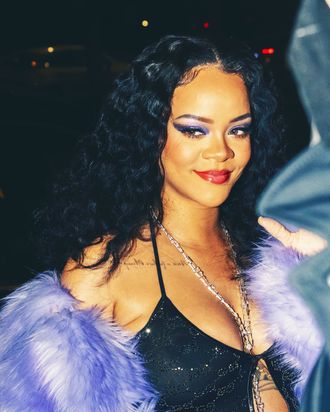 Photo: Arnold Jerocki/Getty Images
For years now, Rihanna has been channeling her energy into endeavors outside the music industry: makeup, lingerie, assless pajamas. Worthy pursuits, all of them. But all the Fenty in the world does not cure the dull, bleak existence that is life without new Rihanna bops. Her usual reaction to being asked if she's making new music is uproarious laughter, suggesting she does not give a flying fuck about our little wants and needs, as is her right.
However, recent developments suggest Rihanna is (maybe, possibly, probably not really) flirting with a return to music. First, there was the news that she'll be performing at the Super Bowl Halftime Show in February. And now, it seems pretty clear that she recorded a song for the Black Panther sequel. Seemingly confirming the rumors that Rihanna was responsible for the movie's end-credits song, Marvel posted a moving graphic singling out the "R" from "Wakanda Forever." Say no more, Marvel.
Even more encouraging: Rihanna herself posted a tiny snippet of what are definitely her own vocals, accompanied by another big "R" visual, this one next to some Wakandan hieroglyphs. Her tweet suggests the song is called "Lift Me Up," and it's allegedly dropping this Friday. Still, I'll believe it when I see it.
I do not know what magical confluence of events lured Rihanna back to the studio, though it may have been as simple as a very large check. Lucky for her, I will brave both sports and sci-fi for just a crumb of her music.