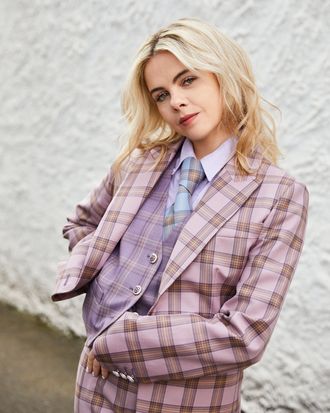 The third and final season of Derry Girls finally made its way across the pond this month, blessing us all with one last round of '90s Irish teenage-dirtbag energy. Lisa McGee's sitcom, which debuted on Channel 4 in 2018, follows the lives of four Derry Catholic-school girls (and one wee English fella) in the last years of the Troubles. While the girls grow up in conflict — bombs interrupt school dances and morning school-bus rides — the show is never self-serious, capturing the granular acuity of family life, from Grandas in perpetual feuds with Maureen Malarkey to aunties who never miss Murder She Wrote, as well as the wild antics of adolescence. "Injustice is something I've been accustomed to … Violence is never the answer," protagonist and aspiring writer Erin Quinn (Saoirse-Monica Jackson) writes in her diary in the show's first season; her cousin, Orla, reads the lines out to a full room. "I'm going to ram that so far up your ass," Erin replies.
In the show's final season, the girls grow up — kind of. While they're still playing the Spice Girls in talent shows and breaking into their school to look at their grades, the death of a parent brings out the maturity festering behind the high jinks. As the Good Friday referendum approaches, the girls, newly 18, have the chance to be agents of their futures, and to reckon with the nuances of the ongoing violence. Friction ensues between Erin and fiery Michelle Mallon (Jamie Lee O'Donnell) over the prospect of the latter's brother, an ex-paramilitary imprisoned for murdering a man, getting out of jail scot free. "It's so easy to tell either side of this story, to romanticize either side of the political fence and landscape at home," Jackson tells the Cut. "But to take it back down to the bare roots of teenagers working out something so personal, I think is just absolute genius by Lisa McGee."
At 28, Jackson, a native Derry girl herself, might have a decade on Erin, but the show has shed light on what it means to be a teenage girl in her hometown. "I'm extremely proud of where I'm from, I understand the complexities of it and feel very protective of it," she says. Growing up, Jackson saw Derry become the subject of negative documentaries and poems, and it's been a joy for her to re-create its history, with all its heaviness and jocularity, for a wider audience and for Derry itself: "Is it not every actor's dream for your hometown to be proud of your work?"
Between the referendum and the death of Clare's father, this season really felt like a bildungsroman. What do you think of Erin's journey and of who she becomes at the end? 
There's never a dull moment playing Erin. She's quite complex, and it's been such a pleasure to play her over three seasons; there's been such beautiful growth. She's always juggling all these morals and ideas of herself, and I think she's really got the ball in season three. The decisions she's trying to make about herself really come into play. It's really satisfying as an actor, and we get such a brilliant payoff when Clare's dad dies. Although the girls try to tackle things head on, they are often so sheltered. But at that moment, they have to be adults for their friend. That sort of maturity was nice to come across.
The friend group of Derry Girls makes the show. I went to a Catholic all-girls school, and there's a particular closeness you develop in those spaces, unobserved by boys and men (except for Michelle's cousin, James). You attended a Catholic girls' school. What has it been like, revisiting such a formative experience? 
I attended St. Cecilia's College in Derry from the ages of 11 to 18, and there were definitely a lot of parallels between Erin's experience and my own. I'm still close with a lot of my teachers from the school. My drama teacher is from Donegal, and she recently did an interview about how complicated it can be, and it's very different, to educate girls from Derry. Looking back, I can see, sort of, what she means, but she did a fantastic job of it. She actually educated me and Jamie Lee O'Donnell (Michelle) and had such a positive influence on me. She really challenged me, I'd say, sort of like Sister Michael. I finished the show and am moving on now, and I'm ten years Erin's senior, but it does give you this nice youthful energy for roles going forward, and you can look back at your teenage years with much more fondness. A lot of people look back and cringe and don't want to revisit it. But investigating it from a creative point of view, it's easier to unpack those things without severe judgment. It gave me a deeper understanding of myself, of what it was like being a teenage girl growing up in Derry. That was a personal benefit.
In addition to growing up amidst conflict, the girls are also growing up in the strictures of Catholic private school, an environment that breeds rebellion. I love the flashback episode of the mothers getting tiny tattoos on Leaver's Night. Are there any acts of your own teenage rebellion that you can share? 
There's some of them that I actually couldn't share! But it comes down to the nature of being a Derry girl; it comes in the nature of our city. I was quite scared of my parents, to be honest. I was so scared of my mum. I would have fought the fight with teachers and was able to stand my ground if I believed in something; I was happy to take the heft. But I was petrified of my mom, of like, the look. I pushed the boundaries, but when I was scared I always absolutely shit myself and crumbled.
How have your friends and family in Derry reacted to the show? 
Looking back, I remember being quite nervous going onto the cast. I'd never performed before in my own voice. I felt like, Oh my God, what if I'm going to be a shit actor when there's not an accent to hide behind or help you get under the character? It made me nervous. And Derry people are very honest. They've had positive reactions to the show; it feels like theirs. People are traveling all over the world to see Derry, and it's quite incredible that a piece of TV can do that. I'm extremely proud of where I'm from. I understand the complexities of it and also feel very protective of it. There's been quite a lot of documentaries and poems in and about my hometown that have portrayed it in a negative light. But I have sole trust in our script, and I almost couldn't wait for my friends and family to see it. I think jobs can come by that may have much more of a reach than Derry Girls, but I don't think anything will make me as proud. Who knows? Never say never.
In the finale, Erin and Michelle are at odds about the Good Friday referendum and the freedom it would afford Michelle's brother, an ex-paramilitary in prison for murdering a man. What was it like navigating such a heavy friendship fracture? 
I remember feeling quite blown away, sort of like I was an audience member myself, reading that script for the first time. It's such a huge thing that happened in our time, where people who had family members murdered were voting on these guys getting out. It really came from a place of forward thinking and a place of love and compassion to understand the intricacies of how that community had reached that place. It shows how much respect Lisa has for young women, allowing that argument to play out between two 18-year-old girls. There's no better frame to have that argument, I think, because it's only coming from a place of trying to understand. Erin can be quite black-and-white sometimes, and she's trying to make an informed decision on her own, acting on all the things we tried to build on through three seasons. The tapestry of her character is tied up so neatly at the end. It was a lovely point to reach and a privilege for me as an actor. There was a beautiful response from the city and everyone from where I'm from.
Ma Mary is going to university! Will she and Erin go together? 
I don't think Erin will quite have that! Who knows if Erin will leave Derry and find herself in London? I just can't see Erin putting up with Ma Mary around. But actually my mum went and studied again when I was doing my A-level. So there were some similarities. I remember the two of us stressing out about exams together.
I must ask: team Blur or Oasis? 
That is so funny! I like Oasis. I know that's an unpopular opinion, but I really like their music. So I'd say I'm team Oasis.
The final season premiered in the U.K. months ago. What was it like saying good-bye twice, and will we see Erin again? 
It's nice to have the perspective and watch the show and see what was done and where we've reached. It's turned out to be so much more than I anticipated, and it sort of feels like it will live forever. That makes the farewell seem a lot easier. I don't feel like I'm lacking closure in any part of this chapter or being part of this family. As for us ever returning, that is down to Lisa McGee. We'll have to see what the future holds for the Derry Girls.
Can we hold out hope for another Derry Girls group Bake Off episode? 
The last time I was on Bake Off, I won it. Have you ever walked into a bar and thrown a bull's-eye?
Never. 
Well, neither have I, but that's what it felt Bake Off was like. A champion always goes out early.