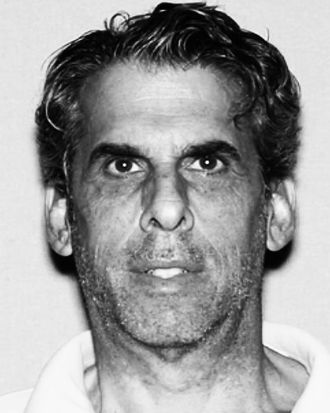 Photo: Los Angeles Police Department
Writer-producer Eric Weinberg has been working in Hollywood since the '90s. He's worked on Bill Maher's Politically Incorrect, Scrubs, Californication, and Anger Management. At least eight women have also accused him of sexual assault, and he's currently facing several felony counts, including rape, false imprisonment by use of force, and sexual battery by restraint. Back in July, Weinberg was arrested in connection with multiple sexual assaults and got out on a $3.25 million bail. He was arrested again earlier this month after Los Angeles prosecutors charged him with 18 counts of sexual assault, incorporating the claims of five additional women, and was released on an increased bail of $5 million. A September investigation from The Hollywood Reporter describes Weinberg's alleged pattern of sexual assault with some claims dating back decades.
At his Tuesday arraignment, Weinberg pleaded not guilty to the charges against him with lawyers for the producer calling the women's allegations "a blatant smear campaign" designed to portray him in the "most horrendous light." Meanwhile, a judge revoked Weinberg's bail, calling him a potential "serial rapist," and ordered him to be held in custody until his next court appearance. Last month, Weinberg released a statement through his divorce lawyer denying the initial wave of accusations. "As we have unfortunately seen these days, time and again, a heavily litigated and acrimonious custody dispute has now given rise to strategically placed criminal allegations," the lawyer told THR. "These claims have previously been investigated and reviewed by both law enforcement and the Los Angeles family court and the results wholly undermine the narrative now being promulgated." According to the Daily Mail, three women who accused Weinberg of assault testified against him in his divorce proceedings in 2020, but the nature of the testimony is unclear. Per AP News, investigators believe there may be more victims dating back to the '90s; the Los Angeles district attorney has urged them to come forward. Here's everything we know.
Weinberg has been accused of luring young women to participate in photo shoots at his home.
The Hollywood Reporter spoke to two dozen women who claimed that Weinberg approached them in public places — parking lots, parks, cafés — around Los Angeles and asked if they wanted to participate in a photo shoot. They say he used his television credits to convince them, sometimes showing women photos from other shoots. Some women claimed that he pressured them to take their clothes off during these shoots, claiming that he could ruin their careers if they refused. Others alleged that he engaged in sexual activity without consent. These allegations date back to the '90s, and, according to The Hollywood Reporter, Weinberg kept records of these encounters. His ex-wife, Hilary Bidwell, in 2008 reportedly found photographs and papers featuring the names and numbers of hundreds of women, many of them accompanied by locations. Weinberg reportedly claimed these were records from when he worked as a headshot photographer.
One woman, identified in the article under the pseudonym Catherine, claimed she was 18 when she met Weinberg in a Ralphs parking lot in 2014. She said that she agreed to a photo shoot after he mentioned Scrubs, but brought a friend, Celina Kimelman, to Weinberg's house for safety. Catherine claimed that Weinberg moved the photo shoot upstairs, where he "was pushing and pushing and pushing to be more sexual than I wanted to be." She alleged that he assaulted her without consent and took pictures of her face as she cried. He then allegedly asked Kimelman if she wanted to take a turn modeling. Kimelman also alleged that he assaulted her.
Avian Anderson was 29 years old when Weinberg allegedly approached her in a Ralphs parking lot in 2019. She ended up going to his house for a photo shoot, where she alleged he sexually assaulted her. She filed a police report days later, which, according to THR, stated that Anderson did not attempt to stop the alleged assault because she feared "that he would become aggressive or stop her from leaving."
In 2021, Cassidy Rouch, a then-22-year-old model and nursing student, claimed that she had been approached by Weinberg via a networking site for amateur models and photographers. They agreed to do a photo shoot together, but she said she did not agree to nudity. When she arrived at his home, he allegedly instructed her to strip before leading her to his 11-year-old daughter's room. There, Rouch alleged, Weinberg assaulted her. She got him to stop, but claimed that he told her "he could prevent me from getting any kind of contracts for work for modeling" before she left.
He was also accused of stalking women who turned him down for photo shoots.
The Los Angeles DA repeatedly declined to press charges against Weinberg.
Kayra Raecke told THR that she also posed for Weinberg in a photo shoot in 2014, when she was 22, and alleged that he raped her. "After I had said no so many times, he continued doing what he wanted anyway," she said. "I didn't know what else he was capable of, including violence. I thought there was a real possibility that I might die there." Raecke reported the incident to the police and had a rape kit done. Weinberg was arrested, but then–District Attorney Teresa de Castro didn't prosecute, citing a lack of evidence. According to the report, the police later contacted Raecke after another woman came forward with allegations of misconduct against Weinberg, but the DA's office again chose not to prosecute.
In 2016, an unnamed woman came forward accusing Weinberg of raping her in 2014, but the then–deputy district attorney on the case, David Reinert, decided not to pursue the case "because there is no evidence that the defendant used force, threats, or intimidation to overcome the will of the victims." (Reinert, now a Superior Court judge, told THR that he did not remember the specific case and didn't comment further.)
Weinberg reportedly approached minors.
Toward the end of her marriage to Weinberg, Bidwell claimed she heard about multiple instances of her husband behaving inappropriately with minors. In 2017, a woman called Bidwell claiming that Weinberg had been inappropriate with her 17-year-old daughter and tried to unzip her sweater after inviting her over for breakfast. (Weinberg reportedly claimed the girl had lied about her age.) In 2019, Weinberg was accused of approaching a 16-year-old girl in a Starbucks, asking to take photos of her and showing her photos he had taken of naked women. "It's so hard for me to just emphasize how clear it was that I was a high-school student," she told THR. She was able to get away. The story eventually reached Bidwell and Weinberg's eldest son, who went to high school with the girl.
Bidwell filed for divorce in 2020 and began looking for more allegations against her husband. This led her to a Facebook post Claire Wilson had shared in 2020, cautioning women against Weinberg, whom she accused of sexually assaulting her after they met on OKCupid. Many women commented on the post, recounting their own alleged encounters with Weinberg. This prompted Bidwell to hire a private investigator in an attempt to find more potential survivors. After THR's story published, Wilson tweeted that Weinberg discovered her Facebook post and called her at work. "I lost that job shortly later," she wrote.
Weinberg is accused of assaulting a woman in his daughter's bedroom.
In 2021, months after her assault, Rouch reportedly contacted Bidwell, telling her, "I was sexually assaulted by your husband on your daughter's bed and I don't feel that she's safe." Together with her private detective and an attorney, David DeJute, Bidwell helped bring women together who wanted to open a case against Weinberg. Four of these women submitted sworn declarations detailing their assaults, leading to his eventual arrest in July.
Weinberg's arraignment was originally scheduled for early August, but was delayed due to a wave of new allegations submitted after his arrest went public. "We have not scratched the surface," a detective, speaking anonymously, told THR. "It is overwhelming the amount of new women that have come forward." Prosecutor Marlene Martinez confirmed that she postponed the arraignment to review "a large volume of documents, recordings, interviews, pictures, etc." While out on bail, Weinberg was only allowed supervised visitation with his children. His next court appearance is scheduled for November 15.
This post has been updated.