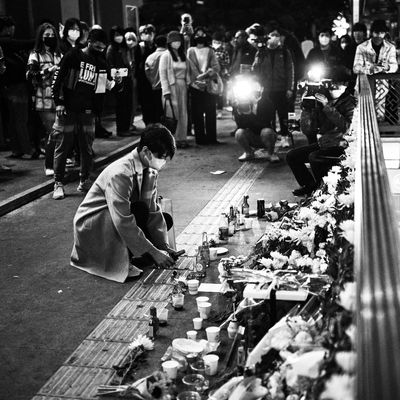 Photo: Anthony Wallace/AFP via Getty Images
Over the weekend, at least 154 people — many of them women in their 20s — were killed in a Halloween crowd crush in Seoul, the New York Times reports. The tragedy, which took place in Itaewon, a popular nightlife district, and marked the neighborhood's first Halloween celebration without pandemic-era restrictions, happened Saturday night as partygoers crammed inside bars and nightclubs along a narrow alleyway. The overflowing crowd created a bottleneck that left many people trapped and struggling to breathe or move with those trying to escape pushing forward and stepping on those who had fallen.
Though the government's first response center and the nearest fire department were less than half a mile from the scene, emergency responders reportedly struggled to break through the crowds. Police closed the area's streets to traffic in the wake of the tragedy, while local bars and restaurants put up messages of condolences to the victims in their windows and citizens created makeshift sidewalk memorials out of flowers and soju.
While South Korean police are known for their meticulous crowd control during gatherings like protests and rallies, police presence was notably minimal during the festivities. Witnesses recalled that last year's celebrations in Itaewon, which were significantly smaller, had a stronger police presence with officers controlling access to alleyway entries and shutting down the festivities at midnight. The lack of police crowd control has drawn widespread criticism and demands for better safety protocols. "If police had been there this year," one witness told the Times, "maybe no one would have died."
On Monday, South Korea's national police publicly apologized for the incident and revealed that only 137 officers had been deployed to curb the crowd. "It was foreseen that a large number of people would gather … But we didn't expect that large-scale casualties would occur," said Hong Hi-Kyun, chief of the National Police Agency's Public Order Management Bureau. Below, everything we know about the crowd crush so far.
Witnesses described a "sea of bodies" surging out of an alleyway.
Witnesses have recalled a night of chaos, confusion, and minimal police presence, telling the Times nightclubs still played music as ambulances and firefighters arrived and that partygoers stepped in to help with crowd control, dragging unconscious bodies out of the alleyway and administering CPR. A high-school student who was crammed in the alleyway told the outlet how people behind him "fell like dominoes." "There were people beneath me and people falling on top of me. I could hardly breathe," he said. "We shouted and screamed for help, but the music was so loud in the alley, our shouts were drowned." Janelle Story, 35, described seeing a "sea of bodies" fleeing the alleyway where the majority of the victims were crushed. "It didn't even occur to me they were running in fear," she told the Times. South Korean YouTuber Seon Yeo-jeong shared her experience of the surge on her Instagram, where she recounted "being swayed back and forth as if in a tug of war" by the crowd and people shouting, "Hey, push! We're stronger! I'll win!"
Many of those killed were women and young adults.
Over 100 of the crowd crush victims were in their 20s with almost twice as many women reportedly killed than men. Per the Times, the victims include Kim Dong-yu, an 18-year-old who dreamed of working at Samsung Electronics; 24-year-old Shin Ae-jin, who'd recently started her post-college career at McKinsey; 25-year old Noh Eun-seo, a college student majoring in business administration and tourism management; 24-year-old K-pop singer and actor Lee Jihan; and Park Ga-young, a 19-year old college student saving up to study fashion design in Canada. At least 20 foreigners were also killed, including Steven Blesi and Anne Gieske, two 20-year-old Americans studying abroad. "Jill and I are devastated to learn that at least two Americans are among so many who lost their lives in Seoul," Biden tweeted on Sunday. "Our hearts go out to their loved ones in this time of grief, and we continue to pray for the recovery of all who were injured." The South Korean Education Ministry has confirmed that five high-schoolers and one middle-schooler were among those killed.
Criticism over the police response is growing as the nation mourns.
According to ABC News, South Korean police initially claimed they had deployed 200 officers to Itaewon, but later amended that figure to 137 after mounting criticism that they had mishandled a preventable crush. South Korea's home minister, Lee Sang-min, claimed on Sunday that police forces were underprepared because they had been attending to anti-government protests in other districts. "The crowd this year was not worrisomely bigger, compared with past years," Lee said in a statement. "But our police forces were scattered to various protests across the city." Hong Ki-hyun, the National Police Agency official, has said that the police weren't prepared for a large gathering without clear organizers.
On Monday, politicians and citizens will gather in three different locations to mourn the dead, and official memorial altars have been set up in Itaewon and in the center of Seoul.