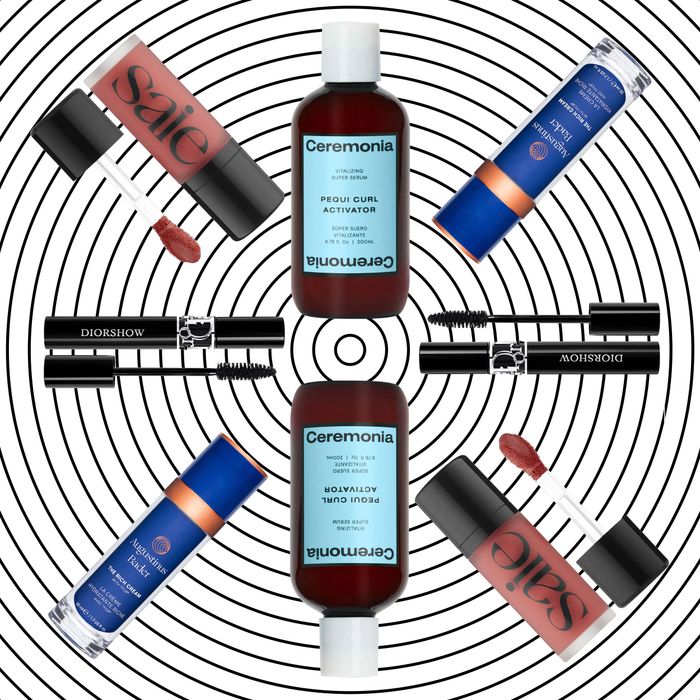 Photo-Illustration: by The Cut; Photos: Retailers
Do you, like us, aimlessly browse Sephora looking for new products? You can now do so while saving some coin (hello, inflation) thanks to Sephora's Holiday Savings Event.
What is the Sephora Holiday Savings Event?
Think of it as Sephora's annual primer for Black Friday, where the retailer throws a major markdown party to make way for the incoming holiday products. What that means for you is that it's the perfect time to restock your already flawless routine, get ahead on your gift list, or try some buzzy new products that will surely sell out before the end of the year.
When is the Sephora Holiday Savings Event?
Soon-ish. The sale is running from Friday, October 28, through Monday, November 7 — but not everyone is eligible to shop the entire time (more on that below).
How do you shop the Sephora Holiday Savings Event?
Unlike Sephora's trademark branding, this sale isn't black and white. The discounts are great, but the dates you can shop them (and the percentage you get off) are based on your Sephora Beauty Insider status. Here's how it shakes out:
Sephora Rouge members get 20 percent off from October 28 through November 7

Sephora VIB members get 15 percent off from November 1 through November 7

Sephora Insiders get 10 percent off from November 3 through November 7
No matter what your Beauty Insider tier is — and whether you choose to shop in-store or online — you need to use the promo code SAVINGS at checkout. We can't picture relaying a secret password to a busy cashier IRL either, but rules are rules.
We've applied the 20 percent Rouge discount to all of the products below, so if you're a VIB or an Insider member, your sale price will differ slightly.
Best Sephora Holiday Savings Event Skin-Care Deals
If you're light-therapy curious, take this as an opportunity to try a popular LED mask, courtesy of Dr. Dennis Gross. This hands-free situation will not only keep the Halloween vibes going, but it has a blue-light option to destroy bacteria and a red-light option to stimulate collagen and elastin in your skin.
A full night's sleep to remedy under-eye circles? The hubris. For those of us who bask in an environmental-noise sound bath every evening, this eye cream (ahem, crème) will become your new best friend. The vitamin-C-rich, light-deflecting formula is lauded through the annals of TikTok — but we (and our friends at the Strategist) have also tested it and can confirm it delivers.
If you only line your bathroom counter with overachieving products, don't sleep on this Victoria Beckham–backed moisturizer. It's supposed to increase cellular turnover so your skin looks plump as a dumpling, and is packed with hyaluronic acid and a mix of proteins to keep your skin moisturized and glowing. It's basically straight out of a Winnie Sanderson fever dream.
We couldn't, wouldn't send you into the desiccated winter months without a rec for a nourishing lip product. This TikTok-loved lip gloss smells like candy, soothes chapped lips, and is a very convincing dupe for the Dior Addict Glow Oil.
Best Sephora Holiday Savings Event Makeup Deals
This editor-tested formula works well for people with mature, dry, or textured skin who are looking to even everything out. The lightweight foundation was recently reworked into feeling even more like silk, so it melts into your skin (and not fine lines or acne scars).
We can't enter #VitaminDDeficientWinter without bringing up a trusty blush to at least fake sun-kissed skin. This one from Saie is equal parts brightening and cherub-inducing — plus it has a ton of ingredients (like mulberry, elderberry, and primrose) that'll actually benefit your skin.
Full-coverage foundation never looked so good for so long. True to its name, this foundation will give the effect (and feeling) of airbrushed skin, and won't come off in the water or leave trace marks on your shirt collar. Plus it comes in 44 shades and happens to pair perfectly with the hardly-ever-in-stock-thanks-to-Madison-Beer Beauty Highlighter Wand.
The gold standard in mascaras. If your lashes have never been graced by this highly pigmented formula with impressive staying power, consider this your sign.
While you're at it, you may as well get this best-selling eyelash curler from Shiseido. Goodbye, sliced lashes! Toodles, terrifying heated curlers! This award-winner has over 1,000 five-star reviews, thanks to its round-edge design and soft silicone pad that lessens the risk of pinching.
Best Sephora Holiday Savings Event Nail and Hair-Care Deals
If you think your brand is breakage in the warm months, just wait until the heater's been running in your house for days on end. This leave-in conditioner will help bring your strands back to life by keeping moisture in and frizzifying humidity out.
You know Olaplex, you love Olaplex (especially if you color your hair) — and now you can get Olaplex for 20 percent off. Our pick is this styling cream that functions almost like a hair mask, using the brand's signature bond-building concoction to protect hair from further damage.
Want long-lasting, chip-free nails but are still haunted by the Not So Pretty HBO documentary? This polish gives a gel effect without needing to use UV light and is "ten-free," meaning it's formulated without ten of the most harmful ingredients commonly found in nail polish.
Get you a hair tool that can straighten, wave, and curl — with a unanimous 100 percent would-recommend rating at Sephora.
It's easy to find a milky curl-enhancing cream, but it's hard to find one with great ingredients like murumuru butter (for sealing in cuticles) and Pequi oil (a nut that's often used to treat eczema, and loaded with vitamins E and A).
Best Sephora Holiday Savings Event Fragrance Deals
Even if you're hibernating all winter, you'd never know it with this wafting in your space. Just like its sister perfume, this candle is meant to smell like a Brooklyn jazz club with notes of cigar boxes, leather bar stools, and warm liquor.
For something entirely different, Kilian Paris makes a delicate perfume that delivers a light earthy green tea, zingy ginger, and sweet marshmallow scent.
Nest's Golden Nectar perfume is fit for a queen, just in case you're looking to gift someone special this holiday season. It's a warm floral fragrance that was inspired by Cleopatra's purported practice of dipping her sails in perfume before setting off to sea.
For more from the Cut Shop team, follow us on Instagram and Twitter, where we share our best new finds, favorite styling tricks, and more.