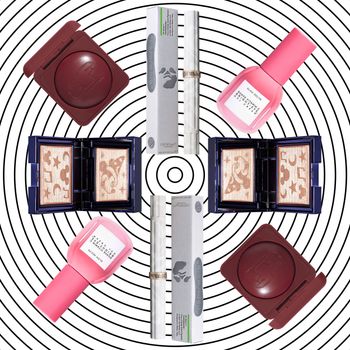 Photo-Illustration: by The Cut; Photos: Retailers
September was a lot. Not only did fashion month take over our calendars, we got too many new celebrity skin-care brands that no one asked for. (I'm still not over Brad Pitt launching creams and serums retailing for almost $400.) Despite the absurdity of it all, some beauty brands actually did launch really good products, and most of the ones I tested (except one) retail for way less than $400.
Through New York Fashion Week, everyday events, and an impromptu vacation, these nine new products truly made my fashion month easier. Were there a lot of other launches? Yes. Did I have time to try each and every one of them? No. September was about pure survival. Luckily, I had time to try new concealers that made me look alive and one very expensive skin-care product that worked wonders (since I didn't have time for a facial).
There were a lot of concealers that launched this summer, but Milk Makeup has dethroned them. The brand's latest offers very light to medium coverage, and thanks to its hydrating properties, it feels like a skin-care product rather than makeup. The true winning point of this concealer? The applicator. I never knew how much easier a finer shape would make my makeup process.
Off-White is experimenting beyond fragrance. Last month, it launched the creamiest and most potent liners I've ever tried. And after a few test runs, I realized they're more than liners! They're face and body pigments too. I stuck to using them as liners, because I don't wear much body art, but the smooth texture made winged eyeliner very simple. Plus they are available in a ton of colors that show up extremely pigmented on darker skin tones.
I promise you that this smells nothing like the original J'adore perfume. It's a soft and floral fragrance — compared to J'adore's iconic and potent smell. This might not be as long-lasting as the original, but it's enough for a casual day.
Last month, Disney collaborated with Patrick Starrr's One/Size — a truly magical moment. One/Size is beloved for its powder foundation, but for this capsule, it created a face-and-eye palette, a fun Mickey-shaped makeup puff, a brush, and this amazing gel-to-powder highlighter. One dab and your complexion is left glowy and iridescent. I loved wearing it on vacation without makeup, because it gave me all the luminosity I needed in the sun.
This summer, I decided to polish my eye-shadow game. When it came to picking the right palette to start my journey, Tarte was always at the top of my list, because I know its shades are pigmented and it offers a great range of colors. Enter its newest palette. The Maneater After Dark is a go-to for eye-shadow newbies like me. The 24 shades vary from shimmer and matte to sheen finishes that are perfect for the holidays. (If you've already started holiday shopping, this is the perfect palette to pick up.)
Ami Colé's launches are always hits. Its new Brow Duo is no exception. The brow pencil fills and shapes your brows in less than 30 seconds, while the shaping gel glides across the brow for an all-day hold. What I loved most was the lack of flakiness from the shaping gel. I've stopped using these kinds of products in the past because of how flaky and tacky they can get, but this one passed the test. It comes in four shades ranging from a light brown to a deep, rich black. In just two steps and less than a minute, you can have the perfect brows.
Halsey's brand has been around for a while, but these new blushes were the first product I tried from about-face. As soon as I saw the range of shades, I knew I had to test them. I wasn't expecting much, but I was amazed at how buildable the formula is. And the finish is the right amount glossy and flushed.
Dark circles were unfortunately a recurring issue for me during New York Fashion Week due to the early mornings and late nights. The cure to my puffy eyes was this gel cream from Glow Recipe. The blend of peptides and niacinamide perfectly targets dark circles and tightens under-eye elasticity. Most good gel creams are thick and heavy, but this lightweight one does the job just fine.
I know, I know — $820 is a steep price for a product. Let me explain. First, it was gifted to me this summer on National Caviar Day because, of course, it's part of the Skin Caviar line, which happens to be one of my favorite luxury skin-care collections due to how plump and hydrated the products leave my complexion. This one specifically is what I refer to as "my facial in a bottle." It strengthens and contours my face without the hands of an esthetician but simply with the caviar-infused microbeads that melt into the skin (and, occasionally, my skin-care lifting tools). If you compare it to the price of monthly facials, the math does kind of add up. It's a splurge but one that's worth it if you want to slow down on facials.
This month UK hairdresser launched his own line of products that deeply nourish all types of hair. Our deputy style editor Joanna Nikas has beautiful long tresses and fell in love with this launch after the first use.
Ourself has become one of my favorite brands over the past year because of how quickly results come. This new serum is dubbed botox in a bottle because of the technology used to have visibly firmer skin. No needles and smoother skin with less aging?! Sold!