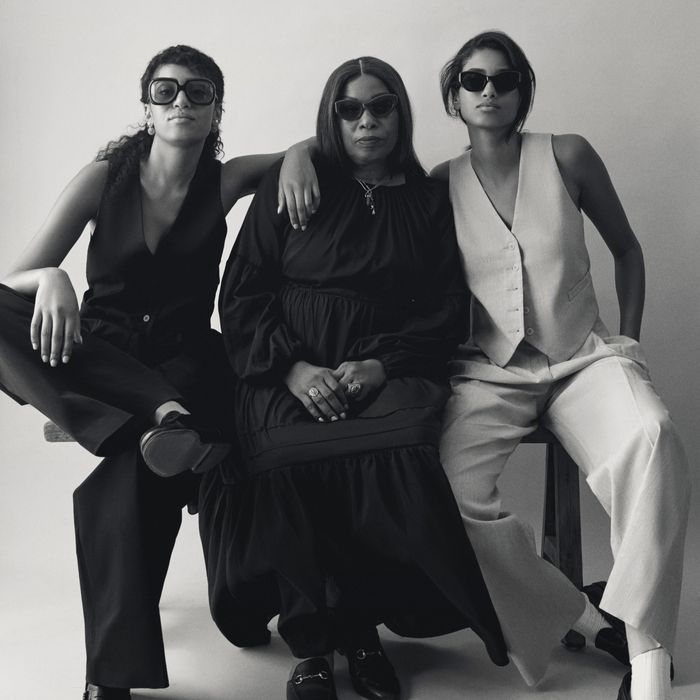 "I want to create something my whole family can be part of," said Dutch-born, Moroccan, and Egyptian supermodel Imaan Hammam. When the owners of Port Tanger reached out to her for a collaboration, she knew what she wanted to do: "The first thing that came to mind was my family — my upbringing in Amsterdam, having immigrant parents, my mom being Moroccan, my dad being Egyptian, growing up in a western country." So she asked her mom and sister to be a part of the campaign.
Alongside Port Tanger, Hammam released two new sets of frames that are an "homage to two of the strongest women" in her life: her mother, "M'Barka," and the prolific Egyptian singer (and a music staple in nearly every Arab household) Umm Kulthum. (The "Umm" is a cat-eye frame reminiscent of the ones the superstar often wore, and the "M'Barka" is a wide frame.) All of the proceeds from Hammam's collaboration will be donated to She's the First, a nonprofit that aims to empower girls through education.
The 26-year-old has long tapped into her ancestry in her work, recently appearing in Amina Muaddi's campaign, which was shot in Cairo and aimed to celebrate Arab culture using an almost entirely Arab cast and crew. For the May 2020 cover of Vogue Arabia, which Hammam styled, directed, and photographed herself, she wore Moroccan-inspired scarves and an abaya she picked up on a trip to the Gulf.
"It's just so important to tell our story, and that's something I've always wanted to do in everything I do in life," Hammam said to me. "For me, it was so important to just dig deep and be like, Okay, instead of making this a fashion thing, I want to go back to my roots."
Hammam spoke to the Cut about the hold Arabic music has on her, her hopes for herself and her family, and her continued exploration of her own identity.
As Arab women, Umm Kulthum's music is basically in our blood. I know she's part of the inspiration behind this line. Is there a memory or state of being that you go to now when listening to her?
Growing up and listening to her at that time, I did not know what she was talking about, but my aunties were fully singing the lyrics. They were feeling her. And music was so important in my family: My aunt sings, my sister is a singer, and my dad used to play in an orchestra. But now that I'm grown up and I'm older, I understand her story and what she was telling. It was very political. It was poetry. It was so much emotion. They called her the voice of Egypt. Her music, when I listen to it, it literally gives me goosebumps. Her voice touches my soul. I can listen to her, and I'm literally tearing up. Or sometimes I can listen to her and feel relief and find the strength and power to continue what I'm doing on this earth. I know that it's like therapy for me, but also for my family and my sister. We've been through a lot. I felt like she kind of helped us through, and that's why I wanted to celebrate that and bring that story to the world.
The glasses and campaign were also inspired by your mother. Tell me about her.
She's a character, like she'll walk in the room, and you'll feel her presence, you'll feel her energy. She just has that confidence and that strength, and that's something she always shared with us when growing up. She was always like, "Okay, don't be shy. Just go for what you want." She embodies boldness, strength, power, confidence, and I used to always pray to be like her, or at least have a little bit of her. And my sister, Aicha, is my best friend. I can see my younger self in her, and having that sisterhood is so important. In our family, talking about your feelings doesn't really happen as much, so I'm trying to break those barriers and have a better relationship with my family members, so I always try to bring my sister with me everywhere I go. And I'm so proud of her and the woman she's becoming.
You take a lot of pride in your heritage. You were raised in Amsterdam but to Arab parents. Was that hard growing up?
My mom made sure that we knew where we came from, and so did my dad. At home, we would speak Arabic. That was my first language, and I'm so grateful for that. So growing up, I felt very sure of who I was. And my school in Amsterdam was really, really diverse. I was brought up in this world of different cultures and different languages. We were very in tune with who we were — having our food and our music. It's always been in me, and then, as soon as I moved to New York, when I was 16, it was like a whole different experience. I feel like when I came here, it was like, "Okay, you're Arab, or you're Black." It was like you were being put in boxes. And I feel like back home, it was just like, "You are who you are." Now, being 26, I feel like I know who I am, but it took me a while to get there. It's a learning process.
How do you keep that connection up with your roots and ancestry?
Staying connected to my ancestry is really going back to the homeland for me — visiting Morocco. I hadn't been to Egypt in 13 years and recently went, and it was so special. It was magical. I was just like, "Oh my God, this is my country." It was also emotional because I did get to see my family that I hadn't seen. I felt like I had lost a little bit of me, but I really reconnected. I remember getting there and my aunts were all there, and they were feeding me all this food. Thinking of it gets me emotional because that's who I am, and a lot of those years, I kind of just pushed it aside. I'm on my journey to figure out who I am, and I don't think we're all going to figure it out ever. It just took me a while to be like, What are you doing? Go see your family, they're still there. Visit, learn the language, be with your people. I was so happy and proud that I did that, and I'll be visiting a lot now.
What are some hopes for the future?
I just want to live on a farm one day and have kids.