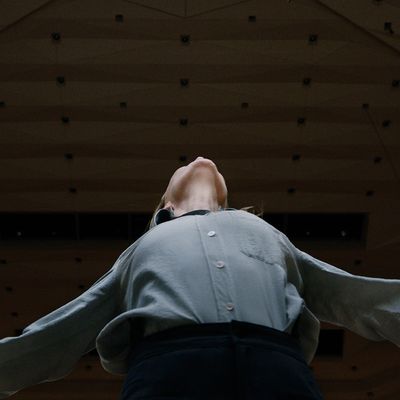 Photo: Courtesy of Focus Features
Figuring out your winter wardrobe is complicated. There is, of course, the question of how many layers you may need on any given frigid day (too many and you're an overheated engine, too few and you're a wobbling iceberg). There's also the question of how to use cold-weather clothing to send a message that says you are chic and powerful. But thanks to Tár, Todd Field's new film starring Cate Blanchett, I've come to realize that winter is actually the best time to communicate a dark mood.
In the film, which will be in theaters nationwide starting October 28, Blanchett plays Lydia Tár, a world-famous, EGOT-winning conductor whose life and career appears envious until it slowly spirals out of her control. Lydia communicates power and success through her meticulously curated wardrobe that includes luxe cashmere, tweed, wool, and silk fabrics. The wardrobe is also characterized by sleek, tailored silhouettes that say, "Don't fuck with me. I am very powerful and very busy." That's right — Blanchett's character can teach you exactly how to dress for Frigid-Bitch Winter.
A maestro of her orchestra, Lydia is also a master of layering: It's never too much and never too little with her. She is, at nearly all times, either wearing a delicious sweater over a silk shirt or wearing one tied around her shoulders. An oversize yet tailored blazer is also on hand in addition to a toasty and polished coat. Wide-legged trousers that never drape too far from her legs, an upscale version of the trendy oversize look, are also necessary for her uniform. Her wardrobe's color palette contains mostly dark neutrals with rare pops of brightness or color in various shades of blue, white, or khaki. It's also clear that her ensembles are heavily influenced by her surroundings, as the film's location alternates between New York City and Berlin.
Tár costume designer Bina Daigeler, who earned an Academy Award nomination for her work on the 2020 live-action adaptation of Mulan, told the Cut how she created this specific mood for Lydia in the early stages of planning costumes for the film. "I did the mood board for the whole movie, and I presented that to Todd Field and to Cate. It was quite a, let's say … aggressive, underground, rough, powerful mood board. It was like a collage with graffiti on top and very Berlin. Once I had that settled, then we knew in which direction we would go," she says. "It was very dark, and the only colorful things were the graffiti or the other people that were next to her."
Before we find ourselves in the throes of Frigid-Bitch Winter, I'd suggest making a similar mood board. Most of the pieces in the film were custom-made for Blanchett, but there's nothing wrong with using this character for style inspiration (looking to the character for any other form of inspiration, like, say, how to behave in the workplace, is certainly not advised). Daigeler describes her role on Tár as a costume designer and psychologist, which required her to put together a blend of vintage, contemporary, and custom pieces for the movie while also getting inside the mind of the complicated Lydia. Some outfits, such as Lydia's conducting looks, were planned far in advance, but a few others were adjusted at the very last minute. "I always give us a lot of freedom, and we decide a lot of changes just before we start the scene — because all the emotions, they come once we start to shoot," Daigeler says. "With the costumes, it was easy for her to embrace all the different emotions she had to do."
The frigid in Frigid-Bitch Winter does not translate to stiff. For Lydia Tár, movement is the most important element to her wardrobe next to mood. Conducting and playing instruments are quite physical tasks, which means she wore fabrics that maintain warmth but are also breathable. Daigeler looked up images of other women conductors around the globe to see what they all wear when conducting an orchestra onstage. "But then, also, I looked into the male conductors from all periods. Because I think with Lydia, it is very ambiguous where she would settle — how much male input in her wardrobe, what part would be female," she says. The resulting wardrobe turned out to be rather androgynous, tailored to Blanchett's long and lean frame, with many menswear-inspired pieces. Daigeler recalls one of her favorite Lydia looks: a black turtleneck worn with a button-down shirt on top. This look is tailored and may seem like something you'd wear on a chilly day at the office — but it's Lydia's version of a weekend fit.
As Lydia's life spirals, so does her wardrobe. While Daigeler put careful thought into what would constitute an unhinged look for Lydia, the wardrobe she wears while spinning out of control in the third act of the film still looks incredibly put together. Spiraling does not mean you have to sacrifice being chic if you're Lydia Tár, but the further she falls, the less tailored her clothes become. Pieces drape a little farther from her body, and the fabric is more wrinkled, indicating she might not have had the time to iron or steam them (or that she didn't have anyone on staff to do it for her). In this part of the film, she starts wearing warmer colors, which communicates that she has lost all her power. An all-black oversize suit sends a completely different message about power than a wrinkled beige ensemble.
If there's one piece Lydia wears in the film that communicates exactly who this woman is, it's a black cashmere coat from The Row. "It was such a good coat, and I was obsessed," Daigeler says. "I absolutely wanted to have exactly this cashmere coat. When I found it, I was the happiest person." During a fitting, when Daigeler said told Blanchett she'd be wearing outerwear made by The Row, the actress said, "Oh my God, all your budget is gone on the coat."
To fully embody Frigid-Bitch Winter requires an attitude just like that. But those more receptive to warm hugs, hygge vibes, and Lana Del Rey summers can also achieve the Frigid-Bitch Winter look. You just need the right pieces, styled the right way: It all comes down to silhouette, fit, and color (or lack thereof).
How to Dress for Frigid-Bitch Winter
Daigeler calls this (sold-out) coat the "miracle piece" of the film.
The perfect shirt for imitating Lydia Tár imitating Gustav Mahler.
When it gets too cold to take an angry, brisk walk in just the turtleneck-and-pants combo after arguing with your orchestra, this herringbone coat will add another essential layer.
Perfect for sitting down for an hours-long piano-playing session.
But why try to re-create a look by Mahler when you can just dress like Lydia? A crisp white button-down is one of her go-tos.
You can prioritize both warmth and movement in these wool pants.
For more from the Cut Shop team, follow us on Instagram and Twitter, where we share our best new finds, favorite styling tricks, and more.