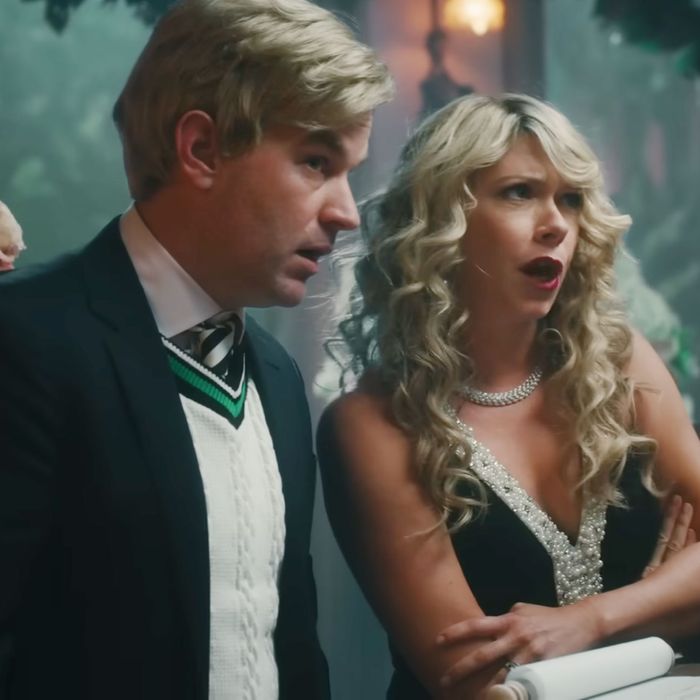 These guys? Not Taylor.
Photo: Taylor Swift/Youtube
It's a big day for Swifties; a day some have surely been awaiting since the cottagecore albums dropped or at least since the release of the singer's 10-minute music-video-slash-short-film-slash-fuck-you-to-Jake-Gyllenhaal (Taylor's Version) last November. Taylor Swift birthed Midnights at midnight on October 21, concluding an extended teaser campaign carried out on social media. It is her tenth album, and per Taylor, represents "13 sleepless nights scattered throughout my life." There's also a music video, featuring variously sized Taylors plus celebrity cameos — the latter being a Midnights theme. As those of you listening along at home have already realized, there are a lot of famous non-Taylors represented across these new Taylor tracks.* But who are they? Well …
Jack Antonoff
As in, the music producer and the man spotted kissing Margaret Qualley at Milk Bar on August 14, 2021. (They may be engaged now. Huh.) Antonoff's little mitts are all over this album: He has co-writing credits on 11 songs and production credits across the whole damn thing. He also played assorted instruments — drum, percussion, synth, etc., etc. — on every track, if Pitchfork is to be believed. Tracks with this guy's expert assessment:
Lana Del Rey
As mentioned above, Lana Del Rey also slunk in here, contributing to writing and vocals on "Snow on the Beach (Feat. Lana Del Rey)."
Zoë Kravitz
Contributed background vocals on "Lavender Haze," huh. She has a co-writing credit on that one, too.
Dylan O'Brien
Who made his breakthrough performance in the Swiftie universe playing (what we think was) a pseudo-Gyllenhaal beanie in the aforementioned mini-movie for "All Too Well (10-minute version)." Here, he can be heard drumming on "Snow on the Beach (Feat.. Lana Del Rey)" and clapping alongside Rachel Antonoff (fashion designer and purported namer of pies), her brother Jack, and Taylor's little brother, Austin, on "Question…?"
Joe Alwyn
Appears in the Midnights credits as William Bowery, a name you may remember from folklore. Alwyn is an actor, Swift's longtime boyfriend and possible fiancé, as well as the co-writer of "Sweet Nothing."
Mike Birbiglia
Fans who've watched the video for "Anti-Hero," which Swift directed and which we're posting below for posterity, may have noticed some familiar faces at the singer's imagined funeral. One belongs to standup comedian Mike Birbiglia, who plays "Preston," one of her two sons. The other is played by …
John Early
Whom you may recognize as Elliot from Search Party. Here, Early is Ibiza-party-boy and podcaster-nepo-baby "Chad," and he accuses "Preston" of name-dropping their mother to gain admission to a country club. He additionally accuses "Preston's" wife, "Kimber," of stealing Taylor's general look and of murdering her. Speaking of, "Kimber" is played by …
Elizabeth Ellis
Who was in It's Always Sunny in Philadelphia!
But there are still more celeb cameos to come …
Ahead of the official release, Swift teased yet more music videos to come, with contributions from the Haim sisters, Laura Dern, Pat McGrath, and more. We'll see you back here soon.
*And as you will have also realized, we're just doing the standard Midnights for now, not the extended (3 a.m. edition) she released shortly after the big drop. Sorry, but there are only so many hours in the day.