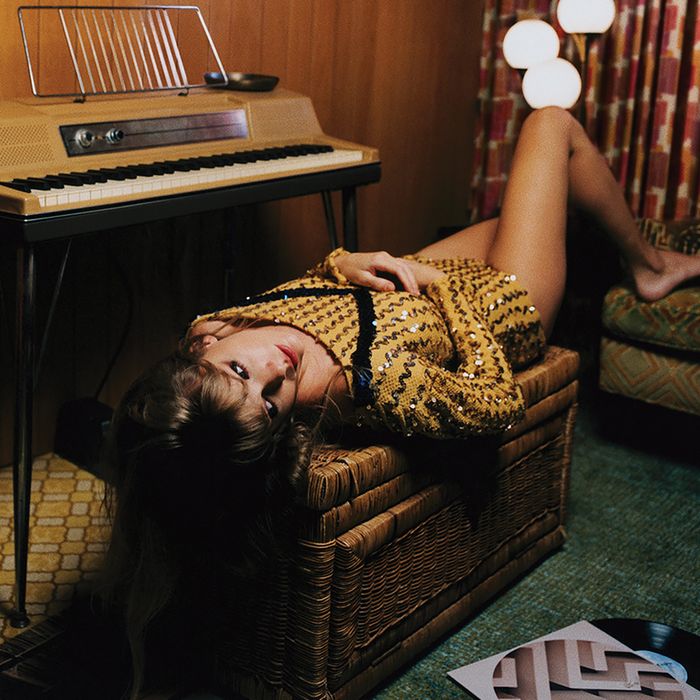 Photo: Taylor Swift/ Republic Records
Since August (the month, not the song), Taylor Swift has been teasing us with snippets of information about Midnights, her highly anticipated tenth studio album. It seems Taylor generously took a break from rerecording her back catalogue to make us an entirely new album, which comes out October 21 along with a brand-new music video.
Last time Taylor released original music, she gave us a pair of surprisingly melancholy records best enjoyed while quietly sobbing — a perfect reading of the room in 2020. While Midnights' title and track list indicate Taylor has left her lowercase-girl era, the album certainly seems angsty and a little wistful from what we know so far. Here are all your Midnights questions, answered.
When will Midnights be out?
At 12 a.m. (duh) ET on October 21.
What do we know about these late-night songs?
Unlike Folklore, which Taylor quietly dropped with 15 hours' notice, Midnights was announced well ahead of its release. On August 28, after accepting her VMA for the ten-minute music video slash beloved indie short film "All Too Well," she took to Instagram (at midnight, of course) to reveal the album's name and concept. Per a blurb explaining Midnights' themes, Taylor wrote the songs "in the middle of the night," and they represent "13 sleepless nights scattered throughout my life." Insomnia has never sounded so romantic.
Since the announcement, Taylor has been teasing pieces of album promo on Instagram and TikTok. Of course, Midnight has 13 tracks, Taylor's favorite number and the day of her birthday. She's also unveiled several vinyl covers that show her in various states of glamorous late-night stress. As Taylor demonstrates in one video, you can collage all the album covers together to form a clock. A multipurposing queen.
There appears to be a loose '70s theme to the rollout, though it's not clear how much this will carry over to the songs or the rest of the album's visuals. Maybe she'll release flower-embroidered bell-bottoms as album merch?
How about a track list?
Taylor is rolling out the album in characteristically over-the-top fashion. To unveil Midnights' track titles, she posted 13 installments of an old-timey "show" called Midnights Mayhem, where she sits in front of a velvet curtain and spins a gilded bingo cage of Ping-Pong balls to announce one track title per episode. It is both spooky and soothing. The track titles portend lyrics about several classic Taylor subjects: colors, gloomy weather, elaborate literary metaphors, possibly the word toxic.
Here are the song titles (which are also posted on her Instagram, but I highly recommend you watch those hypnotizing videos anyway):
Lavender Haze

Maroon

Anti-Hero

Snow on the Beach (featuring Lana Del Rey)

You're On Your Own, Kid

Midnight Rain

Question … ?

Vigilante Shit

Bejeweled

Labyrinth

Karma

Sweet Nothing

Mastermind
Lana Del Rey?!?
Yes! These two lovers of melancholy music and Americana have finally teamed up for a song about confusing precipitation. According to another video Taylor recently posted, it's really about "falling in love with someone at the same time as they're falling in love with you in this cataclysmic, faded moment." Taylor called existing at the same time as Lana "an honor and a privilege." For me, it will be an honor and a privilege to softly weep to the fruits of their labors.
Any other special guests?
Per IndieWire, Zoë Kravitz (!) has a writing credit on two of the album's songs, "Lavender Haze" and "Karma." Taylor's boyfriend, muse, and the titular Brit of "London Boy," Joe Alwyn, is credited for the second time under the same quirky little pseudonym Taylor used for him on folklore, William Bowery. (Is it still a pseudonym if everyone knows who he is?)
Taylor has also posted some behind-the-scenes photos with two of her frequent collaborators, Jack Antonoff and a glass of white wine. IndieWire confirmed that Antonoff produced the album and co-wrote 11 of its 13 songs.
What else is Midnights about?
In the week leading up to the release, Taylor has been releasing a thematic road map sorts, sharing on Spotify several words and concepts that have kept her up at night and therefore inspired Midnights. The first two, "self-loathing" and "fantasizing about revenge," should give you a good idea of where she's headed. Meanwhile, previews of her lyrics are currently displayed on billboards in New York and London: "I should not be left to my own devices" and "I polish up real nice."
Taylor divulged details on several other Midnights tracks in her "Midnights Mayhem" videos. "Lavender Haze" came from a phrase she apparently heard on Mad Men and, after some diligent research, found out was a term people used in the '50s to describe being in love. She revealed that the song was about handling the press surrounding her relationship with Alwyn, whom she's been dating for six years. "We've had to dodge weird rumors, tabloid stuff — and we just ignore it," she said. As for "Anti-Hero," she called it a "guided tour throughout all the things that I tend to hate about myself."
What can we expect after the release?
It should not surprise you that Taylor posted a handwritten schedule of the Midnights rollout a few days ahead of its official release. It looks like a high-school planner, and I love it.
Thanks to this genuinely useful piece of album promo, we know she has a "special very chaotic surprise" planned for 3 a.m. ET on Friday, hours after Midnights officially drops. Nothing about this meticulously filled-in calendar screams "chaotic" to me, but sure. The music video for "Anti-Hero" will arrive at 8 a.m. ET that day, and the following Tuesday (at midnight, of course), we will be blessed with another music video for one of the album's songs.
For some reason, Swift has chosen Amazon Prime's Thursday Night Football game (??) to give us a final teaser of her album before it comes out at midnight. So if you can't wait until the clock strikes 12, you can brave … whatever's happening there. Godspeed!