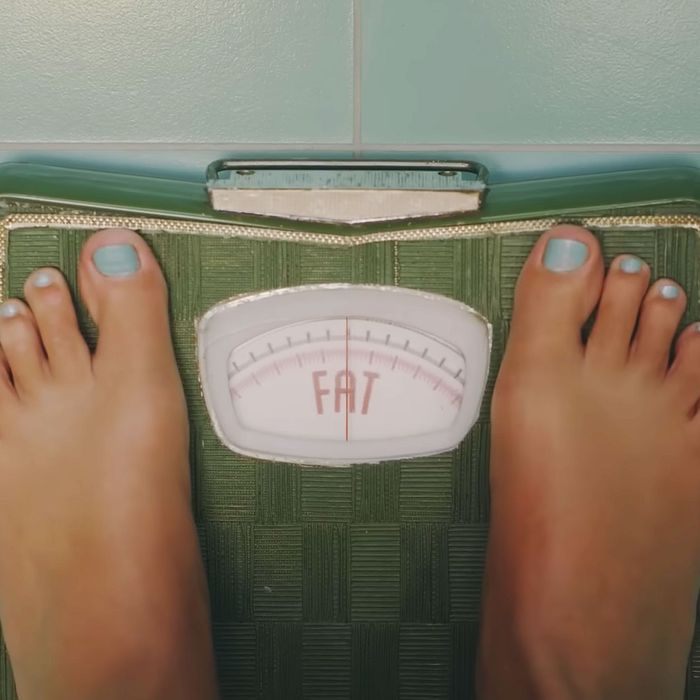 Photo: Taylor Swift/Youtube
Taylor Swift is right about one thing: It is exhausting rooting for the anti-hero. Fat Swifties learned that the hard way on Friday, when she released the video for her first single off Midnights, "Anti-Hero." On Twitter, Swift described the video as depicting "my nightmare scenarios and intrusive thoughts." Those include watching her imagined adult children fight about their inheritance, being a larger-than-life "monster" who takes up too much space with her friends, and stepping on a scale that tells her she's "FAT."
Immediately after its release, people started criticizing the use of the word "fat," calling the video fatphobic and insensitive. Shira Rosenbluth, a licensed clinical social worker who specializes in helping clients with body-image issues and disordered eating, called out Swift's use of the word "fat" on Twitter, calling it "a shitty way to describe her body image struggles." Rosenbluth continued, "Fat people don't need to have it reiterated yet again that it's everyone's worst nightmare to look like us." Rosenbluth was just one of many critics to accuse Swift of fatphobia — which, of course, then led to a wave of fans coming to her defense, kicking off a debate on fatphobia, disordered eating, and body dysmorphia.
Online, Swift's defenders pointed out that she has previously discussed suffering from disordered eating. "Is taylor not allowed to talk about her experience with her body image struggles?" tweeted @expiredthrills. "There's a difference between saying being fat is bad and saying you have a literal eating disorder that you're constantly battling." Though Swift has never specified any disordered-eating diagnosis, she hinted in her Netflix documentary, Miss Americana, at instances in her life when she would "stop eating" after seeing photos of herself "where I feel like I looked like my tummy was too big or … someone said that I looked pregnant." Swift expanded on this in an interview with Variety, saying that she would exercise a lot, but not eat, and implied that she struggled with her relationship to food.
Others argued that the scale in the video is intended as a criticism of Swift's own lived experience that being "fat" was bad and something to be feared. "The message Taylor is very clearly promoting is that society teaches girls and women to fear being fat, and that this is something that has been harmful to her mental health, and it's also harmful to the fat people who are stigmatized in the process," tweeted Mr Beard, a YouTuber. I can see why this interpretation is appealing, and it might have been her intention, but aside from this brief moment, the video doesn't include any wider examination of what Swift feels about the word "fat." In the context of the video, "fat" remains a negative word.
Of course Swift can talk about her body issues. But as a fat person who has been called fat for a majority of my life, it's hard to recall a time Swift has ever championed body diversity. (That one dancer in the "You Need to Calm Down" video doesn't count.) I don't doubt that Swift has been hurt by society's anti-fatness and glamorization of extreme thinness, but when has she actively combatted it? Swift stans are actively fat-shaming women who have critiqued the "Anti-Hero" video. Has she done anything to temper their anger?
The idea of being "fat" might be an "intrusive thought" or a "nightmare" for Swift — a valid experience that many people of all sizes can relate to. But the fact is that she has never lived in a "fat" body (no matter what internet trolls might say). She may struggle with feeling fat, but she is a thin white woman, and she's benefited from it. To me, this scene isn't just harmful because it reinforces the idea of being "fat" as bad; it's harmful because the word "fat" is triggering to many of us who actually exist in these bodies. It allows the video to give off the air of being inclusive while still celebrating a thin body. Unless Swift is willing to unpack her own thin privilege, or take a stand for her fat fans, any perceived gesture of solidarity with fat people is meaningless.
I don't think her intention was to be fatphobic or to send her overweight fans a message that their bodies are her worst nightmare. But are we expected to believe that the woman who leaves math clues in her track lists didn't carefully construct every aspect of the video she wrote and directed and couldn't think of a better, less triggering word?
Update: By Wednesday, October 26, the "Anti-Hero" music video had been edited on Apple Music to remove the shot of the word FAT. The original video still appears on YouTube. The Cut has reached out to Swift for comment and will update when we hear back.