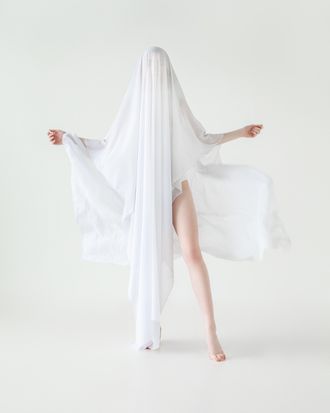 The ghosts at one property in Gainesville, Texas, probably.
Photo: Getty Images
Paranormal experts probably disagree about the location of the nation's most aggressive haunting, but the location of its horniest haunting? I think that's clear: Gainesville, Texas, where one landlord's former rental property is filled with ghosts who want to "'freak' you all night long." That's according to local ABC affiliate station WFAA, which spoke with owner Linda Hill about the atmosphere in this spooky homestead. In a word, it's "sexual," she said. "There's no other way to put it."
Hill told WFAA that she and her husband saw ten tenants cycle through the house — now available to rent only on a short-term basis exclusively for ghost-hunting purposes — in two years before she herself had an encounter. She was showering, she said, when she noticed a "dark figure" peering at her through the shower curtain. When the figure whispered, "Lookin' good," Hill thought it must be her husband flirting … until her husband walked into the room and asked her whom she was talking to. Since then, she has allowed several paranormal investigators to poke around with their ghost barometers, yielding erotic results. In their electronic voice-phenomenon recordings, she claims to have heard the dearly departed moaning things like "Oh baby, oh baby, yeah" and "Yeah, I like it like that." There's also, allegedly, a bathroom door that refuses to stay closed no matter how firmly you shut it, which (to me) sounds like the shade of a long-dead perv still hell-bent on peeping.
Hill believes the relentless sexiness stems from the building's history: Originally built in the 1840s, it supposedly served as a brothel, thus the lingering horn. Unrelatedly, Hill calls one room the "murder room" because "almost every psychic that walks in" reports seeing a dead body sprawled on the floor. On top of all that, someone plonked a 19-foot well in the middle of the floor plan, an amenity that isn't necessarily relevant to the haunting but feels weird not to mention.
If ghost sex is real — and many credible sources, including Kesha, Lucy Liu, the Cut, and of course the nonfiction biopic Ghost starring Demi Moore and Patrick Swayze, suggest it is; spirits usually take the initiative — then sexy ghosts must exist, too. Your move, Yandy.