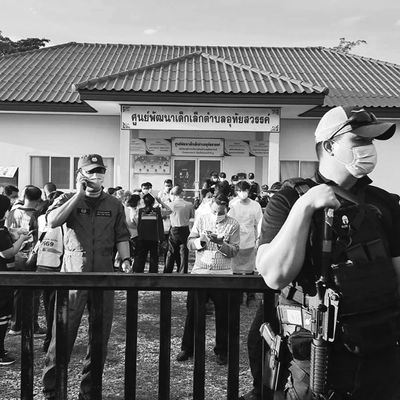 Photo: RUAMKATANYU FOUNDATION/HANDOUT/EPA-EFE/Shutterstock
Dozens of people, including more than 20 children, were killed Thursday after a man opened fire at a day-care center in Nong Bua Lamphu, a province in northeastern Thailand.
Thailand's Central Investigation Bureau has identified the shooter as Panya Kamrab, a 34-year-old ex–police officer who was dismissed from duty and charged with selling narcotics last year. Hours after appearing in court on the drug charges, he reportedly entered the Child Development Center Uthaisawan, a free day care operated by the local government, and shot several officials before forcing his way into a locked room where the children — the youngest of whom were 2 years old — were sleeping and stabbing most of them. According to police, he was looking for his stepson, who's enrolled at the day-care center but was home at the time of the attack.
Kamrab then fled the scene and kept shooting from his car before driving home and killing his wife and stepson and taking his own life. Authorities say 11 people were killed after he left the building.
The total casualties are still unclear, but Thailand's national police chief said Thursday morning that at least 38 people died. According to a local Thai news website, that count includes 24 children.
According to police, the gun Kamrab used in the attack was obtained legally. Thailand has a relatively high rate of gun ownership despite strict gun-control laws, but, as with most countries outside the U.S., mass shootings are rare.
This is a developing story, and we will update as we learn more.