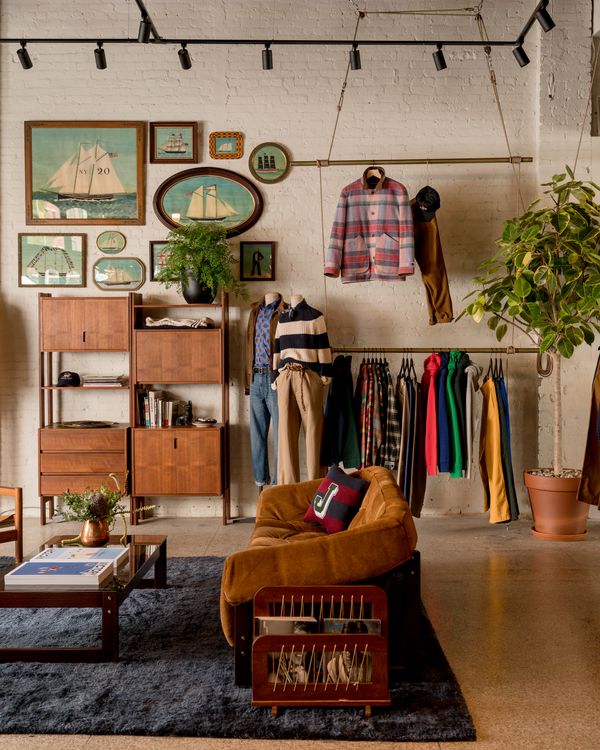 J.Crew's new Bowery men's store, designed by Estelle Bailey-Babenzien, could set a template for the brand's future shops.
Photo: Courtesy of J. Crew
For the last few years, like moths to a flame (or at least flame emojis), a certain type of guy has homed toward the corner of Mulberry and Kenmare, where Brendon Babenzien has set up his Noah shop. Mulberry Street has emerged as the micro shopping district for the young, moneyed, and hype — Aimé Leon Doré, which draws a similar crowd, is just down the block — but Noah is its bellwether. Guys drift in, browse Dickies-ish work pants and logo-embroidered five-panels, loaf on the Chesterfield sofa, and bullshit with the skater-boy sales staff. Babenzien's second-time-lucky Noah label, which he originally founded in 2002 after a stint at Supreme, put on hiatus a few years later, and then brought back in 2015, has become a homegrown phenomenon, an independent, small-bore success whose cultish cross logo you can now spot everywhere from Dimes Square to Portland, Maine, (I have) to Tokyo, Japan, home to two Noah stores.
It's hard to imagine that J.Crew, which installed Babenzien as its men's creative director in 2021, wasn't hoping to repeat the trick, not least when it opened a store-cum-hangout (with a coffee bar and a different, no less comfortable statement couch) for his new J.Crew. Designed by his wife and Noah collaborator Estelle Bailey-Babenzien and her firm, the Dream Awake, the new shop, on Bowery and the corner of Bleecker, a stone's throw from Noah, will try its luck for a year or so. If successful, the company says it could set the template for more men's stores to be rolled out in its image. The tribes are already noticing. "Someone came in here the other day and was like, 'Oh, it's Noah, that's really great,'" Bailey-Babenzien told me on a recent Wednesday morning, sipping an alt-milk matcha from the coffee bar. "I was like, 'Really?'"
It is and it isn't, about which more in a minute. But beyond debate is that J.Crew, at least as far as its menswear is concerned, is now in its Noah era. The retailer, which has struggled in recent years, cycling through chief executives and filing for bankruptcy protection early in the pandemic, needed to reinvigorate its offerings and lure both new and lapsed customers, who had gotten bored of its staling style and fed up with its uneven quality. Libby Wadle, an 18-year veteran of the company who ran (and still runs) its Madewell division, took over as CEO in November 2020, and one of her first moves was to bring in Babenzien. The two had been neighbors in the same Williamsburg building, though they barely knew each other, Babenzien told me. But he was neither surprised nor unprepared, having grown up on Long Island as a J.Crew shopper: "I already knew what I would do with it."
Babenzien's first collection — his second has arrived in stores and online this week — sandblasted J.Crew's usual prep offerings a bit, tweaking but not fundamentally altering its approachable chinos, jeans, jackets, and shirting. Everything looks a little hairier, looser, and more lived in, from the Shetland sweaters to the bleached-out jeans. Babenzien's big swing, the "giant" chino, attracted the most immediate attention and began selling out, but it's one of the most extreme of the new propositions. This was the Noah playbook, too: nothing too complicated, the standards just slightly improved. In fact, shopping the two side by side, you might notice that a similar striped Shetland-wool sweater is on offer at both: J.Crew's in camel, silver, and "thistle" (a nice light purple), $148; Noah's in coffee, gray, and orchid (a nice light pink), $328. He splits his time just about down the middle, spending two days a week at J.Crew's Financial District offices and the rest with Noah.
"I don't work too hard at it," Babenzien told me of differentiating the two brands. "You just kind of go, 'This looks good here, this looks good there.'" The approach appears to be working. Though the company is cagey about sharing specific numbers, it told me it is seeing "positive, double-digit growth in menswear driven by strength in shirts, sweaters, and suiting" and called out some of the newest pieces as top performers: those giant chinos; Babenzien's looser, more unconstructed Kenmare suits and blazers (his answer to the brand's enduringly popular, slim-fit Ludlow, inescapable at about a decade's worth of weddings); the Shetland sweaters. "You hear a lot from other people, friends who have taken on big roles, 'Dude, you don't understand, you're gonna get there and they're gonna shut you down,' all that kind of nonsense," Babenzien said. "And I'm sure that does happen often. It's just not the case here."
The shop, too — done up by Bailey-Babenzien to suggest a boathouse, with rope-rigged furnishings and a hanging canoe — represents a step away from the existing norm. It is slyer and more design-centric than the usual J.Crew shop. (That statement couch is by the Brazilian modernist designer Percival Lafer, and like most of the furniture Bailey-Babenzien sourced for the store, is for sale.) Her husband was a little nervous, Bailey-Babenzien told me, when she took the project on: She is a Black Briton from West Sussex and not as steeped in the Wasp Americana that had been J.Crew's original aesthetic. But northeastern prep, she said, is "not that far from English culture. It's a similar vibe. I understand what that looks and feels like."
Still, both Babenzien and Bailey-Babenzien freely admitted that Noah has a younger audience. "We've got young skater kids running that shop," Bailey-Babenzien laughed, and the walls are currently pasted with vintage Red Hot Chili Peppers posters, a nod to a current collaboration with the brand. J.Crew's bread and butter, on the other hand, is officewear, a topic that's especially fraught as many work-from-homers face return-to-office orders. I wondered how he was approaching the challenge of designing work-friendly attire when his own work history has more or less avoided the traditional office. "I've been saying for years that actually I think the difference between younger customers and older customers isn't what it used to be," he said. "You grow up in the '80s as a skateboard kid, you're kind of always that kid. You grow up, get families and mortgages, and, you know, maybe you have to have a tuxedo for black-tie events in your closet and all that, but you're still kind of that skateboard kid at heart."
In his black-and-white J.Crew blazer, wide-legged jeans, and buckled thick-soled shoes, he was his own best example — perched between youth and responsibility, ferrying between his own clubhouse and the big office downtown. "I'm 50," he said, "and I'd say the first, maybe the second wave of people who kind of, like, never really grew up."