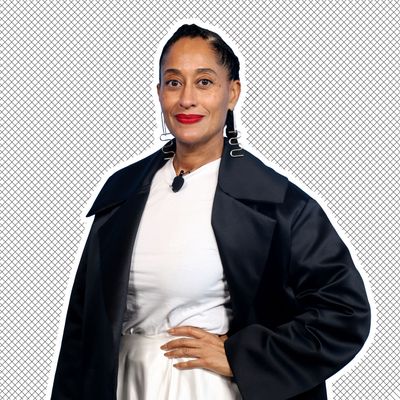 Photo-Illustration: The Cut; Photo: Katie Jones/Variety via Getty Images
Tracee Ellis Ross can chart the twists and turns of her self-acceptance journey through her hair evolution. After years of seeing possibility in the beauty industry's shortcomings, the actor-producer took a leap in 2018 and launched the hair-care line Pattern Beauty with the goal of introducing effective, feel-good products without treating the variety of coils, curls, and Afro textures as a problem to be solved. The venture was ten years in the making and continues to enrich Ross's understanding of the history, community, trauma, and self-actualization intertwined with having Black hair. Naturally, when the opportunity materialized to join The Hair Tales, an onscreen celebration of Black women through discussions about hair, her answer was an emphatic yes.
The six-part docuseries, created and executive-produced by Michaela angela Davis, with Ross and Oprah Winfrey also executive-producing, is a heartfelt exploration of the ways that Black hair and beauty culture have provided a portal to self-acceptance. Through conversations with Black women from different walks of life — artists like Chlöe Bailey, Mickalene Thomas, Chika, and Issa Rae; politicians such as Congresswoman Ayanna Pressley; and academics and community organizers — the series gently nudges viewers to sit with the age-old adage "beauty is pain" and reflect on how the sentiment has taken shape across generations.
Ahead of the Hair Tales premiere, which debuts on Hulu and OWN October 22, we caught up with Ross about the lessons and gifts that have come from her evolving hair journey.
What's a hair lesson you've embraced that would make the younger version of you happy to see?
Honestly, just that my texture is beautiful. I didn't know that growing up and I wish I had. I think of the amount of shame and struggle that I went through around my hair and thinking it really was holding me back from being whatever. I don't feel that way now. And so I wish I had known that; I could've had a couple more creative ideas, maybe, instead of spending that time beating myself up.
In the docuseries, you touch on the importance of language that describes and connects to our experiences. Have there been any affirming or eye-opening terms you've learned during the Hair Tales process?
There was a term that I heard doing Hair Tales from Issa Rae that I had never heard before, and it really spoke to me. She used the term "hair believers," and that was the way she described Felicia Leatherwood. It reminded me that I, too, have a handful of hair believers in my life. People who've had the sacred role of helping me learn to love myself in moments when I can't, and who have taught me about my hair in ways that I didn't know. Those are really important people and fixtures in this journey because we, as Black women, are sold such a lie about who we are. The intimate relationship with your stylist sometimes becomes a place where you get to be mirrored back to yourself in a way that culture is not.
While watching Hair Tales, I appreciated hearing the hair journeys of Black women from different walks of life who also have varying present-day relationships to their hair. How did you select the people you'd be in conversation with for the series? 
It was very intentional that we wanted the show to express the expansiveness and the fullness of who we are as Black women. Obviously we can't do that in six episodes, but the hope was that we could bring together, both behind and in front of the camera, enough of a varied group that we would express a glimpse into the expansiveness of Black women.
So often the experiences of Black women are decontextualized, and we wanted to give context and history to the humanity that we were expressing. The academics and scholars were incredibly important there. Then the notable women that we talked to, we wanted a range of ages, and what they do in the world — and also really hoping that there were different hair types in terms of how each of them wear their hair. And then the salon, we wanted it to be as representative of who we are as possible.
Within the entertainment industry and beyond it, equitable treatment when it comes to Black hair still has a long way to go. What comes to mind when you think about how you've been intentional about taking up space while navigating the current landscape?
There are a lot of ways. I started a hair company based in exceeding the needs of the curly, coily, tight-textured community. And more than that, that is an active space for the celebration of Black beauty. I am also producing a show that is an intentional and intimate celebration of Black women told through our hair. And that is hopefully gonna take up a lot of space.
As an actress in the roles that I play, I'm very intentional about how I wear my hair and what I'm portraying in those moments. I did it all the way back on Girlfriends. When a scene called for sexy hair or a date night or Valentine's Day, I'd do my best to make the choice — obviously there are other people involved in those choices — to not go down the traditional route of perpetuating the stereotype that straight hair is sexy, that heat on our hair is the way to be desirable. I would try to wear braids or do other looks that actually reflect the world that I come from, and what I see that I think is beautiful and sexy, and gives a better, more full version of what that can be.
And I just constantly fight for the passing of the Crown Act in all states and on a federal level, and I am active about expressing that.
Last question, what's something bringing you joy or pleasure these days?
I'm about to turn 50, and I'm very excited about my birthday.
Yes, Scorpio!
Yes, very Scorpio. The launch of Hair Tales is very exciting to me. I executive-produced on mixed-ish, but that was an idea that was born out of black-ish and out of the character of Bow Johnson. This is my first producing project where my company, Joy Mill Entertainment, is one of the main producers, and I developed and did the whole thing here in a way that I feel incredibly proud of. It brings me so much joy to be able to put something like this in the world.
Rae's go-to hairstylist, who specializes in natural hair.