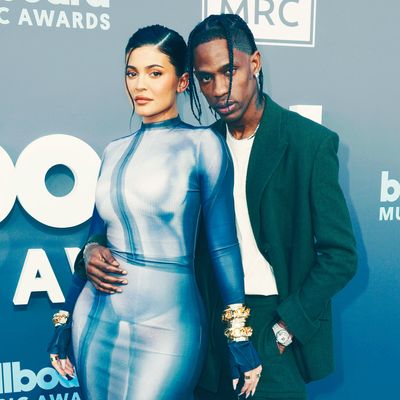 Photo: Frazer Harrison/Getty Images
It's been a hectic week on Instagram for Travis Scott, who is currently embroiled in a messy back-and-forth with his rumored ex, model Rojean Kar. Last week, Kar accused Scott of cheating on his on-and-off partner, Kylie Jenner. Now, she and Scott have been waging war via Instagram Stories for days, both refuting each other's claims, and it's only getting messier. Here, what's been said so far.
Scott and Jenner are not new to cheating allegations.
Kar and Scott were rumored to be romantically involved in 2013, when she showed up backstage at a few of his concerts, though their relationship was never publicly confirmed. He and Jenner met in 2017, and they welcomed their first baby, Stormi, ten months later. In February 2019, TMZ claimed that Jenner had found "evidence" that Scott cheated on her, causing a big fight that he canceled his concert in Buffalo to handle. Scott publicly denied that he was unfaithful, and they appeared to make amends.
Kar's name didn't reenter the picture until later in 2019, when news broke that Scott and Jenner were taking some time apart, prompting more speculation that Scott had cheated. Some of the rumors singled out Kar, which she adamantly denied in an Instagram Story. "None of these rumors are true, it's just the internet creating a false narrative," she wrote at the time. "Please stop spreading lies & leave him, her & I alone because it's affecting real lives. Thank you."
A post from Kar prompted a new wave of rumors.
At some point in 2020 or 2021, Jenner and Scott got back together, and they had a second child in February of this year. Relationshipwise, everything seemed fine until last week, when Kar posted a photo from what appeared to be a video set, where Scott can be seen talking to a crew member.
"I'm directing obvi," Kar wrote over the photo, causing a flurry of rumors that something happened between her and Scott. At first, Kar denied the rumors, writing in a since-deleted Instagram comment, "I didn't even realise [sic] he was there. Y'all need to stop perpetuating this shit."
Meanwhile, Scott responded to the renewed chatter in an Instagram Story of his own, writing:
It's a lot of weird shit going on. An uninvited person was sneaking photos on what was supposed to be a closed set while I was directing a video. I'm saying this for the last time. I don't know this person. I've never been with this person. So please stop with the continuous cyber games and the fictional story telling.
This, I guess, prompted Kar to change her tune. She reposted his statement and recorded a video on (where else?) her Instagram Stories, where she said:
What we're not gonna do is we're not gonna lie on me. I pretended I didn't know you, went along with whatever fucking narrative … no matter how much bullshit I got from it. But to say you don't know me and you've never been with me when you've definitely been with me, when everybody's seen you with me, when I have pictures and videos of you with me? Come on. Come on, sir.
Kar also claimed that she and Scott had met up on Valentine's Day earlier this year after she left a party and friends started texting her saying Scott was asking for her to come back. "You cheat on that bitch every single fucking night," she said. "The whole fucking city sees it! Don't do this."
The exchange continued on Kar and Scott's Instagram Stories.
Scott responded to Kar's allegations with more Stories of his own. He shared a screenshot of an Instagram comment in which a woman who claims she worked with him for eight years explained Kar's music-video post: "He was directing a video for another artist," the comment read, calling Kar "delusional" and confirming she was "not there with him." Scott also attempted to deny seeing Kar on Valentine's Day by posting a photo of a dinner table loaded with gifts and a screenshot of the date and time it was taken. "If u wasn't at this table on V day then u wasn't with me," he wrote.
Kar came back with a vengeance, posting more screenshots that allegedly proved Scott was at a party thrown by Gunna on Valentine's Day. "Maybe your brain is all scrambled from like all the Molly you take …," she wrote, including a text conversation in which someone seems to be telling her that Scott wanted her to come back to the party. Scott does not appear to have responded to these latest posts.
The Cut has reached out to Jenner and Scott's reps for comment and will update this post when we hear back.