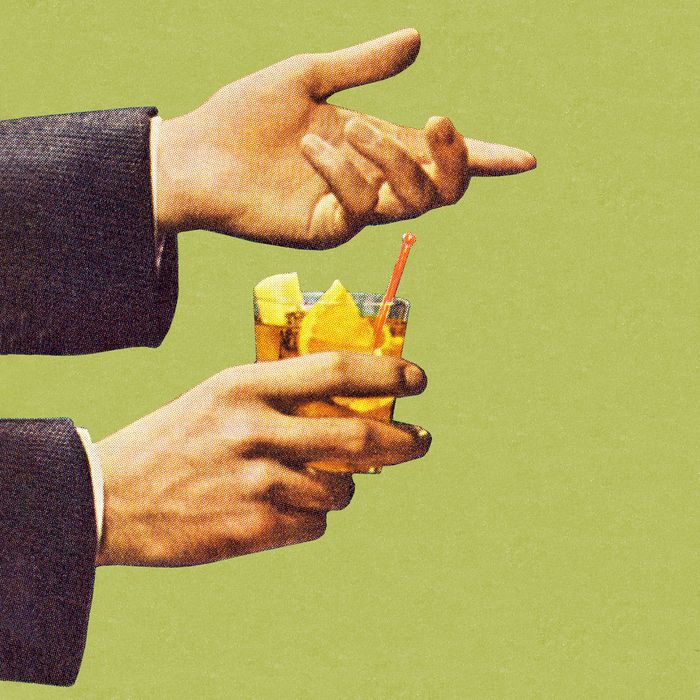 Photo: CSA Images/Getty Images/Vetta
On a crisp fall evening last week, 270 singles crammed inside Tribeca Social for a sweaty mating ritual. You could call it a mixer with a twist: a vetted dating party — single women bringing recommendable single men for the public good of the group. Though it sounds like the premise of Charlotte's "used dates" party in Sex and the City, the idea sprung from a Facebook page. In the spring, 28-year-old Los Angeles native Paola Sanchez started a group called "Vouched Dating — Good and Verified Guys" for those tired of "fuckboys, liars, and manipulators in NYC." Over 6,000 women have joined, advertising their old boyfriends, younger brothers, and platonic childhood friends. "Italian family man," they write. "Millionaire +." Interested women shoot their shots in the comments. Others solicit advice and setups: "I'm looking for a guy who is internationally minded. Entrepreneur or successful in his career. Volunteering is a plus. Any recs?"
Wednesday's event was the first time the group gathered in person. As I arrived, a little after seven, a woman was strapping attendees with orange "I'm available" wristbands; blue ones were for moral supporters. Because I don't know one single man I'd impose on anyone, I came alone. So, it seemed, did the majority of attendees: Hordes of women lined the bar, sipping White Claws and Rolling Rocks, the only drinks on offer during the hour-long open bar. Women clustered the velvet couches lining the back room while the few vetted men present clung sheepishly to their spiked seltzers and the women with whom they had come. A corporate matchmaker from a sponsor company made the rounds, pushing Life Saver mints and a sign-up sheet for its dating service on guests as two vetted men played beer pong. The DJ blasted Jason Derulo's "Swalla." Beside me, a woman considered a sign tacked to the wall: "Ladies! Report Any Creeps, Call This Number!" "So fun," she said, tepidly sipping her White Claw.
"I'm not going to find anyone here because the ladies didn't understand the assignment. This looks like girls' night out," said one 38-year-old software worker who lives in Brooklyn. Tinder, Bumble, and BLK, a dating app geared toward Black singles, have been "weird" to her ("Hinge is fine"), and an old-fashioned, in-person mixer seemed different enough to actually work. But 30 minutes in, she gave up: "I got two men to come here, but the other ladies did not do their part. You have to bring men, ladies." Even women who arrived alone were frustrated by the lack of men. "I don't want to sound corny, but I'm looking for my boyfriend. But I don't think he's here tonight," said Paola, a 24-year-old kindergarten teacher who recently moved from Florida to the Upper West Side. "I'm going to wait for a friend to get here, and then we're gonna grab a bite and probably get superhigh somewhere."
By eight, a small troop of unvetted men secretly slipped inside; one revealed he was invited by FilterOff, a dating app sponsoring the party and giving out Custom Ink T-shirts. ("You look like you need a small," an unvetted man told a woman at the shirt table. She wasn't impressed.) Even so, a 35-year-old physical therapist I spoke with trusted the process. "Meeting in person is so much better. Vibes are important," she told me. "But I haven't talked to anyone yet. Maybe that's why I'm single." She laughed, while her vetted man, a "very eligible electrical engineer," gulped his Rolling Rock, looking stone-faced.
Of the 50 vetted men who ended up attending, the ones I spoke to seemed open to the vouched method — or at least open to free booze. "I heard it was going to be an open bar, so why not?" said one 26-year-old man, another engineer. A twenty-something pharmacist told me he was tired of "awkward app conversations" that go nowhere and was "hopeful" he'd find someone. The U.N. attorney I spoke with doesn't mind the apps (at least they don't leave him "soulless, depleted, and universally ghosted"), but he deleted a suite of Match Group ones after the company refused to pull out of Russia ("Promoting love is hypocritical when you support a country that's killing another country"). He's still on Bumble, Coffee Meets Bagel and JSwipe but craved a meet-cute. "We've lost the ability to meet strangers in public with a romantic possibility. Unless you've matched on an app, it's not cool to approach anyone. So this is a safe space for that to happen, at least. If anything, it's a fascinating sociological experiment."
Even as the air clammed up with the heat of too many bodies, some women happily made friends. "I haven't met any guys, but I did meet some really beautiful ladies in the last two hours," said a New Jersey court assistant who brought along a vetted man she said is red-flag free, ready for commitment, and "not my type." An unvetted man flitted past us, holding his phone in midair as a makeshift selfie stick. Sex-shop worker Sheryl, 40, came here only to hang out with the ladies. "Every day, someone tells me, 'I want to see you,' 'I want to date you.' But I like spending time with the ladies," she said. Two twenty-five-year-olds traded Instagram handles and planned a platonic dinner date. "Apps are dehumanizing, but it feels strange here," said one of them, a global-health worker living in Harlem. "The guys are looking at my wristband instead of my face, and then they make eye contact too long, and it's like, I never want to see you again." She shook her head. "We're wasting our time and we're probably going to wake up with hangovers." A 43-year-old public relations worker couldn't make the party but later told me she'd been planning to come because she's also had a demoralizing time on the apps. "On the one side, there's men just out of marriages who are broken and clearly not ready to date but have been urged by their buddies to get out there. On the other side, I have a Rolodex of dick picks that men use as business cards that haunt me."
Still, against all odds and the Derulo-infused soundtrack, the throwback magic of a mixer worked for some: By nine, a scant vetted few were cozily pairing off, sharing fries with women and whispering into their ears. Even the man previously glued to beer pong had cuddled up with a woman in leopard-print pants as another woman two seats down yawned and vaped. "People are meeting people," a woman told me in the bathroom line. "Just not us."
As I was leaving, I bumped into two women who had exited the party after arriving a few minutes before. "My friend told me it was a Sex and the City–esque event" said Kimmy, 37. "We went as a joke. I literally walked in and walked out. It was hot, it smelled like New Jersey, and I felt I didn't need to be there." The two waved good-bye and set off in pursuit of a swanky bar. "They only had White Claw in there," said Kimmy. "We're going to have a real drink."