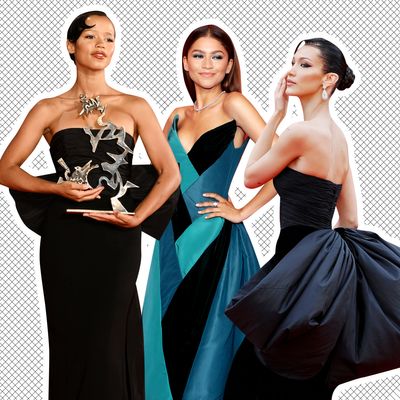 Photo-Illustration: by The Cut; Photos: Getty Images
Every day, the tides of Instagram sweep in new photos of a star dressed in vintage. Consider Dua Lipa celebrating her 27th birthday in flame-licked Thierry Mugler, Bella Hadid swanning down the Cannes red carpet in 1987 Versace, or Olivia Rodrigo pairing a Y2K updo with a slinky, cross-top Jean Paul Gaultier number at the MTV Movie & TV Awards. Think of Zendaya in an elegant 1998 Bob Mackie gown, Sydney Sweeney in an orchid-like 1981 Mugler minidress, or Kelsea Ballerini in the same sequined white turtleneck dress by Marc Bouwer that Shania Twain wore to the 1999 Grammys.
Vintage is so popular on the carpet that it seems like all a stylist needs to do is call up a fashion label, have them dig through their extensive and catalogued archive — and voilá! — it will appear before them, as fresh as the day it was made. Not quite. While some stylists do borrow vintage directly from fashion houses, more often than not these looks are tracked down, snapped up, and restored by vintage dealers, who make it their business to buy and sell ultra-rare designer pieces, a process that involves a tremendous amount of time, expense, and persistence.
"Vintage dealers are a special sort of breed. You have to be obsessive," says Johnny Valencia, the owner of Pechuga Vintage. Valencia, a corset enthusiast on a mission to collect as many versions from as many designers as possible, once flew from Los Angeles to London just to pick up a bustier from Issey Miyake's fall/winter 1981 collection, which he scored through Kerry Taylor Auctions. He told me it cost him roughly $50,000 — the most he's ever paid for an individual item of vintage fashion, hence the decision to get on a plane and personally escort it home. Valencia adheres to the philosophy that everything in his collection is for sale, and when he sells an investment piece like the Miyake bustier (he hasn't yet), it will fuel his next big purchase. That doesn't mean the price tag didn't give him a panic attack, but as he had told me earlier: "But when you love something that much, you don't see obstacles. You just see solutions."
Vintage dealers rely on a variety of sourcing methods. Some are very exclusive and hush-hush: Shannon Hoey, the owner of New York Vintage in Chelsea, has been providing pieces to fashion editors and celebrity stylists for two decades, resulting in a referral network that sends prominent individuals in politics and film her way when they want to unload their closets, NDAs in hand. Others are shockingly accessible to the average shopper. Several of the four vintage dealers I spoke with find pieces on secondhand sites like eBay, Vestiaire Collective, and the RealReal. The difference between how they work these channels and how you or I would use them comes down to knowledge and intensity. For instance, I visit vintage sites and shops sporadically and leave the outcome up to serendipity. Alexis Novak, the Los Angeles-based owner of Tab Vintage, has a list of specific items that she's hunting for, often on behalf of a stylist who has a certain designer and season in mind for a client, and every day she wakes up to more than 50 alerts from resale sites.
The pursuit of the perfect vintage piece can require getting down and dirty: Novak has found herself in plastic gloves at 3:30 a.m., rooting through the contents of an estate sale (when an individual's belongings are being liquidated.) More appealingly, some clients will invite her over to their homes to sift through their excess clothing, leaving Novak with new items to sell and the client with a cleaner closet and a financial kickback. Hoey has been known to acquire pieces when a museum deaccessions items from its collection and sells them off, as well as through auction houses, private collections, and other dealers, who reach out when they have an item that might be of interest to her.
Secondhand clothing is just as popular among everyday people as it is with celebrities — thanks in part to Gen Z's interest in shopping sustainably — and under these conditions, vintage auctions are, per Novak, "really, really intense." She doesn't bid on auction items expecting to get a deal, instead looking at these acquisitions as an opportunity to differentiate her business and articulate Tab Vintage's aesthetic, an extension of her own style that leans toward Halston, Tom Ford's Gucci, and Phoebe Philo's Céline. "There are some pieces where I know I'm going to pay top dollar, but I have to have it," she says.
Novak founded Tab Vintage during the pandemic and quickly amassed a clientele of celebrity stylists after Megan Thee Stallion wore a double chain necklace of hers while performing at the BET Awards in 2021. Christelle McCracken, the London-based vintage dealer behind My Runway Archive, launched her business during the pandemic, too, after getting into collecting vintage Galliano for Dior in 2017. She got her big break when Iris Law, the daughter of Jude Law and Sadie Frost, asked her Instagram followers for vintage recommendations in London. McCracken sent Law a DM, they set up a fitting, and a Vogue story followed, highlighting the spring/summer 2000 Roberto Cavalli miniskirt that McCracken provided for Law's 21st birthday. (On our Zoom call, McCracken was wearing a baroque Cavalli blouse from fall/winter 2004.)
Like Novak, McCracken describes sourcing as a competitive business, noting some people's habit of messaging a seller after an online auction has closed, offering a price over the winning bid and, in doing so, nabbing the item for themselves. "I don't find that ethical," says McCracken, who also works full-time as a criminal prosecutor. But despite these somewhat cutthroat tactics, she finds that the small world of vintage dealing often takes care of its own. McCracken has gotten client referrals from her peers — she started working with Dua Lipa's stylist, Lorenzo Posocco, after a Paris-based dealer put them in touch — and she belongs to a group chat where vintage dealers will alert each other when a piece goes up for sale that's not in their budget or style profile.
Assuming a vintage dealer is able to procure a great designer piece, their next step is often to rehabilitate it. Once an item arrives at Novak's studio — a converted room in her house — she inspects it, then sends it to specialists for cleaning and repairs. Seams get reinforced, buttons get resewn, holes get re-knit. On one occasion, Novak hired a leatherworker to perfectly match the gold paint on a leather Gianni Versace minidress that Linda Evangelista wore on the fall/winter 1994 runway and that was dried-out and cracking. The full process took seven weeks, but in the end, she says, it looked brand-new. "Vintage gets tossed away so easily if it gets a little flaw, and so many pieces can be restored," Novak says.  "A lot of my budget actually goes to the restoration and cleaning process, to make sure these pieces are in the best shape possible."
Novak has also experienced some restoration nightmares, which she calls "very expensive learning experiences." She once dropped off a beaded dress at a dry cleaner for a hand wash, but it wound up going through a machine, stripping swaths of beads from the garment. Repairing the damage would have cost more than she would have made on the dress. "I now personally own a very Avant Garde partially beaded dress," Novak told me. Today she only works with one trusted couture cleaner.
Between high acquisition prices and significant restoration fees, Novak averages a 25 to 30 percent margin on the pieces she sells, which could go for $695 (a shimmering, cream-colored Chloé dress from 2000) or $2,095 (an ornate garnet and gold Cavalli minidress from 2004). Her overall business profit margin is lower than that, though, taking into account costs like photography, image licensing, and research. "It's literally slow fashion in the sense that you don't get into archival reselling to make big money fast," she says.
The small scale and high costs of dealing vintage create an unusual economic dynamic when celebrity stylists enter the picture, which is to say: Contemporary brands usually loan out their garments to stylists for free, and vintage dealers often don't. That fee tends to be a percentage of the retail price of the garment — anywhere from 10 to 20 percent on a piece that may cost hundreds to several thousands of dollars — though dealers may be willing to negotiate or waive the charge depending on the star's level of fame and social-media following, the promise of a tag on social media, or their relationship with the stylist. But between sourcing and repair costs, and the inherent risk of lending out a precious one-of-a-kind garment, some vintage dealers take a harder line. "If you don't have a budget, chances are we are not working together," says Valencia.
Stylist Marc Eram, who has used vintage with clients like Sabrina Carpenter, Iris Apatow, and Barbara Palvin got into celebrity styling three years ago, having previously worked as a project manager and designer for Jeremy Scott. In that time, his use of vintage has ramped up significantly.
While vintage dealers do most of the heavy lifting when it comes to sourcing archival garments, stylists can sink a significant amount of time on this, too. When Eram gets a client request for a very specific piece, he'll hit up as many collectors as possible, including Novak and Valencia, as well as Aralda Vintage, Albright Fashion Library, Replika Vintage, and What Goes Around Comes Around, to see if it exists. "We think there's so much vintage and so many collectors, so it has to be out there. And sometimes it's just not," he says. (Luckily, in the case of the low-backed Richard Tyler dress that Sabrina Carpenter wore on her latest album cover, Novak had a perfect match.)
Jared Ellner, a stylist who has used archival fashion with clients like Emma Chamberlain, Rachel Sennott, and Kate Berlant, starts his vintage quests by doing "massive research," which includes doing a deep-dive on vintage shops' Instagram accounts, scouring 1stDibs, reaching out to individual sellers, and finding vintage stores in the city where he's doing a fitting. In certain cases, this research brings Ellner into contact with vintage sellers who have never worked with a celebrity stylist before. "Some people are deeply confused about the opportunity, and some people are offended by the idea of using vintage pieces to put on a celebrity and give back to them," he says.
For those more attuned to the workings of the entertainment industry, the current vintage craze among celebrities is a no-brainer. It's a way for stars to promote a sustainable ethos, to get more creative than wearing the same Miu Miu miniskirt as everyone else, and to flex on their peers. After all, the only thing more exclusive than designer clothing is designer clothing that nobody else can get their hands on.
Vintage on the red carpet seems like more than a passing trend, though: Eram plans to continue using archival pieces for the foreseeable future, and Ellner now incorporates vintage into every fitting. And beyond the professional and economic incentives at play, there's something sentimental afoot. When stylists and dealers go out of their way for these clothes — flying to London for them, spending months restoring them, paying extra for them — it's also because they have the chance to work with the same runway looks that lit up their minds when they were fashion-obsessed kids. It's in service of the transformative effect of putting a contemporary celebrity in the same dress as an older icon, creating layers of cultural meaning that simply could not be achieved with a new gown, however beautiful. It's for the eerie thrill of seeing a decades-old masterpiece out in the world. As Novak put it, "It's still making you feel something, all this time later."