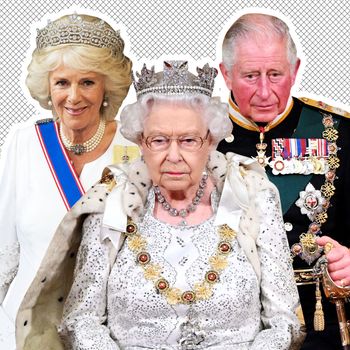 The Charles formerly known as prince is now the king of England.
Photo-Illustration: by The Cut; Photos: Getty Images
After Queen Elizabeth II's unprecedented 70 years on the throne, her reign ended on September 8. Her death set in motion a flurry of long-cemented protocol; she was buried, the public queued, and many people in the U.K. got their first new monarch in a lifetime: King Charles III, set to be crowned in early May 2023.
Below, a full breakdown of all the hyperspecific next steps required to enter the new Carolean Age.
What happened after the queen died?
Buckingham Palace and the U.K. government have long had plans in place for the aftermath of the queen's death, or "D-Day." In 2017, The Guardian predicted the queen's final bedside moment would go something like this: "Her eyes will be closed and Charles will be king. His siblings will kiss his hands" in acknowledgment of his freshly inherited position. As palace aides activated a meticulously engineered phone tree, Charles had his own laundry list of royal duties to tend to. His hands kissed, he met with the prime minister and addressed the nation. The Accession Council officially proclaimed him king. During the accession, members of Parliament swore new oaths to King Charles III, who signed some kingly orders and became visibly huffy with members of his staff over the placement of some pens. He then embarked on a U.K. tour, which kicked off in Edinburgh.
Meanwhile, the queen's coffin made its way back to London, where it spent four days lying in state at Westminster Hall. As I'm sure you remember, that period was marked by a queue of unholy proportions, mourners shuffling solemnly along for 24 hours to pay their final respects to Her Maj in a spectacular display of Britishness. On September 19, world leaders, family members, and Sandra Oh gathered in Westminster Abbey for the state funeral amid the relentless bongs of Big Ben, before the queen was finally interred in the King George VI Memorial Chapel at Windsor Castle.
When is King Charles's coronation?
Protocol demands the coronation ceremony happen within a year, and on October 11, Buckingham Palace tweeted a save-the-date notice: Saturday, May 6, at Westminster Abbey, also Charles's grandson Archie Harrison Mountbatten-Windsor's 4th birthday. Coincidence? I think probably, yeah.
According to the BBC, Charles's will be the first Saturday coronation since Edward VII's in 1902 and may be a modern-antiquated mash-up. (Expect it to be "rooted in long-standing traditions" but also to "reflect the monarch's role today and look towards the future," per the palace.) The particulars remain TBA, but, according to the National Post, Charles has expressed an interest in a "shorter, sooner, smaller, less expensive" coronation than monarchs have had in years past, one that feels "more representative of different community groups and faiths." Apparently, this event has a code name, Operation Golden Orb, after one of the royal artifacts the bishops will bestow upon this "new queen." Meaning that between now and the big day, it will be safe to assume that, at any given moment, Charles may somewhere in his brain be pondering his orb.
What are some fun facts about Charles?
By most accounts, Charles is idiosyncratic. The New Yorker reports that, in the same biography, he is described as "keenly sensitive to violations of protocol," "more of an intellectual striver than a genuine intellectual," and generally out of touch — while at the same time possessed of a "capacious mind," an "elephantine memory," "emotional intelligence," and "talent as a consummate diplomat." He is reportedly the kind of guy who will spam officials and institutions with unsolicited yet detailed feedback ("on matters ranging from school meals and alternative medicine to the brand of helicopters used by British soldiers in Iraq and the plight of the Patagonian toothfish") scrawled in spidery handwriting — a real "letter to the editor" type.
In short, Charles seems made of contradictions. For example, despite his rumored reverence for convention, he appears to have a soft spot for shady deals. In recent weeks, he has come under fire for accepting not only a £1 million donation from the estranged family of Osama bin Laden but also bags (both duffel and grocery) full of cash from the former prime minister of Qatar, all on behalf of his charity. And during the course of a sexy, illicit phone conversation, Charles once told his now-wife that he yearned to live inside her underwear, even if only as a tampon — a testament to his rumored capacity to be simultaneously very sensitive (at its core, the sentiment is sweet) and insensitive (when he made the comment, he was married to Princess Diana, who agonized over her withholding husband's affair).
He also enjoys watercolor painting and absolutely loves plants, to the degree that he talks and listens to the green inhabitants of his gardens. This custom, of which he has made absolutely no secret, has led some to label him "looney and eccentric," to quote one biographer. Still, he is more than willing to speak openly of his love for plants and makes sure to shake a limb of every tree he plants as if it were a human hand. That is a level of commitment I think we must respect, though I'm not sure we need to respect his 2020 appointment of Katy Perry as ambassador of the British Asian Trust. Apparently, he wanted her to sing to his plants, and presumably, she retains the title.
What is Camilla's new title?
Charles's second wife, formerly Camilla Parker Bowles, now becomes the queen consort thanks to a special intervention by her mother-in-law. On the eve of her 70th Accession Day, the queen specified in her official statement that she would like the Duchess of Cornwall to take on the title typically reserved for royal spouses. In other contexts, the shift might have been a given, but Camilla wasn't very popular when she married Charles in 2005. Before that, most people knew her as his mistress — the "third person" in his marriage with the late Princess Diana and the source of incredible strife that arguably could have been avoided if the royals hadn't discouraged Charles from marrying Camilla in the first place. But that is potentially oversimplifying things, and anyway, she has since won over enough of the public and the family. Camilla will be crowned at Charles's coronation "in a similar but simpler ceremony," to quote the BBC.
What about the corgis?
When the queen died, her dog pack was down to two corgis after her beloved dorgi Candy (a dachshund-corgi mix) succumbed to old age in July. The two new corgis, Sandy and Muick, were gifts from the disgraced Prince Andrew, who reclaimed the royal pups after his mother's death. Scoff if you want, but this was apparently part of the agreement from the jump.
Does everybody have to move now?
Yes, some members of the royal family may have to move. Charles will likely do as monarchs before him have and move into Buckingham Palace, working in its offices and living in "the flat above the shop," if you want to really undersell it. This palace is currently undergoing renovations, however, so it's not presently clear if he has made the full-time move — though he is set to host his first state visit there in November. But Charles's departure would free up Clarence House, where he has been living since the queen mother died in 2002. It's unclear who, if anyone, will move there: According to the Daily Mail's sources, it could pass to one of the royal babies in the future and be used for working and entertaining in the interim. In August, Prince William and Kate Middleton relocated to Adelaide Cottage on the Windsor Estate and were reported to be keeping their home in Norfolk, Anmer Hall, and their Kensington Palace apartment.
What is the new line of succession?
After Charles — who, at 73, is the oldest person ever to ascend the British throne — comes William, then each of William's children in order of age: Prince George is now the second in line, followed by Princess Charlotte, then Prince Louis. Although Prince Harry renounced his royal duties, he would still be next up after William and William's kids, followed by his older child, Archie Mountbatten-Windsor, then his younger, Lilibet Diana Mountbatten-Windsor. Then comes Prince Andrew, who remains technically eligible despite his mother's stripping him of his HRH title over the Jeffrey Epstein connection, followed by Andrew's kids: Princess Beatrice, who once slashed Ed Sheeran across the face with a sword while play-knighting James Blunt, and Beatrice's baby after her. Then there's Princess Eugenie, then her baby, and so on and so forth.
Is Charles really going to scale back the monarchy?
He has talked about "slimming down" the ranks of the royal family, keeping just eight senior members as working royals for financial and practical purposes. The new Firm would presumably include himself and Camilla; Will and Kate; Charles's brother Prince Edward and his wife, Sophie, Countess of Wessex; his sister, Princess Anne … and maybe that winds up being it because the disgraced Andrew is out for the count and Harry is an expat now. We will have to wait and see.
This article has been updated.