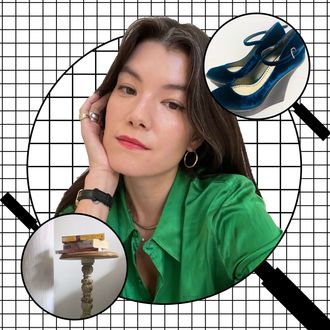 Photo-Illustration: The Cut; Photos: Anna Gray
"When I was younger, my mentality was much more about wanting to be noticed," says Anna Gray, the founder of vintage store Club Vintage. She usually gravitated toward shiny and sparkly outfits but now, in her 30s, opts for more thoughtful looks. "The materiality and fit of clothing is something you get better versed in as you get older, anyway." To her, good style is all about knowing yourself, explaining that "what makes you comfortable will inevitably lead to excellent outfits."
As a store owner, she frequents malls and browses stores in person "as market research," she explains. "I'm looking to see how they do their merchandising. How does the Gucci store in Fidi compare to the one on the Upper East Side? All those things are fascinating to me, even if I'm not actively shopping." As much as she loves the in-store experience, she also enjoys scrolling through pages of online thrifting sites, from the usual Etsy, eBay, and The RealReal for clothes to Chairish, VNTG, and occasionally 1stdibs for furniture. She has a few tips for successfully shopping resale sites.
Where did you get your signature scent?
The Nue Co. sent me a sample of the Functional Fragrance. They have probiotics and supplements, which are also good, but they have two or three scents too. I like it because it's unisex, it smells like a pine forest, and it's pretty inoffensive. Sometimes something too flowery gives me headaches, so I wanted something that wasn't too perfume-y. Once I find something I like, I don't need anything else.
Where did you get what's on your nightstand?
I got my nightstand at a huge gem show that happens annually in Tucson. People are there selling their crystals. They have giant ones, 12-foot-tall agate crystals. They have literally everything you could possibly imagine. So I bought this side table that was made out of onyx.
My favorite thing on my nightstand is probably my Lesse lip balm. I also have a little Vaseline to do a lazy slugging routine before bed. Otherwise, it's mostly just books on there and water. I'm on a self-help journey, another thing that comes with being in your 30s. All of my life up until this point, I only read fiction. Now I am reading self-help books about relationships. I just got this book called Conversations on Love.
Where did you get the inanimate object that brings you the most joy?
My mirror from my brother and his wife's company, Glare Goods. Sustainability really runs in our family; my brother studied sculpture in college and he started taking old mirrors and cutting them into these organic blob or puddle shapes, and they're really beautiful. They all have a little story behind them about where they came from. I have a bunch of them in my apartment, but I really wanted one for my store. We were back and forth on the process for over a year. It finally got delivered last month, and I'm really happy with it.
Where did you get your favorite piece of clothing?
I have a pair of snake-print pants from Etsy that I wear all the time. I was working at an interior-design start-up and I was bored and just scrolling on Etsy. I was just looking for snakeskin-print pants because I believe them to be a staple of any wardrobe. You can wear them with anything and they'll make your outfit look automatically cool, especially if they fit you well.
Where do you get your favorite gifts to give?
Coming Soon has these Gaetano Pesce place mats and they're very cool and inexpensive. I also gift small home goods like mugs and posters from Leisure Center, which is run by this guy named Frank. He's so nice and has great taste. It's technically a men's vintage store, but they have a bunch of cool T-shirts and button-downs that are good for anyone.
Where did you get the item you wear the most?
My green nylon Gucci bag I bought from one of my vendors called Backroom Vintage. She has a lot of great designer bags and clothes. Then I saw another black leather one on an auction site. I like it because you know it's Gucci but there are no visible logos, and you just know because of the bamboo handle, which I think is kind of elegant. I've always loved it because it's really chic. It fits all your stuff, so it's practical.
I scour other auction sites like Live Auctioneers. Facebook Marketplace is good, but you have to be on it all the time. You have to flag everything you want and be less specific with your search terms because sometimes people don't know what designers they have, so search something like "Scandinavian" and "space age" instead. I like VNTG for vintage furniture because it aggregates European resellers onto one platform. For clothes, Gem is really good because that aggregates all the different resale platforms into one.
You have to figure out your system, make a profile, and sign up for newsletters on these sites. If it's designer and it's too cheap, it's probably a scam. You can message the seller and see if they seem like a real human who's just cleaning out their closet, but if it's too cheap, it's probably too cheap for a reason.
Where did you get the item you splurged on the most?
Stella McCartney. I was 18 or 19 and I had my first credit card. No one under the age of 25 should be allowed to have credit cards. This Stella McCartney shoe was completely impractical. They're beautiful but not everyday shoes that you should max your credit card out on. Anytime I wanted a boost of confidence, I would put those shoes on. They were so grown-up and interesting and funky enough to be eye-catching and also made me six feet tall. I was figuring my style out. Would I buy those shoes now? No, but I did love them at the time.
For more from the Cut Shop team, follow us on Instagram and Twitter, where we share our best new finds, favorite styling tricks, and more.