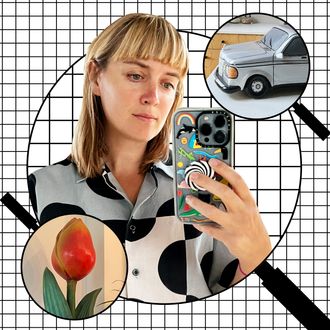 Photo-Illustration: by The Cut; Photos: Ellen Van Dusen
It's no surprise that bright colors and vivid patterns are a regular part of Ellen Van Dusen's wardrobe and décor. The Dusen Dusen designer has built her brand on a mash-up of colors and prints, which are inspired by her community of artist friends and family.
Van Dusen is further inspired by antique stores, vintage stores, and thrift stores, and "I love a very curated shop." Some of her favorite stores include Coming Soon, Weird in Ellenville for handmade pieces, and Massif Central for unique silk scarves. She also loves browsing stores on Orchard Street in NYC. She spends a lot of her time online. "I'm always on the Real Real. For a while, I was into LiveAuctioneers, but it got too competitive, so I quit," Van Dusen explains. "I also love shopping on eBay when it works out."
Where did you get your favorite piece of clothing?
I got my painted sweatshirt by the artist Misaki Kawai at the NY Art Book Fair a couple of years ago. It's a sloppily painted frowny face on the front and a smiley face on the back. It's just another very cute item, I love it. It's a little rough around the edges, which I also like.
Where did you get the item you'll never get rid of?
Ikea. I have a sea of Ikea bags that I rely on so much. I love getting the exotic ones when they do a limited edition. It was also always my dream to get a yellow one, because you're only supposed to use them in-store, so if somebody has a yellow one, it means you stole it. I did get my hands on the yellow one through a friend. They're so functional and cheap.
Where do you get your favorite gifts to give?
Etsy. I love vintage Alessi. I've been searching for vintage Alessi on eBay a lot as well; it's one of my favorite places to shop for décor. I look for brands that I like and jump around from there. I'll also look on LiveAuctioneers and look at the brands the auction houses are selling and then search those on eBay too.
Where did you get the inanimate object that brings you the most joy?
My collection of shark heads is from my friend Lorien Stern. I really love sharks and watermelons, and, like, that's my thing. My ex-boyfriend made me a Tumblr of sharks and watermelons called Sharkmelon, and he would drop in images with sharks and watermelons. It was like the Holy Grail to find an image that had both a shark and a watermelon in it. Lorien makes a lot of shark-and-watermelon-themed products, and she had a shark head that was in a watermelon pattern, and I had to find her. So I reached out to her, and we became fast friends.
Where did you get what's on your nightstand?
Currently, on my nightstand, I have a vase that I got from a store called Weird in Ellenville. This company called Reform, which makes cabinet fronts for Ikea Bases, did a collection with Muller van Severen, and I got the cabinet-front samples, which are like a thick cutting board in these juicy colors. I've been using them as coasters.
Where did you get the item that gets complimented the most?
I got my oversize tulip sculpture from an antique warehouse in Hudson. I was visiting a friend upstate, and she took me to the warehouse. I came across this very large tulip. I was already wondering, How am I going to get this tulip home? I obviously was not going to leave that place without the tulip.
There's really no information about it on the piece itself. It doesn't have a signature or anything. I think it's probably just a store fixture from a plant store. I don't know where they got it, but it's awesome. It defines my living room. I never would have dreamed I could get a six-foot-tall tulip.
Where did you get the item you wear the most?
Dusen Dusen turned ten in 2020, and for for the tenth anniversary, we did a collection of clothes in all our favorite prints from the past ten years. All in black and white. There's just this one dress that I wear so much it's a little bit embarrassing. It's a very comfortable tank dress with pleats and cotton linen. It's a print that I like a lot called "rocks."
Where did you get the item you splurged on the most?
I got a car sculpture from Paa Joe, a renowned artist from Ghana who makes fantasy coffins. I followed him on Instagram and DM'd him and asked him if he would do it. The coffins are supposed to be representative of the way you lived your life. They're just so cool. He also makes mini versions, and he made a lot of cars. My boyfriend really loved his high-school car that his dad passed down to him, so I got a car made by Paa Joe. It's amazing; the wheels are actually functional.
For more from the Cut Shop team, follow us on Instagram and Twitter, where we share our best new finds, favorite styling tricks, and more.