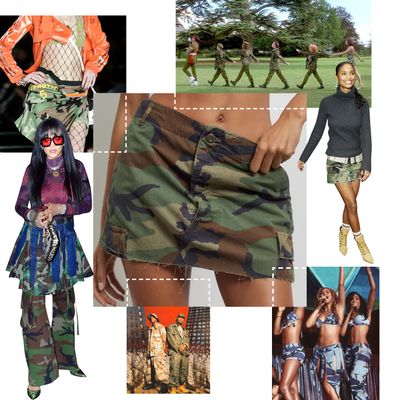 Photo-Illustration: by The Cut; Photos: BackGrid, Getty Images, Retailer, Columbia Pictures, Tommy Boy Music
Camo print: a great fashion democratizer that unites 13-year-old boys who shop at Journeys, hunters in the woods stalking deer, and Tracee Ellis Ross — who, lest we forget, religiously rocked camo pants on the iconic show Girlfriends. We appreciate the range. But we want to talk about camo skirts specifically: yes, the ones you owned when you were a Girl Scout (from Limited Too, of course).
If you're considering revisiting the style, we can help. There is a right and wrong way to style it: Think Victoria Beckham in Spice World when she wore a camo minidress versus the rest of the Spice Girls, who looked like they are going to actual boot camp. (Sorry, Ginger.)
But first, a brief history of camo print:
Camo print goes back to the early 1900s, developed to camouflage military equipment. Colors like blue, pink, and orange were later incorporated in military and hunting uniforms and for various utilitarian purposes — like in the '60s, when the British army painted Land Rovers deployed in the deserts of the Middle East to hide during dawn and dusk. During the Vietnam War, the counterculture and punk scenes, bands like the Clash and Funkadelic, introduced military and surplus camo as a way of making a political stance against the government. Nearly 20 years later, thanks to the influence of New York City's biggest hip-hop stars (like Capone-N-Noreaga, Wu-Tang Clan, and Mobb Deep), skaters, graffiti artists, and other city cool kids hit the streets hard in camo print. At the time, camo fatigue pants became a standard uniform, mainly because of their price and durability.
Shortly after, the print traveled to Japan and was embraced by elite members of the underground Harajuku scene — including DJ and designer Nigo, who founded the legendary streetwear brand BAPE best known for its signature camo design. John Galliano then snatched up the print, bringing it to Paris and featuring it throughout his spring 2001 collection for Dior.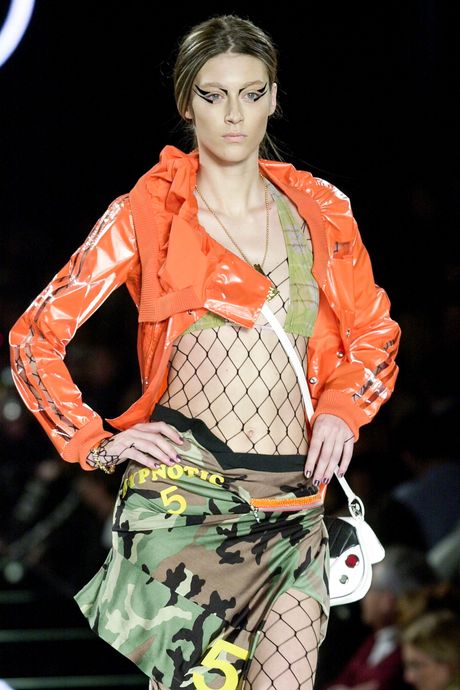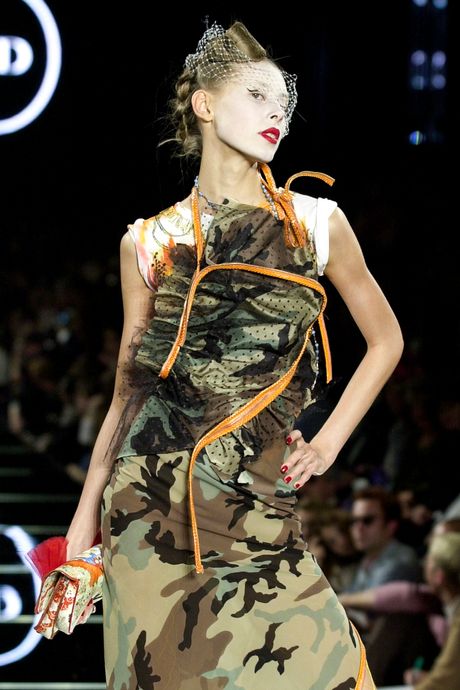 That same year, Destiny's Child released the album Survivor. Beyoncé, Michelle, and Kelly iconically sported sexy camo outfits in the eponymous single's music video and on their press tour. Legend has it that Tina Knowles, Beyoncé's mother and the group's costume designer, made their outfits from fabric she'd found at a flea market in Jamaica. She whipped then up last minute on set for the video, because the group's original costumes had gotten lost in transit. Camo then became their signature look, and they embraced the print in all styles and colors. Around that time, the U.S. Navy transitioned from traditional blue dungarees and shirts to blue camo ("aquaflauge") as its official uniform — it ditched the look in 2016, as the style was widely hated. (The influence of Mother Knowles! Maybe!) Gwen Stefani and Avril Lavigne also wore the print, leading a new wave of "anti-Establishment" fashion.
But back to the camo skirt.
As a personal shopper who scours the RealReal, Vestiaire, and eBay; obsessively studies, collects, and posts images of yesteryear; and creates hyperspecific mood boards for every event of my life, I've noticed that the new guard of style stars is embracing the versatility of the camo skirt in very similar ways as women of Hollywood in the early aughts like Joy Bryant and Eve did — often paired with knee-high boots, oversize belts, and turtlenecks.
Last October, with the ubiquity of Miu Miu's micro-mini, we saw a rise in the miniskirt once again. So it was only a matter of time before brands that pull from nostalgia (like Blumarine and Heaven) slapped a camo print on it.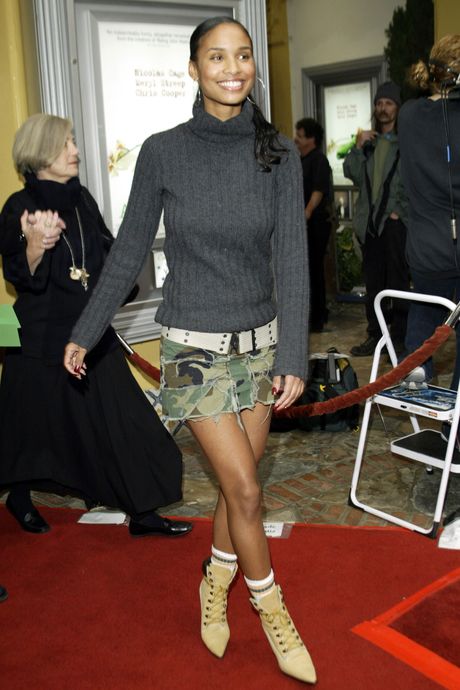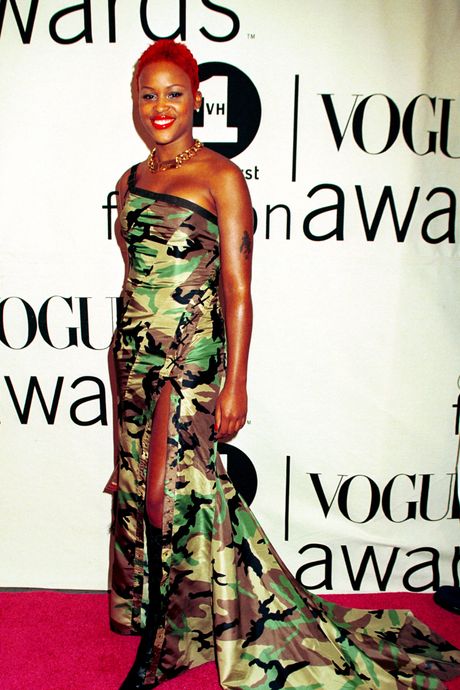 And this year, it happened. Dua Lipa paired her Blumarine set with knee-high boots. Rihanna wore her Junya Watanabe skirt over cargo pants with a Marine Serre top and Amina Muaddi pointed shoes. And Olivia Rodrigo, in Marc Jacobs nostalgia-brand Heaven, wore hers with a cropped cardigan and knee-high boots.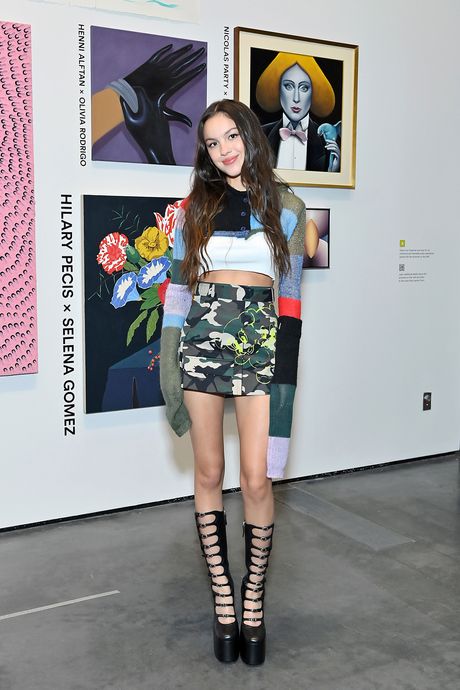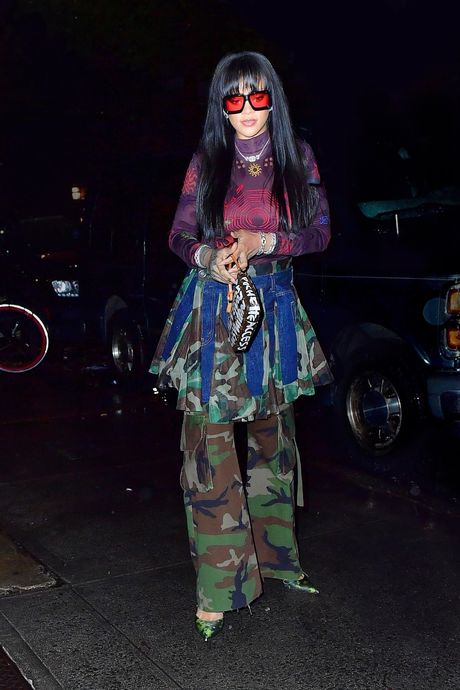 So where can you buy a cargo skirt?
Accessible: Urban Outfitters Deadstock Camo Miniskirt
Pair this deadstock cargo skirt with a fitted, ribbed turtleneck sweater á la Gwyneth Paltrow in A Perfect Murder (but sans the drama).
Aspirational: ​​I.Am.Gia Eydis Skirt
As Paris Hilton once iconically said, "Skirts should be the size of a belt. Life is short — take risks." Where is the lie? Embrace guru Paris's style principles and knock 'em dead in this I.Am.Gia miniskirt and your favorite pair of boots — the higher the better.
High End: Diesel Hand-Treated Camo Miniskirt
Diesel's comeback has hit the ground running, and it's not looking back. Channel your inner "Motomami," and sport this mini with a leather jacket — Kawasaki not included.
Upcoming Brand: Tankair Camo Miniskirt
We love Tankair for all the reasons, but especially because the brand prides itself for being "in service of the matriarchy." Adopt this wool mini, made from 100 percent deadstock fabrics, with a body-hugging tank as your new form of armor when you hit the town.