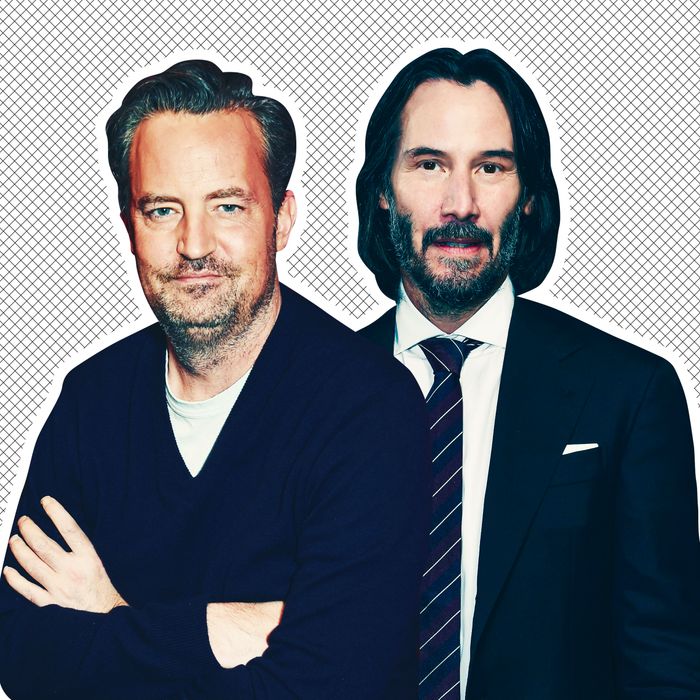 Photo-Illustration: by The Cut; Photos: Getty Images
A celebrity feud I sure didn't see coming: Matthew Perry, who famously starred as Chandler Bing on Friends, has apologized for questioning why Keanu Reeves is still alive while "really talented guys" die. 
The motivations for the diss, included in Perry's forthcoming memoir, Friends, Lovers, and the Big Terrible Thing, are unclear, apparently even to Perry himself. Earlier this week, excerpts of Perry's book, which details the actor's struggle with alcoholism and addiction, were published in outlets like the New York Post and Variety. In one excerpt, Perry reflected on the death of his friend and A Night in the Life of Jimmy Reardon co-star River Phoenix, who died of a drug overdose in 1993 at the age of 23. "River was a beautiful man, inside and out — too beautiful for this world, it turned out," Perry writes. "It always seems to be the really talented guys who go down." A moving sentiment, but then, Perry expounded: Why is it that the original thinkers like River Phoenix and Heath Ledger die, but Keanu Reeves still walks among us?" Later, Perry describes hearing about comedian Chris Farley's death from a drug overdose in 1997 while on the set of Friends, and again came for Reeves without explanation: "I punched a hole through Jennifer Aniston's dressing room wall when I found out. Keanu Reeves walks among us."
What on earth does Perry have against our beloved Internet boyfriend to slander him this way? Perry apparently realized his own faux paus, issuing an apology to People on Wednesday in which he said he's "actually a big fan" of Reeves, adding, "I just chose a random name, my mistake. I should have used my own name instead." That still doesn't really explain it, but okay.