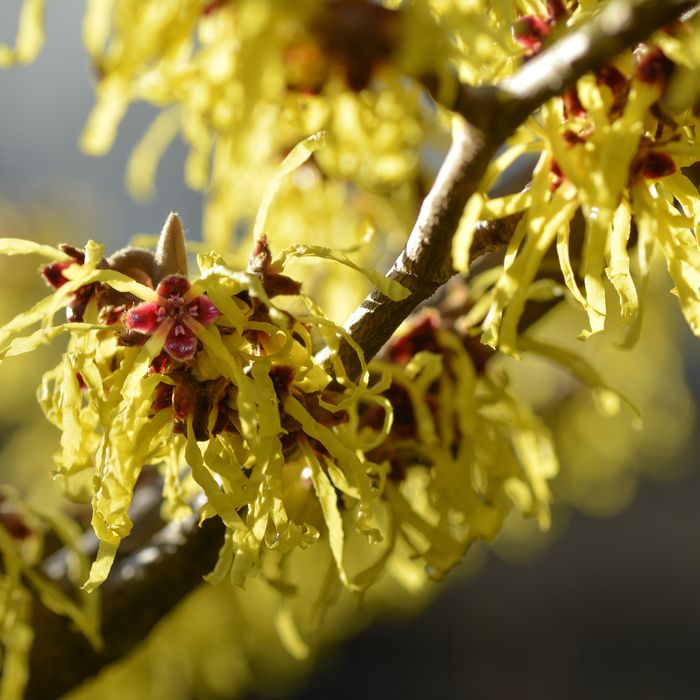 Photo: Paustius/Shutterstock / Paustius
Among horticulturalists, there's nothing puzzling about witch hazel. It's a hardy perennial that, unlike many other flowering plants, can withstand winter weather. The beauty community, on the other hand, has had some questions.
Although witch hazel has been used for years as a remedy for common conditions, a quick Google search shows that, along the way, it has garnered a muddled reputation. Turns out, there is more nuance to what's been passed through the grapevine. There's a reason witch hazel has had a place on skincare shelves for centuries and brands like Humphreys — with its proprietary distillation method and simple cocktail of ingredients — help prove that many of these myths are just that: myths. Ahead, we set the story straight: witch hazel isn't your foe — it's a friend.
Myth #1: Witch Hazel Dries Out Skin
Some witch hazel toners get a bad reputation for drying out skin, but that generalization is untrue. Thanks to a proprietary steam distillation method and soothing ingredients like aloe and rose, Humphreys toners are gentle and nondrying. Products like the Humphreys Clarify: Pure Witch Hazel Organic Toner and Soothe and Clarify: Witch Hazel + Rose Organic Toner contain the plant's purest and most effective components to clarify without drying out skin, so you're not replacing one skin woe with another.
Myth #2: Witch Hazel Only Benefits Oily Skin
Thanks to its astringent properties, witch hazel can help balance and refine oily skin. While this is a popular use, it's not all that it does. The plant extract can also help soothe redness and breakouts.
While witch hazel is often found in the form of a toner, Humphreys recently launched Clarifying Cleansing Pads, which can be helpful for spot treating blemishes and particularly oily zones but also for wiping away makeup and product residue. Witch hazel can also help address other common concerns, like redness due to sunburn and scalp irritation. In short, it's not a one-trick pony.
Myth #3: Witch Hazel Is Irritating to Skin
Tannins are a component of the witch hazel plant that can cause irritation when applied to the skin in high concentrations. Lower levels, however, aren't a red flag. Humphreys follows USP, or the United States Pharmacopeia, standards, which say that genuine witch hazel must be distilled from the bark and twigs of mature dormant plants. Because of this, and Humphreys unique distillation method, the brand's wild-harvested witch hazel is at its most effective without impurities, like high levels of tannic acid.
Myth #4: Witch Hazel Always Contains Alcohol
This isn't a total myth. By the United States Pharmacopeia (USP) definition, genuine witch hazel must be distilled and then preserved with alcohol to enable it to safely last and remain stable on store shelves. Humphreys preserves its formulas with a 100 percent natural grain alcohol at the lowest amount required by USP (14 percent).
For most skin types, like combination or oily, low concentrations of alcohol won't pose a problem, but sensitive skin can be easily irritated. Luckily, alcohol-free witch hazel toners do exist like Humphreys Nourish: Witch Hazel + Aloe Alcohol-Free Toner, which uses aloe to help soothe skin while it helps control oil.
Myth #5: Witch Hazel Toners Are All Made the Same
While other skincare brands may plant and farm their witch hazel, Humphreys harvests organic witch hazel from its natural habitat — the wild of New England forests. By growing in the wild, the plants must gain resilience as they mature and grow the nutrient-dense bark needed to provide skincare benefits. Then, the bark is distilled using Humphreys proprietary method, leaving behind a pure and efficacious witch hazel.
This advertising content was produced in collaboration between Vox Creative and our sponsor, without involvement from Vox Media editorial staff.