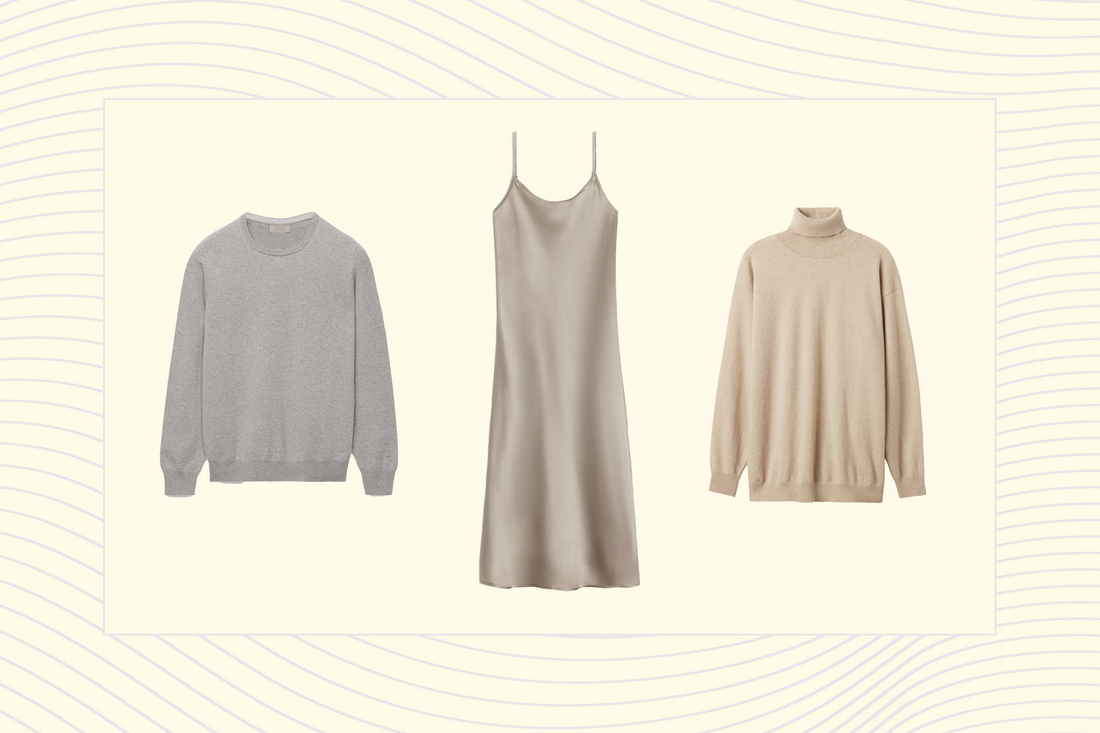 The holidays slow down for no one, so it's best to get a head start on your shopping before the chaos of the season officially sets in. Lay the groundwork by taking inventory of whom you need to buy for. Then, to avoid overspending, set a budget for each person. Once you have your list — and have checked it twice — it's time for the fun part.
We're not promising your holiday shopping will be stress free, but we can help you secure the title of best-gifter-in-the-group-chat (while keeping your wallet happy). It's all about the thought, and from luxurious cashmere sweaters to a fancy set of olive oils, our below picks will help you seal the deal no matter their taste.
Silk Set
An elevated pair of pajamas, like this silk set from Intimissimi, is too beautiful to just sleep in (although they are perfect for that). Any style enthusiast will find ways to repurpose each of these pieces — like pairing the button-down with denim or trousers for an effortless going-out look; or wearing the bottoms with a tee and an oversized blazer. Whether you gift the top and bottom together or choose just one, they're both the perfect mix of comfort and luxe.
Ribbed Lightweight Throw
We could all use a little more cozy in our lives, and this ribbed blanket feels like a cloud. We virtually guarantee it'll become their go-to throw. It's stylish, minimal, and comes in seven colors, so you can be sure it'll complement just about any living space. Not to mention, it's hypoallergenic, oversized, and machine-washable.
Ultra-Soft Cashmere Crew Neck Sweater
It doesn't get much more luxurious than cashmere. In particular, this crewneck sweater from Falconeri is not only timeless, but it's also high quality. Built to last, it's made from a carded yarn that ensures softness, voluminosity, and natural warmth. Gift it to the guy who appreciates the finer things (which is probably every guy on your list).
Lip Balm Trio
As far as we're concerned, you can never own too many lip balms — especially of the SPF variety. This three-pack will help them stay prepared when dry lips strike; they can stash one in their bag, one in the car, and one at their desk. The fact that they all come in a handy reusable tin is a bonus.
Ultra-Soft Cashmere Turtleneck Sweater
A classic, chic sweater is a thoughtful (and practical) gift on its own. Make it cashmere and you've got an irresistible combo that's a winner in anybody's closet. This Falconeri relaxed turtleneck is especially cozy and versatile. It's a gift you can give confidently knowing she'll have it forever and love it forever.
Faux Leather Skinny Leggings
Leather is always a top fall/winter trend, but if springing for genuine leather is out of the question, these faux leather leggings from Calzedonia are the next best thing — and much more budget friendly. A classic pair like this will never go out of style, and it can easily be dressed up or down. If your fashion-loving gift recipient doesn't already own a pair, now's your chance to impress them with your style savvy.
Heat-Resistant Cosmetic Bag
This is not your ordinary cosmetic bag. The design may be especially sleek and elegant, but it's actually the science behind the design that makes this product so innovative. The outside is crafted from vegan leather while the inside is lined with a heat-resistant material that protects its contents from outside temperatures. Meaning, your gift recipient will never have another product meltdown at the beach again.
Set of Mini Olive Oils and Vinegars
Cooking connoisseurs (or anyone with a discerning palette) know the allure of high-quality olive oils. They're not always easy to come by and they're not always affordable, but they do make a noticeable difference in every dish. This convenient kit (featuring two small bottles of extra virgin olive oil and two small bottles of premium vinegar) perfectly combines both quality and affordability — all in beautiful packaging for a unique and thoughtful gift.
Silk Slip Dress
Slip dresses are a forever staple worth investing in. They're incredibly versatile and can be worn during any season, for any occasion (layer a t-shirt or turtleneck underneath, throw a blazer, jacket, or sweater on top). Black is a no-fail choice, but we love how this Intimissimi version also comes in a refreshing champagne color. Our favorite part? The machine-washable silk, which will make any gift recipient happy.
Wine Glasses, Set of 4
Whether used for wine, mocktails, or even sodas, these colorful glasses make such a fun hosting gift. You can opt for four of the same color or, our preferred choice, an assortment of all four colors. Go above and beyond by gifting these beauties alongside their favorite beverage.
iPhone Case
Upgrade their favorite accessory by giving them a sophisticated case that'll look fantastic in all of their mirror selfies. This brand offers tons of chic designs that are just as protective as they are stylish.
Boat Neck Modal Cashmere Ultralight Top
For the person in your life who's always cold (or honestly anyone who loves being comfy), this light cashmere layer from Intimissimi is a no-brainer. Not only is it super affordable and, let us repeat — it's cashmere, but it's also the perfect piece to wear underneath every sweater for an extra dose of warmth.
Balsam Noir Candle
You can't go wrong with this sophisticated-looking holiday candle — which smells just like an evergreen tree. Keep one on hand for when your neighbor surprises you with a tin of homemade cookies or you need a last minute secret Santa gift.
Dried Flower Bouquet
We'll say it: fresh flowers are overrated. After about a week, they end up in the trash, so it can feel like a waste to splurge on a fancy bouquet. That's what makes dried bouquets so appealing — no watering, no trimming, no sad, decayed flowers. When treated with care, these bouquets can last years, and they look just as beautiful as their fresh counterparts.
This advertising content was produced in collaboration between Vox Creative and our sponsor, without involvement from Vox Media editorial staff.