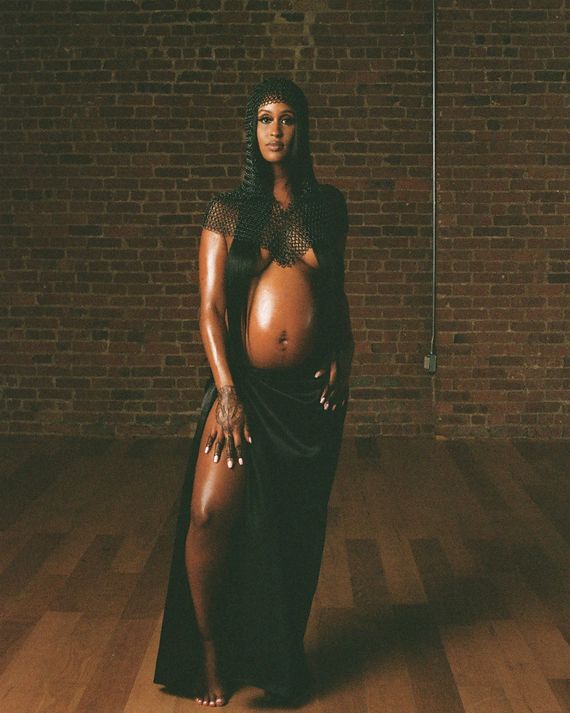 Photo: Steven Hawkins. Courtesy Chucha Studios LLC.
"Motherhood isn't easy," says Brooklyn-based consultant Sophia Said. Said is describing her own journey through a high-risk pregnancy, but the sentiment is universal. It's one she explores as the writer and subject of A Mother's Letter, a photography series shot by Steven Hawkins and executive produced by Herrana Addisu for Chucha Studios. In it, a pregnant Said reflects on her choice to become a mother through a letter she's written to herself.
"I want this to be something that other mothers and future mothers could connect with," says Said. "It is important for me to highlight the fact that this time around I am ready and I have that choice." She's referring to the last time she was pregnant, at 23, and chose to terminate. "How lucky you were to have the choice," she writes to her younger self. "How blessed you were to make the best decision for yourself and your future. To think that now, many just like you, or in less favorable positions, others in traumatic predicaments don't always have the luxury of choice — and aren't privileged to the options you once had."
Once you reach a certain age, you can't log on to Facebook or Instagram without seeing a new pregnancy or birth announcement. From the initial sonogram post to the growing bump to the baby's first fetal-position photo shoot, it looks effortless and picture-perfect. While it is a beautiful thing to become a mother, what you see on social media's not the whole story. Said was no exception. "There were times when my pregnancy would be good for a month, and then it would dip," says Said. "I think because I was the girl that was still going out while pregnant, it looked like I was killing pregnancy to the people on the outside looking in. Only the people closest to me knew what I was really dealing with. So being able to also put out a raw account of the truth behind my journey felt great."
Around seven months into her pregnancy, Said approached her good friend Herrana Addisu to help with the creative direction of her maternity shoot. Her good friend is also a multidisciplinary artist and founder of Chucha Studios, a creative platform and production studio that seeks to reduce social disparities in marginalized communities "by connecting the art of visual storytelling with systemic change." What began as a chance for them to collaborate on a lovingly crafted photo shoot became something bigger following the Supreme Court's decision to overturn Roe v. Wade.
Since June, millions of women across the country have lost access to abortion services, and with it, their ability to choose their own future. Anticipating just that, Said and Addisu felt compelled to turn their celebratory, private shoot into a larger conversation about women, motherhood, and choice.
"Being able to have that flexibility within her decision — and to know that other people might not have that anymore — felt bigger than a maternity shoot," says Addisu. In addition to sharing her personal challenges with pregnancy and motherhood, the project addresses the disproportionate hardships particular to Black women and Black birthing bodies in the U.S. Because they face discriminatory barriers to care, Black women in America are more likely to experience poor maternal health outcomes and higher rates of mortality related to pregnancy or childbirth than other demographics.
Shot in Brooklyn at Fort Greene Park and in-studio, the visual element of A Mother's Letter presents the idealistic, highly curated part of pregnancy. To look at the images, you wouldn't know that Said experienced difficulties during her nine-month journey. That's where the letter comes in.
"We are human," says Said. "You're not going to have this picture-perfect view of everything all the time. It's okay to be a sad mom or a frustrated mom or a mom that questions things."
Said and Addisu hope that A Mother's Letter will serve as a resource for other women and help break down any false narratives surrounding what pregnancy and motherhood "should" be like.
Scroll below to see more images — and read the full text of the letter here.