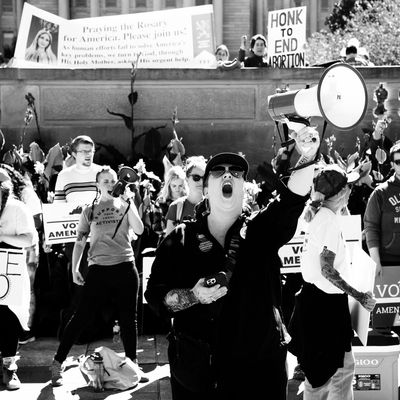 Photo: Stefani Reynolds/AFP via Getty Images
It turns out abortion rights win elections. On Tuesday, voters angry at the overturning of Roe v. Wade delivered victories that'll ensure abortion will be protected in states that have become critical access points for patients traveling for care. They also helped crush any hope Republicans had for a "red wave" at the federal level.
Leading up to the midterm election, some strategists and high-profile elected officials publicly worried that a laser focus on abortion could backfire for Democrats. While control of the House and the Senate has not been determined and votes continue to be counted, the loss of Roe appears to have blunted what could have been a disastrous night for the party that supports abortion rights. Clearly, Republican candidates' attempts to deflect questions about their record on abortion to the economy and crime didn't really work.
"The pundit- and pollster-driven narrative about the economy is disconnected from the reality of voters' lives. The decision of whether or not to become parents is a pocketbook issue," said Morgan Hopkins, president of the abortion-rights coalition All* Above All. "We're seeing the groundswell of action that started with the overturn of Roe."
Exit polls showed that inflation and abortion were the top two issues driving voters in the midterm with 60 percent of voters saying the procedure should be legal in all or most cases. They rewarded Democratic candidates in tough races who vowed to protect abortion rights, including Michigan governor Gretchen Whitmer, Pennsylvania governor-elect Josh Shapiro, and Representative Abigail Spanberger of Virginia.
Even in a state as deeply red as Kentucky, where voters decisively reelected anti-abortion senator Rand Paul, a ballot measure that would have amended the state constitution to clarify that it does not protect the right to abortion was rejected. Had it passed, restrictions on the procedure would have been impossible to challenge in court.
Here is where things stand as of Wednesday morning.
Where abortion access won
Michigan 
Voters in the state delivered several wins on Tuesday. Democratic governor Gretchen Whitmer, who made abortion rights a central component of her campaign, was reelected. And voters overwhelmingly approved Proposal 3, which enshrines reproductive rights in the state constitution. The amendment will have the most immediate impact out of all the abortion-related ballot measures in this election: Now, a 1931 law that bans the procedure and had been temporarily blocked by the courts can't be enforced.
Kentucky
Voters rejected Amendment 2, which would have established there is no right to abortion under the state constitution. For now, the result won't have a practical impact on abortion, which remains illegal in the state. However, it will allow a legal challenge to the state's trigger ban to proceed before the Kentucky Supreme Court on November 15. "This won't restore abortion overnight, but it's is a step in the right direction," said Rachel Sweet of the abortion-rights coalition Protect Kentucky Access.
Pennsylvania
Democrat Josh Shapiro made abortion a centerpiece of his bid for governor, vowing to veto any bills restricting the procedure. His victory means the procedure, which is legal up to 24 weeks in the state, will be safeguarded and will continue to serve as a point of access for patients who need to travel from Ohio, West Virginia, and Kentucky.
California and Vermont
Voters in these Democratic strongholds enshrined the right to abortion in their respective constitutions. Both states already had substantial protections, but the amendments will provide an even stronger firewall against any future anti-abortion measures.
North Carolina
Republicans failed to secure a supermajority in the state legislature, allowing Democratic governor Roy Cooper to keep his power to veto whatever anti-abortion restriction comes before him. The state, which currently bans abortion at 20 weeks, has become a critical point of access for patients hailing from all over the South.
Montana
As of Wednesday morning, an anti-abortion referendum in Montana looked likely to fail. The measure would grant legal personhood to infants "born alive" at any gestational period, a protection that has already existed at the federal level for 20 years. The amendment would also criminalize health-care providers who fail to provide life-saving medical care to infants born after "natural or induced labor, cesarean section, induced abortion, or another method" — a provision doctors feared would hamper their ability to provide palliative care to infants who are not expected to survive. At this time, abortion remains legal in Montana as a challenge to a 20-week ban moves through the courts.
Kansas
Voters had delivered a major pro-choice victory in August when they defeated a measure that would have amended the state constitution to declare it does not protect abortion rights, but anti-abortion lawmakers may still try to pass further restrictions in the future. The re-election of Governor Laura Kelly, who has vetoed such legislation in the past, on Tuesday will help stave off their attempts.
Wisconsin
Abortion providers in Wisconsin stopped offering the procedure after the Dobbs decision out of fear of violating an 1849 law banning abortion. Democratic attorney general Josh Kaul, who won reelection, has filed a legal challenge against that ban and pledged not to enforce it. Democratic governor Tony Evers was also reelected, and Republicans failed to capture a supermajority that would allow them to bypass his veto power.
Where abortion is still threatened
Florida
Following Governor Ron DeSantis's sweeping victory, Republicans have a clear path to further restrict abortion in the Sunshine State as soon as the legislative session resumes in 2023. Currently, patients can access abortion care up to 15 weeks of pregnancy.
Georgia
Democrat Stacey Abrams was defeated by Governor Brian Kemp. Like DeSantis, next year Kemp will likely face calls to further restrict abortion in the Peach State by signing a total ban into law. Attorney General Chris Carr, a Republican who supports the state's current ban around six weeks of pregnancy, also won reelection.