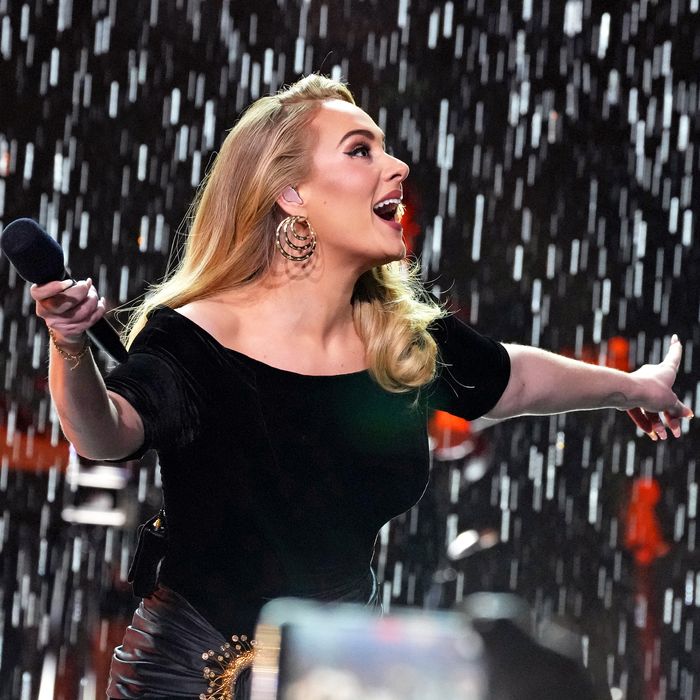 Photo: Kevin Mazur/Getty Images for AD
After an 11-month delay, Adele's Las Vegas residency finally started on Friday. And she kicked it off like the hottie that she is, incorporating some of Megan Thee Stallion's viral choreography into her show, giving hope to fans everywhere that a collab could still happen.
Adele referenced the popular "Water Under the Bridge" and Megan Thee Stallion choreography mash-up during her show, performing her best interpretation of Meg's "Body" choreography as she sang, and even encouraged fans to join in. "If you know the Meg Thee Stallion dance, you can do it," she said, laughing during the chorus. Those who are extremely online will know that this unexpected mash-up originated on TikTok, when a genius put the rapper's "Body" American Music Awards performance to Adele's hit song. The beats hit perfectly, and the dance quickly became a trend on TikTok, with everyone from Charli D'Amelio to the Grinch joining in.
The trend was especially popular in December of 2021, but it has remained an internet favorite. Adele actually previously incorporated it into a performance at Hyde Park in July, which Megan Thee Stallion reposted on her Instagram account, declaring the singer "Hot Girl Adele."
The real question is: Does this mean an actual Adele–Megan Thee Stallion collab is coming? It's one thing to reference a TikTok trend in a performance, it's another to repeat the choreo on the opening night of your Las Vegas residency. Right? Megan has already said she'd be down to collab with the singer, telling Entertainment Tonight in February, "Adele, girl, call me." She added, "You know this is what the streets need. They need that collab, and they need my choreography in there, too." And it looks like Adele is a fan of the rapper's. So, Adele, if you're listening, please, give us the "Water Under the Bridge" remix we've been waiting for.