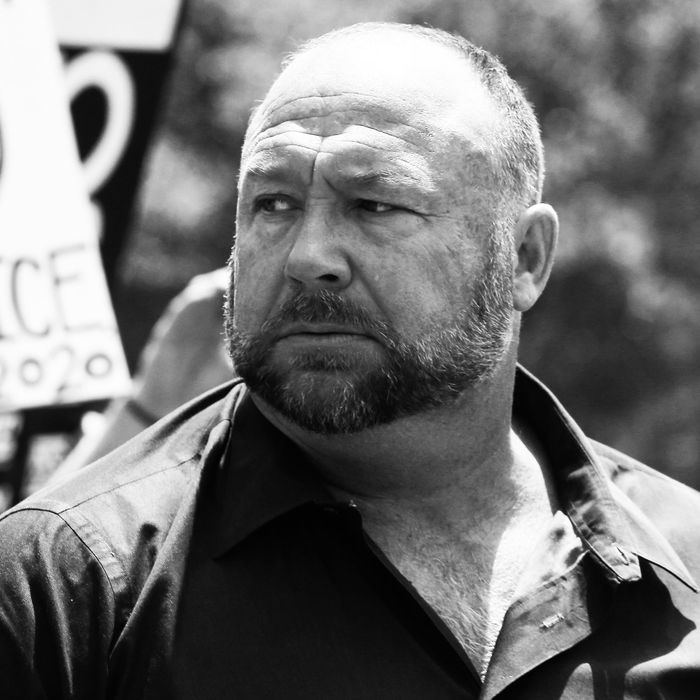 Alex Jones
Photo: Gary Miller/Getty Images
Conspiracy theorist and right-wing blowhard Alex Jones is back on trial in multiple civil lawsuits, all centered on the lies he told about the Sandy Hook shooting. In his programming, Jones has consistently described Sandy Hook — the deadliest mass shooting at an elementary school to date, leaving a total of 28 people dead (20 of them children) and two injured — as a government hoax engineered to interfere with Second Amendment rights. As a result, parents of the victims say they've been aggressively harassed by Jones's followers, and now, juries in multiple states are determining how much the Infowars host owes victims' families in damages. On August 4, a Texas panel awarded two parents over $4 million in compensatory damages, which seemed low, considering. But the next day, they came back with a second sum: $45.2 million in punitive damages, for a total of just under $50 million — short of the $150 million their attorneys originally sought, but to many, a more appropriate sum.
A second trial kicked off in Connecticut in September, ultimately bringing Jones's total tab close to the $1 billion mark. On October 12, a jury there awarded 15 plaintiffs a total of $965 million, the judge subsequently adding almost half a billion more in punitive damages — and Jones still has a third trial ahead. Although Jones's team framed the case as a referendum on free speech from the start, First Amendment rights aren't limitless. They do not protect speech that directly incites injury against another person, nor do they protect willfully fraudulent claims. After the Connecticut verdict came in, members of the victims' families said they hoped the case would deter the circulation of damaging conspiracy theories in the future. "There will be more Alex Joneses in this world," said Erica Lafferty, daughter of Sandy Hook principal Dawn Lafferty Hochsprung, "but what they learned here today is that they absolutely will be held accountable."
Below, a guide to the case and the trial.
Alex Jones has consistently claimed that Sandy Hook was a government hoax intended to revoke Second Amendment rights.
In 2012, shooter Adam Lanza shot and killed his mother in their Newtown, Connecticut, home, stealing her guns and making his way to Sandy Hook Elementary School with an AR-15. There, he shot 26 students, teachers, and administrators before killing himself. Despite widespread support for gun restrictions in the tragedy's aftermath, laws banning specific types of firearms and enacting criminal background checks for certain purchases failed to clear Congress. Some parents of the victims subsequently founded the nonprofit Sandy Hook Promise, which advocates for gun control reforms. But as evidenced by the routine recurrence of mass shootings across the U.S. — in May, for example, a gunman shot and killed 21 people, 19 of them children, at Robb Elementary in Uvalde, Texas — the federal government doesn't plan to take anyone's guns.
Yet that's what Jones has been claiming. The Texas Tribune reports that starting on the day of the shooting, he used Infowars to advance the baseless idea that Sandy Hook was a coordinated plot — "synthetic, completely fake, with actors, in my view, manufactured," he said during a 2015 show. He has called the massacre a "giant hoax" and a "false flag" operation executed by "crisis actors" to give the government an excuse to confiscate firearms. He has also published personal information — including home addresses — on the victims' families, and has called for their attorneys' heads "on a pike," per the New York Times. He made these claims repeatedly on his radio shows and his website, and faced with a string of defamation lawsuits, admitted in a 2019 deposition that the shooting hadn't been faked.
"I, myself, have almost had like a form of psychosis back in the past where I basically thought everything was staged, even though I've now learned a lot of times things aren't staged," he said, according to CNN. "So I think as a pundit, someone giving an opinion, that, you know, my opinions have been wrong, but they were never wrong consciously to hurt people." Jones blamed his mistrust on "trauma of the media and the corporations lying so much," but that explanation has not saved him in the courts.
Jones lost defamation lawsuits over his Sandy Hook lies last year — and allegedly began trying to hide his wealth.
Families of ten of the victims filed defamation suits against Jones in Texas and Connecticut, all of which he lost last year. In September 2021, a Texas judge ruled against Jones, who had failed to turn over documents and other requested information to the court. In November, the same thing happened in Connecticut: Jones lost by default after refusing to submit court-ordered records.
Now, as juries decide how much he owes, the families have accused him of attempting to hide his wealth. The Tribune reports that in April, Jones told Infowars listeners that he was "maxed out financially," after three of his companies (Infowars, Prison Planet TV, and IW Health) filed for bankruptcy. That may have been part of his push to delay the jury trial, though. Jones has claimed a net worth of negative $20 million, according to the AP, but court records suggest his Infowars store made $165 million off the sale of supplements, snake-oil COVID treatments, prepper gear, and similar items. According to NPR, those product sales make up a substantial share of Jones's income.
Around the time Jones started losing in court, he also started redistributing his assets, the Washington Post reports. The outlet reviewed bank statements, depositions, and court records, determining that Jones's company, Free Speech Systems, began making hefty payments to companies helmed by family and friends. As manager of a company owned by another entity that he and his son control, Jones's father, a former dentist, reportedly purchased "tens of millions of dollars" worth of the supplements sold on InfoWars. Jones has allegedly been paying his personal trainer more than $100,000 per week as an InfoWars store vendor, and he paid his sister $240,000 as a "supplier or vendor," the Post says. Between August 2020 and November 2021, Free Speech Systems reportedly wrote promissory notes ("essentially IOUs") totaling $55 million to account for its alleged debts to Jones's dentist dad's company.
By redistributing his money to people in his orbit, the Post reports that Jones may have been able to simulate bankruptcy. "In the middle of this lawsuit, they started documenting debts that had no evidence of existing beforehand," Sandy Hook attorney Avi Berkowitz told the paper. Free Speech Systems attorneys, however, claim that this is merely a case of a small family business growing too quickly to keep up. "This is kind of like the garage band that became the boy band overnight, and had his girlfriend running the books, and the head roadie being the business manager," lawyer Raymond Battaglia reportedly said in arguing the bankruptcy case. While it would not be illegal to set up a network of satellite businesses, the orchestration of fraudulent payments to protect Jones's wealth would be a problem. Per the Post, that's for bankruptcy court to decide.
Parents of children who died say they have been harassed and doxxed by his followers.
Jones's reach should not be underestimated: When Facebook, Spotify, Apple, and YouTube banned him in 2018, the Infowars homepage attracted 10 million visitors a month, according to Vox. The conspiracy theories he has advanced range from comical — "the government controls the weather," per Vox — to flat-out dangerous. On a regular basis, Jones has espoused antisemitic and Islamophobic rhetoric; he was also a key proponent of the Pizzagate conspiracy, which resulted in a gunman firing shots inside a D.C. pizzeria, and of the "Stop the Steal" movement. (A vocal ally of former president Donald Trump, Jones has offered the government inside information on the Jan. 6 Capitol riot in exchange for immunity from prosecution; it's unclear what that bid may get him.) He has frequently attacked individual opponents on his show, and ridiculed Sandy Hook parents. In doxxing them, Jones subjected those parents to daily harassment and even death threats.
Many of those parents will now face Jones in court. In the first trial, Neil Heslin and Scarlett Lewis — whose 6-year-old child, Jesse, died in the shooting — testified. Jones went after Heslin directly in 2017, after Heslin recalled cradling Jesse's body in an NBC interview. ("I lost my son. I buried my son. I held my son with a bullet hole through his head.") On his show, Jones suggested that Heslin was lying. "It's my right to say it. I can question big PR events like Sandy Hook, where there are major anomalies," he said, according to the Times. "They're using Sandy Hook, and they're using the victims and their families as a way to get rid of free speech in America. That's the plan." Heslin and Lewis sued Jones in 2018. "Even after these folks had to experience this trauma, for the next five years they were tormented by Alex Jones with vicious lies about them," their attorney, Mark Bankston, said at the time. "And these lies were meant to convince his audience that the Sandy Hook parents are frauds and have perpetrated a sinister lie on the American people."
The Connecticut case, meanwhile, represents three lawsuits by 15 parents and one FBI agent who responded to the shooting. Already, attorneys have forced Jones to acknowledge some of the plaintiffs, including Robbie Parker, whose account he discredited immediately after the shooting. Per the New York Times, Parker gave a news conference the night after his young daughter died at Sandy Hook, prompting the following critique from Jones. "You know, after you lose your daughter, they put you on some antidepressants or something, but I thought those take a month to kick in. I mean, it's like a look of absolute satisfaction, like he's about to accept an Oscar," he said. "It looks like he's saying, 'Okay, do I read off the card?' He's laughing, and then he goes over and starts basically breaking down and crying."
The next Texas trial concerns Leonard Pozner, another of the parents and a former Infowars listener who will testify against Jones. Pozner says he has had to move about 12 times because of the harassment. Jones's followers have demanded that he exhume his son Noah's body to prove his existence, and their campaign has followed both Pozner and Noah's mother, Veronique De La Rosa, wherever they relocate. "I would love to go see my son's grave and I don't get to do that," De La Rosa told the Times in 2018. "With the speed of light," she added, conspiracy theorists figure out where they are and publish their whereabouts online. "They have their own community, and they have the ear of some very powerful people."
Also according to the Times, Jones recently claimed to Glenn Greenwald that he "did this from a pure place," and that Infowars is "90 percent accurate and 10 percent wrong," generally speaking. "I did not lie to people on purpose," he said.
.

In the first Texas trial, Jones faced two parents in court.
In what the New York Times called "an accident of scheduling," Jones — whose attorneys initially predicted might not show in court due to a "medical issue" — was present for Lewis's testimony on August 2. He hasn't really had to confront the parents in person, but arrived for his turn on the witness stand during a break in her testimony. According to the Times, Jones gave a radio broadcast during Heslin's court appearance — an absence Heslin described as "cowardly."
"What was said about me and Sandy Hook itself resonates around the world," Heslin said. "As time went on, I truly realized how dangerous it was … My life has been threatened. I fear for my life, I fear for my safety." If Jones didn't start the conspiracy theory himself, then he "lit the match and started the flame," Heslin continued, subjecting the family to "nine and a half years of hell" and "tarnish[ing]" Jesse's legacy. According to the Times, Jones watched Heslin's testimony on a courtroom livestream, calling him "slow" and "manipulated by some very bad people."
When it was her turn and Jones had arrived, Lewis spoke to him directly. "Alex, I want you to hear this," Lewis said, looking at him while he reportedly shook his head. "We're more polarized than ever as a country. Some of that is because of you."
"Jesse was real," she told him. "I'm a real mom." She said she suffered "unbearable pain" over "having a 6-year-old son shot in the forehead" at his school, and that the harassment placed her in fear for her life. "And then to have someone on top of that perpetuate a lie that it was a hoax, that it didn't happen, that it was a false flag, and that I was an actress — you think I'm an actress?" Lewis continued, according to CNN. "It seems so incredible to me that we have to do this. That we have to implore you — not just implore you, punish you — to get you to stop lying … It is surreal what is going on in here."
"There has not been a sincere apology," she said. "But if there was, ever, I liken it to being in a car accident and you run over someone and cause tremendous bodily damage and you look at that person lying on the ground and say, 'I'm so sorry, I'm so sorry, I'm not accountable for any of the damage I just caused. But I'm sorry.' That's how I see it."
Jones claimed that, actually, he did try to apologize — and he was also admonished for lying under oath.
Jones took the stand after Lewis and granted that the Sandy Hook massacre was "100 percent real." He agreed when his attorney asked him if he now understood it had been "absolutely irresponsible" to push the hoax theory. "But they," meaning the media, "won't let me take it back," he claimed.
"I never intentionally tried to hurt you," he said, according to CNN, offering that "the internet had a lot of questions" after Sandy Hook, and he only "tried to find out what actually happened." He said he had attempted to apologize, and that he was also bankrupt, though his business records chart annual profits of more than $50 million from Infowars sales. Twice during his testimony, Judge Maya Guerra Gamble scolded him for apparent perjury. "Mr. Jones, you may not say to this jury that you complied with discovery. That is not true," Gamble said. "You may not say it again. You may not tell this jury that you are bankrupt. That is also not true."
"You are already under oath to tell the truth," Gamble reminded him later on. "You've already violated that oath twice today, in just those two examples. It seems absurd to instruct you again that you must tell the truth while you testify. Yet here I am again."
"This is not your show," she added, as Jones tried to argue that he believed he was telling the truth. "You believe everything you say is true, but your beliefs do not make something true," Gamble told him. "That is what we're doing here. Just because you claim to think something is true does not make it true. It does not protect you. It is not allowed. You're under oath. That means things must actually be true when you say them."
But he could not really explain evidence that came from his own phone.
According to the Times, one of the last pieces of evidence presented to the jury before it began deliberations heavily suggested Jones had lied on the stand. "Mr. Jones, did you know that 12 days ago, your attorneys messed up and sent me an entire digital copy of your entire cell phone with every text message you've sent for the past two years?" Mark Bankston, attorney for Heslin and Lewis, asked him during cross-examination. He did not.
"That is how I know you lied to me when you said you didn't have text messages about Sandy Hook," Bankston continued. "You know what perjury is, right? I just want to make sure you know before we go any further."
One text Bankston displayed in court came from an Infowars editor, complaining that an article published on the site — COVID misinformation suggesting images of overcrowded hospitals had been faked — "makes us look ridiculous," like "Sandy Hook all over again." Jones replied, "I get it," though the article remained online. Jones had also testified that he has "never sent emails" himself, "because I don't like it. I can't stand it. There's too many of them." But Bankston then displayed various emails from Jones, some of which claimed massive Infowars profits. Jones's exchanges reportedly suggested that Infowars could make up to $800,000 per day, and while Jones accused Bankston of "cherry-picking" the biggest figures, he couldn't really answer for the documents themselves.
He also had a hard time explaining away some of the statements he made in recent broadcasts. In one instance, per the Times, he displayed an image of Judge Gamble on fire — "That's justice burning," Jones said — while another Infowars video linked her with Child Protective Services, "which has been exposed for human trafficking and working with pedophiles." He also seemed to question jurors' intelligence and motives, saying in a show last week: "There are experts in leftist jurisdictions, who are experts in sending out jury summons and hitting, let's just say this, extremely blue-collar folks … People do live in all these different bubbles, and there are bubbles that are awake and there are bubbles that are questioning, but then there's the blue-city bubbles where people don't know what planet they are on." On the stand, Jones conceded, "I don't think that you are operatives."
The jury awarded Heslin and Lewis over $49 million in total.
After one day of deliberations, the jury awarded Jesse's parents $4.11 million in compensatory damages on August 4 — far less than the $150 million minimum they originally sought, but according to the AP, far more than the $8 Jones's attorneys proposed. The Infowars host had claimed that any amount over $2 million "would sink us," and in a video posted hours after the verdict, complained that the final amount was "more money than my company and I personally have, but we are going to work on trying to make restitution on that." He also maintained that while what he "did to those families was wrong," he "didn't do it on purpose."
Before the jury determined punitive damages the next day, Wesley Todd Ball — an attorney for Heslin and Lewis — asked jurors to "send a very, very simple message, and that is, stop Alex Jones. Stop the monetization of misinformation and lies. Please." According to CNN, the court also heard from an economist, Bernard Pettingill Jr., who testified that Jones appeared to be hiding his income via shell companies but actually possessed a fortune of $135 million to $270 million. Jones had created an illusion of bankruptcy, Pettingill said, telling jurors: "He is a very successful man, he promulgated some hate speech and some misinformation, but he made a lot of money and he monetized that. My thinking about him is he didn't ride a wave, he created the wave."
Finally, the jury came back with punitive damages: $45.2 million as punishment for his actions and a deterrent against similar behavior in the future. But Jones's lawyers complained that the amount was "too high," according to CNN, Reynal noting that "Texas law caps" punitive damages "at $750,000 per plaintiff." Jones has been trying to avoid payments via his bankruptcy filing, which Sandy Hook families are also in the process of challenging.
.

In Connecticut, Jones went back on the stand.
The Connecticut trial opened on September 20 in Waterbury, and per the Times, Jones had a fussy time on the stand. "Is this a struggle session? Are we in China? I've already said I'm sorry, and I'm done saying I'm sorry," he said in his first day of testimony, as Chris Mattei, an attorney for the families, pressed him to acknowledge Parker. "He's real, isn't he?" Mattei said. "And for years you put a target on his back, didn't you? Just like you did every single parent and loved one sitting here."
Jones, who had tried to explain away his actions as an ongoing effort to "crushing the globalists," denied Mattei's accusations, but State Superior Court Judge Barbara Bellis threatened him with contempt if he or anyone else "steps out of line."
"This is not a press conference, this is clearly not your show," she said. "You have to respect the process."
As the trial went on, the jury heard from numerous parents who recalled harassment perpetrated against them by Jones's followers. "I got sent pictures of dead kids because I was told that, as a crisis actor, I didn't really know what a dead kid looked like, so this is what it should look like," said Nicole Hockley, who lost a 6-year-old son in the shooting and now sleeps with weapons by her bed. "I got a piece of mail telling me to slit my wrists before they did it for me." Meanwhile, Jillian Soto-Marino told the court about being confronted in person by a conspiracy theorist at a charity race in memory of her sister, first-grade teacher Vicki Soto, who died in the shooting. "These lies have taken away my sense of security, my sense of safety," Soto-Marino said. "Things that are supposed to be joyful, you don't know what's going to happen."
Francine Wheeler told the court that she had dropped off two boys at school on the day of the shooting; only one came home. Since then, Jones's followers have seized upon her younger son, Ben, as an alleged crisis actor. Wheeler said she has been accosted online and accused of lying about Ben's death even in a support group for grieving mothers. "They took my identity," she testified. "And then they took my husband's identity. They took my surviving child's identity." Other parents echoed the harassment claims. Mark and Jackie Barden remembered how Infowars acolytes claimed that they had killed their own son, Daniel. The magnitude of the intimidation campaign made it difficult even to visit his grave. "It's a very hard thing to do. I'm kind of caught between honoring him and needing to go there, but then it's so hard," Mark Barden said, "to hear of people desecrating it, urinating on it, and threatening to dig it up. I don't know how to articulate how that feels like, but that's where we are."
The Connecticut trial brought Jones's tab past $1 billion.
In October, the jury awarded the families in Connecticut a total of $965 million — with punitive damages still to come. As the New York Times reported at the time, those could not be capped in this case like they were in Texas: Jones has been found guilty of violating Connecticut's Unfair Trade Practices Act by profiting from Sandy Hook lies via his Infowars store. On November 10, Connecticut Judge Barbara Bellis ordered Jones to pay an additional $473 million. "The record clearly supports the plaintiffs' argument that the defendants' conduct was intentional and malicious," Bellis wrote, "and certain to cause harm by virtue of their infrastructure, ability to spread content, and massive audience including the infowarriors." The ruling brings his total tab to $1.49 billion, per Reuters.
Bellis also issued an order barring Jones from moving assets out of the country, plaintiffs having complained that he is trying to dodge the bill by hiding his wealth. A third trial is still to come, but Jones has already announced his intention to appeal, claiming he is basically broke and can't afford to pay.
This article has been updated.