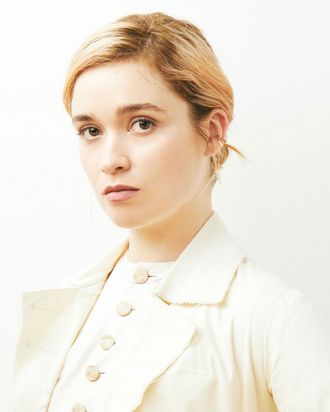 Alice Englert has a lot going for her. There's her starring role in Starz's new Dangerous Liaisons series — a prequel to the classic French Revolution–era tale — and her directorial debut, Bad Behaviour, in which she also stars. And then there's the fact that she is the daughter of the Oscar-winning director Jane Campion. While it may be tempting to dismiss a rising star with famous parents, that would be a mistake with Englert. She speaks with candor about her Hollywood lineage while showing up with the talent to prove she has earned her spot. In Dangerous Liaisons, her presence as a young Camille (who will become the Marquise de Merteuil) is an anchor of humanity and relatability among a set of characters who, like their literary inspirations, are largely driven by greed and politics.
Off-screen, Englert is even more down-to-earth and quick to laugh at herself and just as quick to get crazy profound, all within the span of one sentence. As for the several adaptations of Pierre Choderlos de Laclos's original novel, the actress feels that taking on the mantle of the vengeful Merteuil is an honor. "I love Merteuil for being this kind of transcendent force of nature as a character," she says. "I feel like no matter how many amazing people play her, she will always be stronger than all of us."
There's a lot of gorgeous French Revolution–era glam in this show. Have you found yourself incorporating any of that aesthetic into your own style and décor? Have you acquired any candelabras lately?
They really took it as far as you could take it. I don't think we've ever been as insane with style — we've never worn boats on our heads in the same way again. It's the peak.
But no, I've gone the opposite way with that. Now I feel as though wearing tight-fitting clothing is something I can only do if it's in a professional and preferably employment-related situation. The undergarments leave marks — it's so good for your posture, but when you get home at night, you feel like a real curmudgeon. Andrea Flesch, our costume designer, makes it worth it because she's insanely talented, and I don't think I'll ever look as beautiful again. But yeah, I'm very much in loose-fitting garb right now.
Can you tell me about the wig weight? What was all the prep like?
The wigs are heavy. I got so close with Wayne Fitzsimmons, who did my makeup and my hair. The relationship we had to have was so intimate and so important. I know it's meant to be about the work you're doing, but I love Wayne's soul. You see someone's soul when you're with them at least two hours a day for seven months. You really stare deep into the mirror together.
I think what they did with the show was so incredibly stunning. One of my favorite details that Daniel Parker insisted on, and we loved, was white powder on the eyelashes at the opera, which came from the idea that it would have fallen down from the wigs. It's so fucking chic. It's got such an effect.
I kind of feel like it's almost like working with prosthetics with what they were doing at that time. It's almost like you're playing a fantasy character. It's such an incredible thing that they did to nail that period correctness — well, technically, we don't know what those people looked like. Like, I'm sorry, those paintings are basically the equivalent of a filter or Photoshop, so there's no way that they are how they were. But I love that — that history is, in its way, a bit of a fantasy.
Les Liaisons Dangereuses has had a couple other big adaptations. Are you a Cruel Intentions fan? Or do you prefer the film with Glenn Close, Michelle Pfeiffer, and John Malkovich? Did either come into play in your preparations for the role of Camille, who becomes the Marquise de Merteuil?
I'm a Glenn Close diehard from when I was a teenager. I'm also a giant Sarah Michelle Gellar fan and Annette Bening as well. I couldn't be more intimidated by the other actors who have played this role — but with only joy, to be honest. I love all of them, and I love Merteuil for being this kind of transcendent force of nature as a character. I feel like, no matter how many amazing people play her, she will always be stronger than all of us.
I appreciate this adaptation for all that backstory. It helped me understand the characters and their motivations for plotting revenge better.
Right — I wanted to know the history! I wanted to know, What the hell made you destroy each other and everyone around you for this one very brief moment of love? I guess sometimes the briefer the love, the stronger the fantasy. It's unexplored, and so I think they still feel like one day they could be who they were in that moment. But they forget, of course, that that wasn't actually who they were.
Both she and Valmont are playing aspirational versions of themselves, right?
Right. The meta quality of the show, the performative part of it, is insanely fun to watch, trying to figure out when they're lying to someone else and when they're lying to themselves. It's really a show about the survival and endurance of all the characters. They have to find a way to entertain themselves and to enjoy their lives while they have them before they die of tuberculosis or the plague. They enjoy their lives out of necessity because it's pretty fucking miserable — especially for Camille and Victoire. They've got to just cling to whatever wet rock of joy they can find. Damn, this metaphor is getting crazy.
No, I love it. It's very literary. That's actually a good segue because I wanted to ask you about your directorial debut, Bad Behaviour, which you also wrote. How's that going?
It's so weird to finally get to talk about something that's been private for a really long time, but it was just really nice to be writing something that I loved even though I didn't know if it was ever going to make it to the light of day. It's sometimes just a beautiful thing to feel like you can't impress anybody with what you're doing; you're just scribbling away for three years thinking, Maybe? Shit, I don't know! But I love it, and I'm going to keep trying.
It was a really beautiful thing. I love writing. I try not to think of myself as really very good or bad because I just try to keep making it more … better. Look forward to more eloquent phrases like "more better."
Well, they say perfect is the enemy of good so I think "more better" is a noble aim.
I had such a good experience making it that it's kind of boring to talk about apart from the fact that I think Jennifer Connelly is incredible. She's a force to be reckoned with. She's wickedly funny, generous, and raw, and I'm obsessed, and I want to make more things with her. I think her protagonist energy is off the scale and just feel we were so lucky to have her as ours. She's probably also an antagonist — she's very much both in this film, as all good, complicated women should be.
Absolutely. Speaking of legendary women, obviously the directorial gene runs in your family. Everyone has a different approach to soliciting parental advice regardless of their field of pursuits, so I'm curious: Was this film something you spoke about a lot with your mother?
I tried to hide it from her actually because we're very connected with work. Obviously that's something I would never want to hide or belittle — I was born with a foot wedged in the door, and I've been trying to keep it there with all my heart because I love this industry and I love what I get to do. I can't claim to deserve it, but I hope I can be worthy of getting to have a career here. I'm not really good at much else, but look, I'd try to be if I had to. The thing is I spent a lot of my youth in the editing room with her because I would not go to school, and film was a real language that we found we could use to actually, truly meet each other.
I was nervous to show her this film because of who she is — because I respect her! And because I wanted to write about mothers and daughters, but I didn't want to write about us, which I haven't, because that would be even crazier. I want to write about things that I have some understanding of and that are familiar to me, but I really make an effort to make sure that those things are a creation because I think people deserve to have characters that they can also bring things to; it also belongs to Jennifer now.
My mom really liked it. She's been a very big supporter even though I've been trying to keep her out of everything. She has a cameo in the film. I felt like, after everything she's done for me, I had to pop her in somewhere. She had her mom in one of her first things, too, so that was really sweet.
This interview has been condensed and edited for clarity.