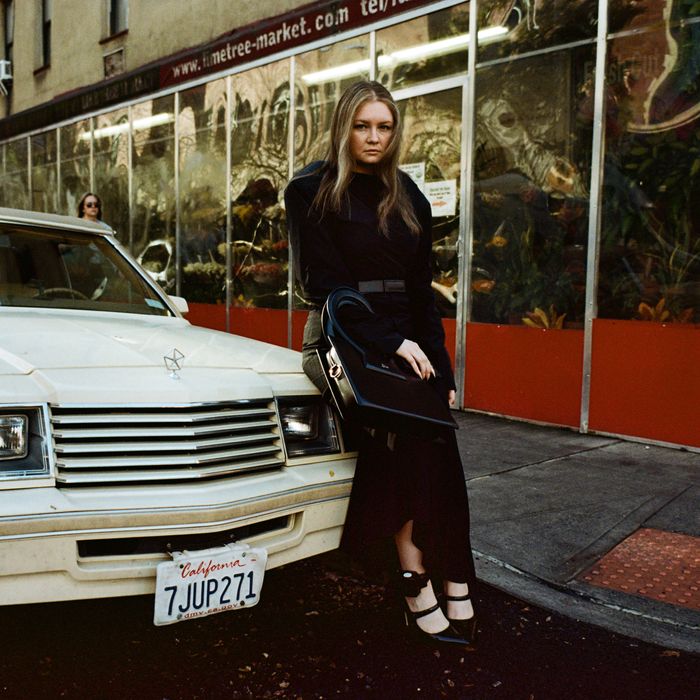 The first thing that strikes me about Anna Sorokin when I meet her in person — after reading about her and watching Julia Garner play her with that elaborate Euro accent — is how regular she is. There's nothing particularly charming or memorable about her, she's not a smooth talker, and she's not really stylish. But she is, in person, surprisingly deadpan funny. Having been behind bars for nearly five years (19 months in Rikers, 21 months in state prison, then 18 months in ICE detention), she has quite a sense of humor about being Anna Delvey.
I tell her that her skin looks great, and she says, "I mean, for being in jail, I have pretty decent skin, just because you stay out of the sun and you don't drink or smoke."
She tells me about her latest house-arrest dilemma: Her wardrobe needs a refresh, but she is confined to her house with an ankle monitor indefinitely, awaiting the decision on her appeal on her ICE release conditions. Which means that she can't go shopping in-person, and, of course, Anna wants to go shopping. "I was trying to get those Givenchy over-the-knee boots," she says, pulling out her phone to show me a photo. "That was a no-go because of this bracelet. I guess no over-the-knee boots for me." Where the money might come from for a pair of $2,000 boots, I'm just too polite to ask.
I meet her at her fifth-floor walk-up apartment in the East Village, which is under construction. (After Googling it on StreetEasy, obviously, I find out it costs $4,000 per month.) It's the sort of "one bedroom" where only the bedroom has windows in it, and the living room and kitchen are in the middle of the apartment with no sunlight. There's not much there: two chairs and a coffee table topped with candles ("I know, it's kind of basic," she says holding up a Baies Diptyque candle). The walls are filled with large framed photos of a pool scene in Miami, a sunset in Los Angeles, and the bustle of Manhattan's Chinatown from a photo series called New York Is Dead, by Dada Shikako and Graham Fortgang, which Anna calls her "windows," since she has none in her living room. There are a few of her own illustrations (of which she claims to have sold about 200,000 prints for up to $10,000 each) and a photo series called New York Women Posters with sayings like "New York women have their nose to the grindstone and ears to the underground." Her fridge, when I poked my head in, is stocked with Recess, Diet Coke, and the latest wellness drink craze, Poppi, which she decides she hates: "It just tastes artificial. I would not order it again. It's too fake."
She offers me a refreshment. I pick a blood-orange-flavored Recess. The second thing that surprises me about her is how nice she is. Which makes her a little less exciting than her Julia Garner counterpart on Inventing Anna responsible for that viral TikTok ("I do not have time for this. I do not have time for you").
At first, I think it's because she likes me — she takes a photo of my nails to show her nail tech, she asks me to send her the link to the jeans I'm wearing (as she's still stuck in her skinny-jean phase from before prison), and she Googled me, telling me that my couch featured in Architectural Digest was "very Rick Owens, chic." After a while, I catch myself and wonder if she might be a little too nice. She is a skilled manipulator of people, or she must have been to have gotten away with half the things she was accused of. Still, I'm a little sympathetic. "I definitely feel like I'm under scrutiny," she says. "I feel like the pressure is on. But I'm just trying to be myself, because I know people are going to talk shit regardless."
To recap, in case you never read the New York magazine piece or forgot your roommate's Netflix password: Anna left Germany, where she predominantly grew up, to live in London (where she attended Central Saint Martins but didn't graduate), then Paris (where she interned at Purple magazine), and finally arrived in New York in 2013. There, she maneuvered her way into the realm of the trust-fund socialite set and was assumed to be one herself, living in $400-per-night hotels, wearing Rick Owens tees and Supreme hoodies, eating at expensive restaurants like Le Coucou — all of which she managed to get someone else, mostly people with actual money, to pay for by convincing them that she was somehow good for it or would be soon when her family money came through. She (almost) persuaded several banks to give her a $25 million bank loan with falsified bank records in hopes of opening the Anna Delvey Foundation, which she envisioned as an exclusive club with a rotating art gallery and a restaurant. In 2019, she was sentenced to four years in prison after being found guilty of eight charges including second-degree grand larceny, first-degree attempted grand larceny, and theft of services and ordered to pay back $275,000 to hotels, restaurants, and a private-jet company.
Anna used her ordinary appearance and carefully studied knowledge of the right hotels, the right restaurants, and the right people as implied proof of her status. Her swindle was the ultimate low-key use of white-woman privilege. Her uniform of leggings, fitted leather jackets, and frazzled hair added to her con. After all, everybody knows that real rich people are a little messy and don't bother to put on airs. They don't need to. They have no clout to chase. "When you're totally overdressed and it appears like you've made a lot of effort, it's presumed that you're just trying to sell something, and it was the other way around," she says. "It didn't take much effort, because those are the clothes I really used to like. I didn't feel like I was playing dress-up. It was just really convenient that the two went along."
And this is how she got away with it: "You have to fit a certain stereotype to be perceived. How do I explain it the best? It's about subconscious biases. When you go back to thinking why you assume certain things about somebody, it's actually interesting. You can explore yourself, because it's, like, Am I just as shallow or as biased as everybody else? If you have to be somebody, you cannot just say, 'Oh well, I'm this random person.' It's all about presenting who you are. It's all about the pitch. I guess just thinking from the other person's perspective, you have to make them comfortable and think, How do they perceive you? And how would they make the choice — based on what decisions? Based on what criteria? And you just try to make it easier for them to give you the answer that you want."
And you know what? In a way, I get it. So much of making it in New York is about faking it till you make it. If you don't believe you belong here — especially if maybe you didn't come from aristocracy — nobody will. I spent years skipping the lines at Fashion Week parties I wasn't actually invited to, announcing that my name was on the list or that the DJ was texting me. Once I got good at it — looking like I belonged — it usually worked. I talked my way into jobs that I didn't exactly have the skill set for but figured it out along the way and stocked my wardrobe at designer sample sales to keep up with the rich girls I worked with who only wore Chanel and Prada they'd paid full price for. If you're wearing the right clothes in the right places and surrounded by the right people, you're suddenly somebody people should know.
I ask Anna if faking it to make it was her mind set. At first, she is a bit defensive. "I think the word fake in connection with me just has a totally different connotation now," she says. I ask her again. "Yeah. I'd be lying if I said I wasn't. But I saw it in a good way. What is really faking it until we make it? It's the ability to learn and figuring things out on the go — and sink or swim."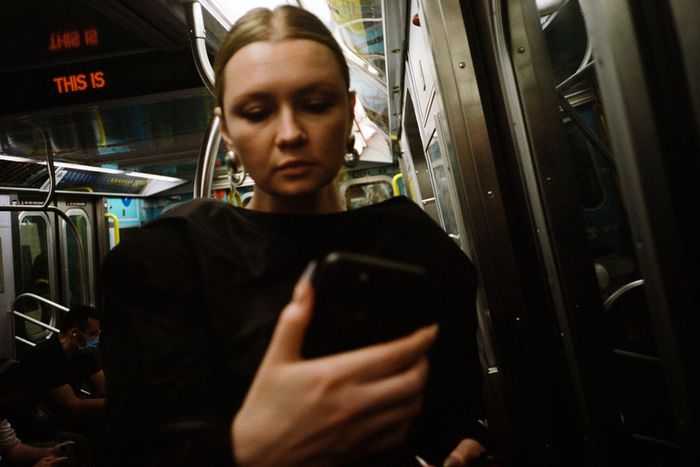 It has been a month since the 32-year-old convicted felon has been released from the ICE detention facility in Goshen, New York, where she spent 18 months as a result of overstaying her visa — starting just six weeks after she was released from New York state prison in March 2021. Instead of making her way back to Germany, she has decided to fight to be able to live in New York. I don't blame her. Where else could she go? This is a city of people famous because of their misdeeds, not despite them. And if nothing else, she was kind of an infamous hero for taking from places like private-jet companies and banks, which have done their fair share of trickery. To make it in the city is to be a hustler.
Her latest hustle is her comeback, of which this conversation is a part. "I feel like the narrative that has been told so far has always been from everybody else's perspective, and now I feel like it's my turn to show what I'm going to do next," she says. "Me choosing to fight my immigration case is more of a testament to my character than anything else, because I feel it's just me choosing to fix this."
According to Anna, she has been approached to be on a reality dating show ("I just don't see any future in it") and The Masked Singer ("I mean, they would find me out in two minutes"). "I'm being very cautious with everything I'm putting my name on," she says. "There are so many people who are living with this caricature version of me, and they are like 'Oh, Anna, say this' or whatever Netflix was trying to achieve, which — I don't blame them, but I'm trying to move away from that. I am wiser about the people I surround myself with this time."
She has a publicist, an entertainment lawyer, an art partner, and lots of ideas. A podcast where she interviews interesting people. A book about her life. A possible law apprenticeship (she is now very well-versed in the law). A dinner-party series where she invites people over to talk about ideas — like a salon. And she still has that spirit of finesse. For example, the dinner-party series was leaked to the press before it was finalized, and once she realized the attention she was getting as a result, Anna pivoted and did an interview with Bon Appétit about it. Anna even came up with the idea for this photo shoot, noting that it would be cool to have her dressed up in contrast to the subway, since she wouldn't be able to come to a photo studio.
On Mondays, Anna goes to her parole meetings — the only time she's allowed to leave her apartment per her house-arrest conditions, which she's currently appealing.
For the occasion, and this photoshoot, she's wearing a Luar outfit, all black, which she tells me is what she misses the most about getting dressed before her time in prison. Anna insists on wearing black four-inch Manolo Blahnik heels for the duration of the shoot — a 15-minute walk to the train, a 10-minute walk to the parole office, and up and down the five flights of stairs in her building. "I only get to come out once a week, so I feel like this is my chance," she says, and she's doing something the old Anna rarely did — taking the subway.
She jokingly calls her parole meetings her Tinder, because everyone is always asking if she's a model or famous or what her name is. The conditions of her criminal parole are that she needs to have an accountant and is not allowed to handle her own bank account or credit card. The conditions of her ICE release are indefinite house arrest and no social media ("They want to set you up and put you in a position where you're most likely to make a mistake," she says. "I guess they don't realize I've been to jail or prison for five years. I didn't have social media.")
It's funny that the Inventing Anna Netflix series made her character so over the top. It was Anna's understanding that Netflix pressed to make her look a bit exaggerated in order to appeal to an audience that might not understand the way an understated look signals class in New York. "I saw some of the pictures. There were pretty interesting clothing choices, but I understand where it's coming from. It's not a documentary," she says. I ask her if she was actually that snobby and rude. "I'm sure I said something like that but not in that extreme," she says. "They made me worse than I really was, but I'm sure it didn't just come out of nowhere."
As for whom she still keeps up, "Obviously, not Rachel," she says. Anna tells me she keeps in touch with Neff David (whose address Anna used for parole when she was first released from prison), Kacy Duke (who wished her "a healthy, happy life ahead" and congrats on her release from prison), and, surprisingly, Jessica Pressler (author of the New York piece the Netflix show was based on, who was coming over to Anna's later that night — off the record — to see her for the first time since she got out). But mostly, Anna's not trying to hold on to the past. "I don't know if it worked out better or worse for me, because I don't know what the alternative would have been. It's hard to talk in hypotheticals," she says.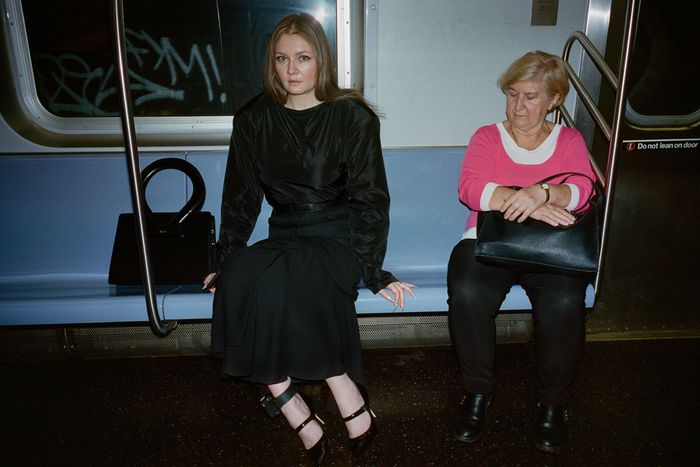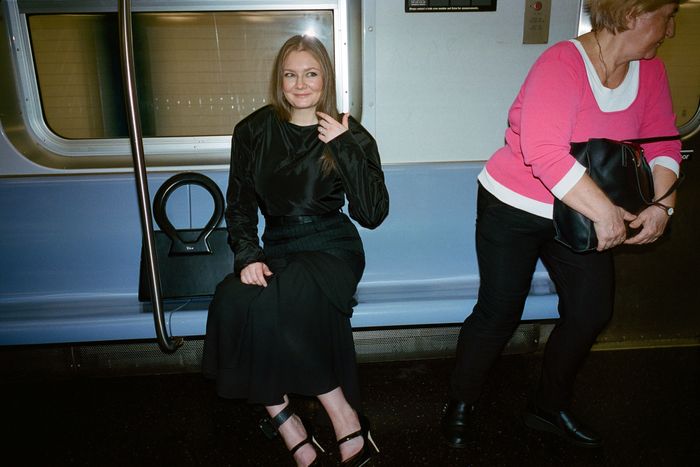 I ask her if she thinks she's a persuasive person, and she dances around it. "I don't know. It's really hard. I think it's a question for somebody else to answer. I feel like I literally had this vision. I thought, Why not ask a bank for some money? And they're going to get it back. And people believed in it." She brings up the fact that Fotografiska took over the building she'd wanted for the Anna Delvey Foundation — Church Missions House, which now includes Chapel Bar, a restaurant, and a photo gallery — proof that her idea was viable. "It's not just even me being persuasive," she says. "Anybody who's in the industry who has experience in any real estate, food and beverage — they saw the potential. I mean, I see myself as reasonable. Let's put it that way."
Was she a scammer? "No, absolutely not," she says. "And hopefully, people won't group me together. Because I feel like my intentions were always to make the financial institutions whole. I feel like if you scam somebody, that person is never getting anything back. But that was not the case for me."
Anna does at least seem to be remorseful, even if she's undoubtedly delusional about how she went about things. "Regret is a complicated word," she says, "as I believe the choices I've made, although both wrong and punishable, have brought me to be the person I am today. A lesson was learned, time was paid, and I feel fortunate that I've been given an opportunity relatively early in my life to try and make it right."
But do we have patience for her? And can we move on? I mean, compared to the Sam Bankman-Fried crypto fiasco, what Anna did was small-time. Plus what else is she going to do? I don't feel scammed. At least now she knows who she is as well as any of us do at 32.
"I'm just not trying to approach it from this position of being a victim, like, 'Oh, poor me. If I were a guy …' But it's just how they write these articles about other men," she says. "It's like, oh, failure is okay in entrepreneurship. I think men — they're being allowed the opportunity to move on way easier from failures, while women have been seen as cunning and deceptive."
I ask her what she learned from her time behind bars. "It's just how arbitrary the system is," she says. "I feel like the regular person just thinks it's, like, 'Oh wow. They have it all figured out' — the government — and they know what's going on. And oftentimes, they don't. It's just so scary how much is being winged."
The thing is that people are pulling for Anna. I am, for one, staying tuned for what she does next. A woman on the subway whispers, asking, "Is that the real Anna?" In response to a nod, she says, "It's okay, you'll figure it out."
Luar Boulder Shoulder Top in Nylon, Black Leather Belt, and Diamond Logo Skirt, inquire at press@luar.world, and Black Large Anna Tote, available at luar.world. Manolo Blahnik Camparinew Black Patent Leather Pointed Toe Pump, available at manoloblahnik.com. Patricia Von Musulin Etruscan Sterling Silver Earrings, available at Bergdorf Goodman 754 5th Avenue, New York, NY 10019. Brandon Blackwood Soza Sunglasses, available at brandonblackwood.com.