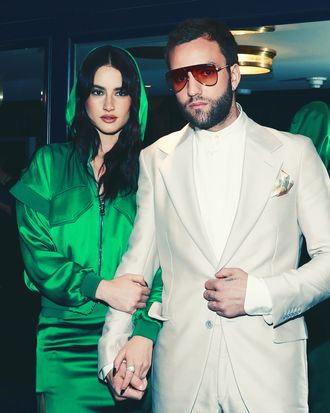 Photo: Jason Mendez/Getty Images
I've never been happier to see a toxic relationship thrive. Or to see the actors who play a couple in a toxic relationship thrive. Tell Me Lies stars Jackson White and Grace Van Patten are apparently dating … maybe.
The actors, who star as dysfunctional college couple Stephen and Lucy in the Hulu show, have been teasing their off-screen relationship for a while. But they finally seemed to make things official with a joint appearance at the 2022 CFDA Awards and with a suggestive Instagram Story.
The actors posed together at the event, holding hands in front of the cameras in a way that would probably have body-language experts declaring them a full-on couple. And just in case we didn't get the message, White gave a cheeky look at how the duo spent their night, uploading a CFDA photo-booth strip to his Instagram Story that appeared to show Van Patten sitting on his lap and giving him a kiss, which he strategically covered up with an emoji.
After their joint appearance kicked dating rumors into overdrive, White doubled down, sharing a photo of the two touching tongues on his main grid. "If we kiss can we get a s2 @hulu," he captioned the photo. Sounds like a fair deal to me! Does this mean they are actually dating? Big fans of Kravis? Or are they just messing with us?
Prior to this event, White and Van Patten had hinted at a real-life relationship. Speaking to E!'s The Rundown a few weeks ago, Van Patten said she had the "biggest crush ever" on White. Granted, she was prompted by the interviewer, who asked if White was her crush "IRL," but, hey, she didn't deny it. Speaking to Entertainment Tonight around the same time, she dodged a question on the nature of their relationship. "Fans should just leave it for mystery, keep it fun," she said. "Who knows?" White was much more explicit during an appearance on the Not Skinny But Not Fat podcast. "I have such a crush on her. I hope that happens," he said referring to a relationship. He went on to call his co-star "the fucking coolest, most grounded, amazing person IRL that you'll ever meet."
Suggestive interviews aside, they've done many other flirty joint appearances, and even shared a duet cover of "In Spite of Ourselves." Either Van Patten and White are publicity geniuses or they're dating. Or they're master manipulators who are taking their onscreen roles a bit too seriously. Whatever it is, I'm hooked.