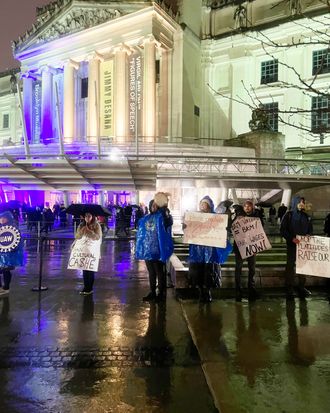 Outside the Brooklyn Museum on Tuesday night, a group of protesters had gathered ahead of the opening of the latest exhibition, "Thierry Mugler: Couturissime." In the unceasing downpour, they chanted, "Ancient art, not ancient wages." The Brooklyn Museum Union wanted to draw attention to contract negotiations on issues that include improving stagnant wages, the reliance on temporary staff, and increased health-care costs, among other things. And they chose a big night to do so.
"Tonight, there is an A-list opening, so we want to be here not to stop people from going in or to stop people from enjoying the exhibit, because our own members worked on it, but to make the public aware," said the chief negotiator for the Brooklyn Museum Union, Maida Rosenstein, who was standing outside the exhibition in the rain alongside staff members.
Inside, there was another scene: Marc Jacobs was chatting with Laverne Cox, who later gave an impromptu lesson on the Mugler outfit Diana Ross wore on the runway: "Learn your herstory!" she said to the disciples who'd gathered around. Kylie Jenner was in attendance as well, shedding the bejeweled Mugler headpiece and corseted dress she wore upon arrival for a roomier Mugler cloak as she was guided through the exhibit, snapping photos and having those nearby brush out-of-place tendrils of hair off her shoulders.
The exhibition features nearly 130 outfits, ranging from haute couture pieces to stage costumes, alongside accessories, sketches, videos, and images created by Mugler, including the iconic vintage 1995 clamshell dress Cardi B wore to the Grammys. Also included is a room dedicated to fragrance, centered on Mugler's scent Angel.
Elsewhere in the museum, guests gathered for the reception and sipped Champagne. Some lamented about the protestors staked outside, curious about what had drawn them there. "I saw the protestors from afar as I was entering the museum for the event. It was such a contrast. You're inside gushing over people's outfits," said Angelina Hazzouri, an attendee. "It often makes me feel a sense of guilt seeing protestors at these kinds of events. There are problems that are trivialized and overridden by the New York fashion scene and its adjacent elite."
Owen O'Brien, a union representative, said he wanted attendees to enjoy the exhibit inside but noted that contract negotiations had been ongoing for nearly a year. "We don't feel the museum's current position on compensation is adequate in recognizing staff contributions," he said. The union is asking for a retroactive 7 percent wage increase for this year and a 4 percent wage increase in 2023 and 2024. "Our front-of-house workers, our part-time workers, are in very precarious positions with little job security and very poor payment."