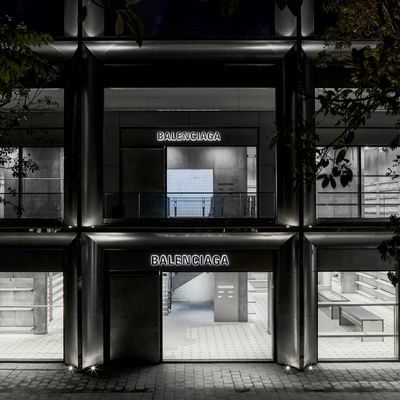 If you don't have a Kardashian-level entourage, it's almost physically impossible to get yourself into the Balenciaga one-piece. Once you slide your body into the legs (and attached boots) and pull the jumpsuit above your torso, you are left strapped in with no hands to zip. So to get your hands into the onesie gloves, you end up needing an extra set.
I found this out while touring the new Balenciaga store in Miami last week. The two-story, 786-square-meter space — sandwiched between high-end fragrance company Creed and Gucci in Miami's design district — was designed with input from label's designer Demna, as well as art director Niklas Bildstein Zaar and architect Andrea Faraguna of the Berlin-based architecture studio Sub. (The store, now the biggest stateside, will house both womenswear and menswear and will offer an exclusive bright-orange color way, as well as onsite personalization. Chic.)
When I walked in, the first thing I noticed was … the half-finished Art Deco floors. I thought it might be a mistake, since the store was not yet open to the public. (It opens today.) But as with everything related to fashion's disruptor Demna, it was intentional. The look is part of the label's "Raw Architecture" concept, which also includes tape on the wall, what looks like a resin spill on the carpet, and unfinished concrete stairs.
The theme of being worn in or unfinished is something that the designer explores in his collections: On the racks you'll find a jacket with purposefully broken buttons and distressed-looking jeans. It's obvious that Demna has a sense of humor, which translates well to the TikTok generation raised on clap backs and memes. (His models' signature stomp has even become a popular TikTok.) Like social media, his past shows are commentaries on the way we live today: Last year, he had a red-carpet scene, featuring models wearing his designs, projected on a giant screen to guests in a theater inside; this year, it was a mud set that was the work of Spanish artist Santiago Sierra, having the models trudge through the dirt in their dresses.
After shimmying my way outside the dressing room, I waited to be zipped in, in three separate places, by one of the shop's staffers. But once I did officially make it into the suit, I got it. I felt like a superhero. My walk had a stomp, and I felt myself wanting to take more mirror selfies than would be socially acceptable. I even put on a boa. That's the Balenciaga effect, I guess. Then it took another person to help me out of it.