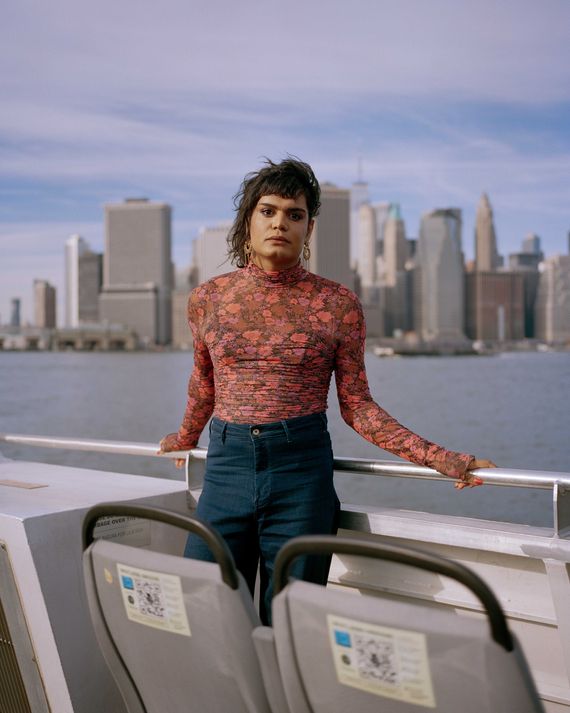 It's hard to believe that Bilal Baig, the self-assured and occasionally self-deprecating star, executive producer, co-creator, and co-writer of HBO Max's Sort Of, would ever have thought they were unremarkable. Seated on the ferry headed for Bay Ridge and sheathed in a stylish trench over wide-leg jeans and a floral mock-necked body-con top, the multi-hyphenate stands out from the other commuters. Beneath their impeccably windswept bangs sit chunky blue art-gallerist glasses that make me reconsider my lifelong preference for tortoiseshell. "I was not sparkly in any way. I was not really noticeable," they tell me, reflecting on their roots. "I was pretty lost but also not traumatized by it."
The surface-level comparisons between Baig and their Sort Of character, Sabi Mehboob, are clear — they're both 20-something, Pakistani Canadian, and nonbinary. But less obvious similarities emerge during our time together in Brooklyn. They share a signature deadpan tone and a playful, lightly sardonic wit as well as a sincerity that is startling for its rarity.
The ferry takes us past the Statue of Liberty, which Baig can't resist snapping a photo of on their iPhone. This chilly October weekend is their first time in New York since visiting on a school trip at age 16. "All I did was go to the M&M's shop and Times Square, basically," they remember. This time around, they still plan on being a little basic — a walk through Central Park is on the to-do list — but this visit has them weighing the possibility of leaving their hometown of Toronto for the Big Apple. "I feel like Toronto is like New York's little sister that's trying and isn't quite there because its identity isn't clear to itself," they say. "But no shade. Or a little bit of shade. I'm starting to feel like I'm outgrowing it."
Baig was an imaginative child who often blended into the background, and when they couldn't avoid detection, they quickly learned to manage it. "I was bullied a lot," they remember as we head toward a sushi restaurant on Third Avenue to warm up. "The tension would get off of me if I was able to do something kind of funny."
Writing their first play in high school awoke something within them, but they never thought of it as anything more than a hobby — "I have traditional Pakistani parents," they say — until a teacher explained that people can indeed make careers out of theater work. "That blew things open for me." They describe their parents as complicated people who were grappling with how to be who they were in a new country, parents who couldn't always offer creative guidance but definitely provided creative inspiration. Baig calls their mom their "muse," and shades of her appear in their work (though they're quick to point out that Sabi's mother is not a carbon copy). "I'll probably be writing versions of her forever because I think she's so fascinating and complicated," they say.
At 23, they debuted their one-person play, Acha Bacha, in Toronto. While distinct from Sort Of, the two projects do overlap. Both examine life at the intersection of queerness, gender fluidity, and Pakistani Muslim culture — subjects Baig says they will always explore. The Toronto theater scene eventually led them to Fab Filippo, who would become their creative partner. "I kind of wasn't interested in television because it's such a terrifying medium," Baig remembers. "While its reach is superpowerful, the visibility is hand in hand with that, and I had understood that there are a lot of mean people who work in television. I've identified now for myself that I'm drawn to the things that terrify me."
Baig and Filippo quickly wrote Sort Of, which first aired on CBC Television in Canada, then on HBO Max in the United States in 2021. Through eight 28-minute episodes, each season runs the gamut of life experiences: the mildly horrific but ultimately amusing tomfoolery encountered when dating; all types of love, from familial to platonic to romantic, and their many complications; the unending journey that is discovering and building one's identity, particularly as a queer person; various forms of grief and loss; and sharply funny conversation.
Like Sabi, Baig is both a romantic and a realist and exudes the sort of quiet confidence that comes from having a deep knowledge of oneself. They deliver Sabi's lines in a Daria-like monotone that's especially effective in the scenes they share with high-energy characters: exuberant bestie 7ven (Amanda Cordner) and Henry and Violet (Kaya Kanashiro and Aden Bedard), the children they nanny. Although Baig was once, in fact, a nanny, they tell me their approach to working with children really developed through their time at a nonprofit called Story Planet. "Children, particularly newcomer children or children of immigrants, hold a really special place in my heart," Baig says. "I could literally see versions of myself in those classrooms. And I could then see the power of being an adult telling those kids that, if they wanted to write stories, they could and that their voice is interesting and someone wants to listen to it."
Care — for children and for adults of all kinds — is what guides Baig in their creative process, connecting their nonprofit background to their theater work to Sort Of and everything in between. "I see care as complicated and nuanced and therefore delicious, and it thrills me," they say. "I can work this out with my therapist, but I have a feeling it's connected to me not feeling cared for in the ways that I needed when I was much younger and for a sustained period of time."
Sort Of's writers' room, with its primarily queer and South Asian staff, operates with the same approach. In the first season, the show's guiding principle was transition. "It applies to everybody: What is their transition?" Baig says.
Season two, which hits HBO Max on December 1, emphasizes love, and Sabi experiences a range of romantic encounters. While their dating life isn't exactly stable, their friendship with 7ven is more solid than ever. "I'm interested in these two people not always being nice to each other, letting each other down in their own ways — and also it being a beautiful and necessary connection," explains Baig. "I'll use this word a million times meaning a million different things, but there's something so queer about these two people having a shared history. In the backstory that Amanda and I built, we imagine that maybe they went to their first Pride together, like those baby queer steps. I think we don't talk enough about friendship love, and in the second season, we really get to do that."
After wrapping up their spicy tuna rolls to go, Baig reflects on the connection between Sabi's self-discovery and their real-life journey with gender identity. At 28, they have reached a point where they are simply exhausted by people who feel a great urge to label and categorize them. To be clear, this is better than denying the existence of trans people altogether, but it can be a form of othering that ultimately misses the point — which is that there are as many genders as there are individuals. "The fucked-up thing is that admitting confusion as a trans person is like, That's what they want," says Baig. "I feel mostly uncomfortable, you know? And I really like comfort."
In conversation, Baig rarely makes total assertions; they'll say they're curious about a guest role, for example, not that they want one. They often use words like maybe, kind of, and, of course, sort of, never as ways to soften what they really mean but because they genuinely aren't certain yet. The assertions they do make are carefully considered, as when they tell me matter-of-factly that, as a Libra, they don't always love being the decision-maker and they're still not entirely sold on becoming a TV star.
"Because I'm fairly new to television, I'm not all the way in yet," they say. "I'm like one foot in, one foot out, you know?" It sounds like a sweet spot: not famous enough to be at the receiving end of excessive, unwanted attention yet still able to make a living creating their passion project. But if that sweet spot sours, Baig knows they would genuinely be happy to go back to the nonprofit work they were doing before. "When I'm feeling these feelings of discomfort, I'm just like, I can end this whenever I want," they explain, knowing they're in the driver's seat. "Right now, it's manageable. The only time I get really freaked out is when I jump a couple of years ahead. What if I do want to make a movie that might be a little mainstream? My tactic is to not think about it until it might happen. It's nice to have my start in television be a bit slow and quiet and gentle."
Baig is brimming with stories to tell, but they haven't lost their comfort with silence. When our conversation lulls, they seem satisfied and even a little relieved to have some space for contemplation. This tendency is reflected in Sort Of, which makes its own space for silence. Despite how much happens in the span of each episode, it's an unusually quiet show. "When I was preparing for Sabi, my world quieted down. There were days where I didn't speak, and I just kind of watched things or thought about things," Baig tells me. "Some of my favorite moments are when they're not actually the most important person in the scene but are present and witnessing."
Waiting for the ferry home, we look out on the water, bracing against the cold, nearly all talked out. Baig offers me their scarf as a makeshift blanket. It feels a bit like the final stage of a sleepover or campfire circle when the space for vulnerability expands just a little. With the wisdom of hindsight, they share one more reflection on how their understanding of their gender has evolved over the years with their changing feelings about other people perceiving their growth: "When I was younger, I thought I needed to be seen in order to feel loved. Now, I'm at a point where I don't want to be perceived at all. I'm good with just existing."