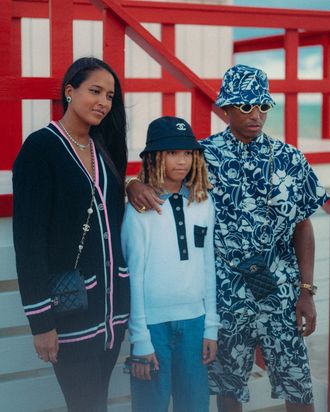 Photo: Courtesy of Chanel
Over the weekend, a celebrity guest list that included Marion Cotillard, Pharrell, and Lori Harvey headed to Miami to see Chanel's cruise collection walk down a beachside runway. The collection, first shown in May at the Monte Carlo Beach Hotel, was shipped from France to the luxurious Faena Hotel in Miami Beach, which was outfitted in Chanel beach chairs and parasols by director Baz Luhrmann and costume designer Catherine Martin for the occasion. The looks shown included Chanel's chic take on a mechanical onesie; suited separates and a checkered one piece bathing suit, all inspired by the Grand Prix.
While, yes, all the celebs wore Chanel too, it's how each styled the French fashion label's looks that stole the show. Harvey showed some of her underwear. Cotillard wore biker shorts and a roomy Chanel button-up. And Pharrell wore a printed Chanel set with bedazzled sunglasses.
But our favorite look was Rocket Williams, the 14-year-old son of Pharrell and model Helen Lasichanh. Rocket wore a Chanel button-up, accessorized with a bucket hat and an old-school cam recorder. Doesn't get cooler than that.
See a roundup of all the looks below.