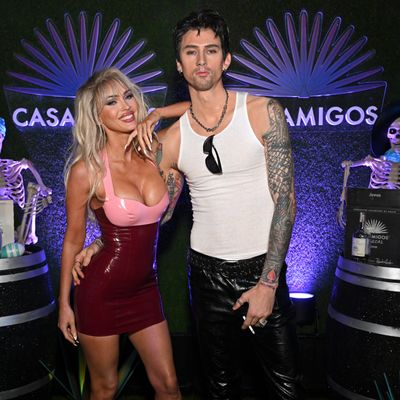 Photo: Michael Kovac/Getty Images for Casamigos
After weeks of pregaming, Halloween is finally here. While you've been stuck at home figuring out how to turn a ring box and a slap bracelet into an Anna Delvey ankle monitor, Hollywood A-listers (and B- and C-listers) have been getting glammed up by professionals to go out — or, in some cases, doing professional photo shoots — in their Halloween best.
Over the years, celebrity Halloween costumes have only gotten more elaborate — from Heidi Klum's Shrek prosthetics to the Kardashian-Jenner sisters' Victoria's Secret Angels wings — and 2022 is no exception. Seriously, just look at Kim Kardashian's Halloween decorations. Here's a look at what celebrities cooked up.
Kylie Jenner
Kylie Jenner's Halloween celebrations began early in the week, when she and Hailey Bieber donned matching bright green body paint while recording an episode of Bieber's Who's in My Bathroom? web series. Then she officially started her Halloween weekend (or, as she called it, "Halloweekend") with an Instagram post showing off her Bride of Frankenstein photoshoot. She followed that one with not one but two Elvira costumes featuring the Mistress of the Dark's gravity-defying hair pouf. She continued her costume bonanza with a red space-cadet outfit — complete with a laser gun and thigh-high latex boots — and a blue-alien look.
Kendall Jenner
Kendall Jenner put a disturbing twist on the sexy cowgirl costume by dressing up as sexy cowgirl from a children's animated film — Jessie from the Toy Story franchise, to be exact. Alterations to Jessie's famous costume included transforming her cowgirl button down into a crop top and her jeans into assless chaps. Cool. The next day, she pivoted to a cucumber costume, posing with a knife to reference that one time she couldn't cut a cucumber.
Heidi Klum
Heidi Klum channeled her boundless Halloween energy into nihilism this year, rolling (literally) into her Halloween party Monday night encased in a worm costume. After writhing around the step and repeat while her husband, dressed as a fisherman with a hook through his eye, knelt next to her, she told reporters the costume was "a little claustrophobic" and ended up walking around the party in a sheer, glittery bodysuit and her prosthetic worm mask. In Klum's words, Happy Halloworm.
Vanessa Hudgens
Vanessa Hudgens famously loves spooky season, and she kicked off Halloween weekend early with a dazzling Black Swan costume. For her first disguise of the holiday, she teamed up with GG Magree to complete an homage to Natalie Portman's 2010 thriller — Vanessa was the white swan, and GG was the black one.
On Friday, Hudgens embraced the black swan, wearing a full black-feathered gown while attending the Thriller Night Halloween Party at the Jackson Family Home.
Megan Thee Stallion and Halle Bailey
Megan Thee Stallion's Halloween look was all glammed up with a side of fake blood. She hosted a Hottieween party on Saturday, and while she didn't post any official photos of her costume, she did share some looks on her Instagram stories, including a video with Halle Bailey, who appeared to be dressed as a Na'vi from Avatar. Later, she posted a more official photo shoot with icy-blonde hair and ears as the manga character Mirko from My Hero Academia.
Chlöe Bailey
Chlöe Bailey went the X-Men route, doing her best Storm cosplay for Halloween. She even got the stamp of approval from Halle Berry, who played the iconic character in four films. On Halloween, she also showed off a Lola Bunny costume.
Muna
Muna took millennials back to 2003 at their concert in Los Angeles on Wednesday night, paying homage to the classic Freaky Friday by dressing up as Pink Slip, the band fronted by Lindsay Lohan in the movie.
Lizzo
Lizzo stunned as Marge Simpson, with full yellow body paint, sky high blue hair and, of course, a green dress. The singer really committed to the bit, and even gave The Simpsons fans the "crossover episode y'all been waiting for" by recreating a Family Guy scene in costume. After that, she dressed up as a popular TikTok video that I have never seen but respect nonetheless and re-created a sexy Miss Piggy photo shoot.
Cardi B
Cardi B also went for a Marge Simpson look, though she traded in the character's signature green dress for a green corset-bodysuit — no pants. Lizzo seemed to approve of Cardi's interpretation, commenting a doughnut emoji and heart-eyes emoji on Instagram.
Sarah Michelle Gellar
Sarah Michelle Gellar may have graduated from playing high-school students, but that doesn't mean she can't have some fun on Halloween. The Do Revenge star got in the holiday spirit by dressing up in one of the Netflix film's high-school uniforms. (Bonus costume: She shared a Spirit Halloween-costume meme of herself called "Bad Bitch Female Protagonist," referencing her iconic roles in Cruel Intentions, Buffy the Vampire Slayer, Scooby-Doo, and I Know What You Did Last Summer.)
Jennifer Garner
Jennifer Garner's kitchen was visited by three ghosts almost two weeks before Halloween, though two of them look suspiciously like the actress in elaborate makeup and the other, like a dog in a sheet.
Kim Kardashian
This Halloween, Kim Kardashian unofficially auditioned to play Marvel's next Mystique (a role previously played by Jennifer Lawrence in the X-Men films). Painted bright blue and wearing what appeared to be a skin-tight latex suit, she stopped by several parties in costume, including one where she stumbled on Joker Diddy (more on him later) and another that wasn't a costume party at all. The mom of four also shared official photos from a Halloween shoot with her kids, North, Saint, Chicago, and Psalm, who were dressed as "The Icons" — Aaliyah, Snoop Dogg, Sade, and Eazy-E, respectively.
Hayley Kiyoko and Becca Tilley
Hayley Kiyoko and Becca Tilley put other couples costumes to shame with their interpretation of Velma and Daphne from Scooby-Doo! Kiyoko actually played Velma in a 2010 TV movie, Scooby-Doo! Curse of the Lake Monster, over a decade before the character was confirmed as gay in this year's Trick or Treat Scooby-Doo! animated film.
Janelle Monáe
What do you dress as when everyone else's Halloween outfits look like your average night on a red carpet? An alien opera singer from a sci-fi movie costumed by Jean-Paul Gaultier, of course. Janelle Monáe took inspiration from The Fifth Element, attending Megan Thee Stallion's Hottiween party as the alien diva Plavalaguna.
Elizabeth Gillies and Ariana Grande
Ariana Grande and her longtime BFF Elizabeth Gillies recreated not one, not two, but four separate scenes from Best in Show, with both playing multiple characters. (Grande, of course, brought out her Jennifer Coolidge impression, opposite Gillies' Jane Lynch.) According to Gillies, they filmed the bit in May, but decided to share it for Halloween.
Diddy
Diddy committed to the bit, completing his Heath Ledger-inspired Joker costume with fake machine guns, a terrifying voice, which he used to greet a bemused Tyler the Creator in the street.
Ciara
Ciara and her daughter, Sienna Princess Wilson, paid homage to the Williams sisters by recreating their Got Milk ad.
Megan Fox and Machine Gun Kelly
Megan Fox and Machine Gun Kelly re-created the early days of Pamela Anderson and Tommy Lee. MGK even snorted fake cocaine off of Fox's breasts, just in case you didn't fully buy it. They debuted a sexy Christian bondage getup later in the weekend, which showed MGK holding a leash attached to Fox's neck and feeding her a "communion cracker." Needless to say, actual Christians were not happy.
Chrishell Stause and G-Flip
Chrishell Stause and G-Flip might have won the title of Best Couples Costume this year when they dressed as each other. As seen on Stause's Instagram stories, they didn't just wear each other's clothes, they fully swapped lives (sorta), with Stause singing in the studio and G-Flip even ringing the famous Selling Sunset bell. G-Flip's Chrishell costume was so good, she even fooled some tourists doing an LA bus tour.
Keke Palmer
Icons beget more icons. Not only did Keke Palmer dress as Rapunzel and X-Men's Rogue, she staged elaborate photo shoots for each costume. Does it matter if she even went out?
Lori Harvey
Harvey blessed us with five different Beyoncés this weekend, replicating three looks from the "Me, Myself, and I" video and then two more from "Check on It." She also posted videos recreating specific choreography from each video. A thorough queen.
Olivia Rodrigo
Rodrigo took things a little further back than the early aughts, arriving at Kendall Jenner's Halloween party dressed as Betty Boop.
Alicia Keys
Alicia Keys used her powerful braid to create the enormous ears and a tail of Beerus from Dragon Ball Z.
Kerry Washington
Washington deserves a Grammy for this Lionel Richie wig alone.
Rachel Zegler
According to Zegler, Halloween is her superpower, which she used this year to re-create Julia Roberts's Pretty Woman outfit.
The Jonas Brothers
The Jonas family absolutely murdered Halloween. Joe was Flo from Progressive, but his fedora-loving little brother Frankie truly knocked it out of the park: He and his girlfriend dressed as Joe and Taylor Swift circa 2009.
Lili Reinhart, Madelaine Petsch, and Camila Mendes
The Riverdale girls took on the Hocus Pocus witches this year. Am I sensing a crossover?
Kelly Rowland
Comic characters were huge this year. Kelly Rowland dressed up as Michelle Pfeiffer's Catwoman but has yet to let us know whether she can jump rope with a whip.
Billie Eilish and Jesse Rutherford
Billie and her newly confirmed boyfriend Jesse Rutherford dressed as, respectively, a baby and an old man. Sure, okay? A photo dump from the weekend revealed she went to a different event as someone covered in blood.
Kravis
Kourtney Kardashian and Travis Barker leaned into their newlywed status as the bride of Chucky and Chucky, respectively.
Harry Styles
Styles performed his "Harryween" concert in L.A. dressed as Grease's Danny Zuko, where he sang a rendition of "Hopelessly Devoted to You" in an appropriately bedazzled tank top and leather jacket. He also accepted another alter ego by acknowledging a "Daddy" sign one fan was holding.
Nicki Minaj
It's still unclear if Nicki Minaj actually stepped out of her house in costume, but she posted two (very different) Halloween updates: first, a Photoshopped series of her son and husband doing a version of Honey, I Blew Up the Kid and a slightly less family-friendly Cinderella costume — complete with butt-cheek holes.
Lil Nas X
You can't say he doesn't have the range. Lil Nas X rolled out a truly eclectic mix of costumes on TikTok, including a Suite Life of Zack & Cody "reboot," Dark Danny from Danny Phantom, and rapper Ice Spice. I wonder what his wig budget was?
Julia Fox & Co.
Fox and her friends dressed as the monsters from Where the Wild Things Are with her son starring as the story's protagonist, Max. They hit Klum's party in the same outfits — which is fine because if anyone is going to make a children's book look edgy, it's this crew.
This post has been updated.