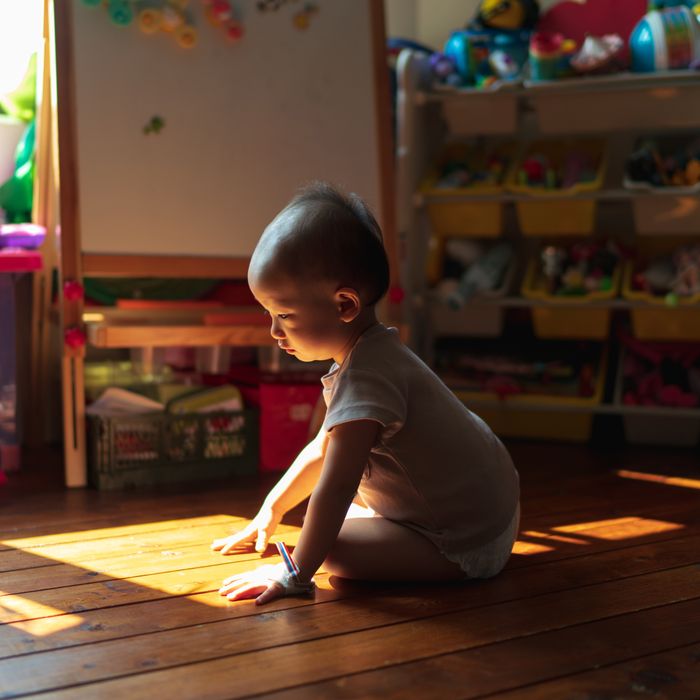 Photo: Koh Sze Kiat/Getty Images/iStockphoto
The first time I dropped my daughter off at day care, I couldn't think straight. After spending the months after her birth caring for her around the clock, I felt like I had suddenly abandoned her. What I didn't expect was how quickly I would come to love it. My days were no longer an endless slog of feeding and trying to get the baby to stop crying. I started to recognize myself again and actually look forward to the time I spent with my daughter. It wasn't totally clear what she did all day, but she seemed happy enough when we picked her up.
Of course, that child care, which allowed me to do my job, came at a cost: $16,500 a year. It turns out that's actually cheap. According to the Treasury Department, child care is unaffordable for more than 60 percent of families who need it. Parents I spoke to in recent months reported spending anywhere between $15,000 to $25,000 a year to send a kid to day care — and far more if they have multiple children. In much of the country, day care costs more than in-state college tuition. Many families spend more on child care than they do on rent.
America's child-care infrastructure was broken before the pandemic, but the past few years have pushed it to the brink. Now, as more employers expect workers back in the office, a perfect storm of day-care closures, staffing shortages, and inflation have made finding affordable child care harder than ever. Since the end of 2019, nearly 16,000 child-care facilities have shut down permanently and 100,000 workers have left the industry for better-paying jobs. Centers that have managed to stay open are struggling to retain staff and make ends meet as costs rise with inflation. The result is a disaster for just about everyone. Exorbitant prices for parents still translate to poverty wages for workers, since caring for young children is laborious and regulations require low caregiver-to-child ratios. There also aren't nearly enough spots; Vox reports that day-care wait lists in several states are currently in the tens of thousands.
By now, it's clear what happens when parents can't find reliable, affordable child care. Millions of women lost or left their jobs at the height of the pandemic; there are still 808,000 fewer women in the labor force than February 2020. Child-care shortages have made it particularly challenging for women without college degrees to work. More often than not, the mothers I talked to for this story told me that the cost and difficulty of finding child care had made them consider leaving their job.
These days, it's common to get on the wait list for day care when you're still pregnant. Even so, one mother I talked to in Pittsburgh had to wait nearly two years for a spot at the day care where she wanted to send her daughter. When she had to go back to her job as a software engineer, she felt like the only option was to enroll at a lower-quality facility while waiting to get into the one she really wanted. "It was a very small room with a kind of sad playground, and there was really high teacher turnover," she says. She was so unhappy with the arrangement that when she got laid off, she decided to stay home for six months until they got off the wait list. Another mother in San Diego told me about a friend who was already paying close to $2,600 a month to hold a spot for her child who wasn't even born yet.
Meanwhile, prices continue to rise with inflation. One mother who lives outside of D.C. was recently informed that day-care tuition for each of her kids would be going up by about $100 a month. For a 4-year-old and a 1-year-old, the bill comes out to more than $41,000 a year. A mom in upstate New York said she's been paying her nanny an extra $30 a week to help cover rising gas prices. At $20 an hour, the cost of full-time care is nearly $45,000 a year, which is 60 percent of her salary as an advertising copywriter. "When I told my sister how much I was paying, she was like, 'Are you kidding me? How do you afford that?' I was like, 'I don't. I'm living paycheck to paycheck.'"
For Michelle, paying $1,600 a month for her daughter to go to day care was more than her mortgage in Denver. "When I got back from maternity leave, I literally went to my supervisor and said, 'What do I need to do to get promoted?' My husband started taking on side gigs. We both really hustled." Michelle and her husband decided they could only afford to have one more child — and then they got pregnant with twins. "After I found out, I didn't sleep for like, five nights," she says.
Michelle is an immigration specialist and also the primary breadwinner in their family. If anyone was going to quit to provide child care, it would be her husband, but she wasn't sure she wanted that either. "I feel blessed that we have a very egalitarian marriage," she says, and she worried how either parent leaving the workforce would impact that dynamic. "Right now, it feels like we both go to work and come home and we're on an equal playing field." For now, Michelle and her husband are getting help from their families to foot their day-care bill, which is more than $51,000 a year for three kids. She's counting down the days until they turn 5 and can attend public school — though even then, many parents still find themselves paying for after-school care and summer camps.
Many mothers I spoke to were unconvinced that the trade-offs they had to make to keep working were worth it. "I really struggle with the fact that my entire salary pretty much goes to day care," said one mother who works in client services and pays $875 a week to send her two kids to day care in Chicago. "I'm not a teacher. I don't think I have the capacity to keep my kids engaged and learning all day. But then I have days where I'm drowning in work. There are a lot of moments where I'm like, Why am I basically working so that my kids can go to day care, when I don't have a ton of passion for what I'm doing?" 
The boomers in our life have been horrified to hear that on the rare occasions my husband and I go out without the baby, we pay a sitter $20 or $25 an hour. "Can't you just find a teenager?" they ask. They're right that paying close to $200 (including cab fare and tip) for someone to put our daughter to bed isn't sustainable. But I've also been disturbed by how prevalent the assumption is that we should pay the person entrusted to care for our child as little as possible.
In practice, though, I'm not much different. I have not asked how much the teachers who work at my daughter's day care are paid, but judging by the turnover, I know it's not enough. The average child-care worker in the U.S. makes around $13 an hour. Around 95 percent of child-care workers are women; more than a third are women of color. When I drop my daughter off at 7:30 a.m., I exchange smiles and thank the women who will care for her for the next nine to ten hours. But I also feel uneasy. I know I'm getting the better end of the deal.
I resent that I'm participating in a child-care system that exploits its workers, but it's also not clear to me what I could do differently. When we were first considering our options, my husband pointed out that if we paid a nanny $20 an hour, we would quickly blow through our savings. The same would have been true if I'd left my job and we'd had to rely on one income. Day care didn't exactly feel like a choice: It was all we could afford.
"Poor baby, why does she have to go to day care?" my neighbor, an older Russian woman, said recently when I mentioned my daughter had caught hand, foot, and mouth disease there. "Can't Grandma watch her?" I appreciated that she didn't say, "Can't you watch her?" But she was still making a lot of assumptions: that me or my husband have parents who live nearby (we don't), and that they don't have health issues or jobs or interests of their own that would preclude them from being available for full-time child care.
In the U.S., about half of children under age 3 are cared for primarily by their parents. Whether the relative providing care is a mother or a grandmother (because, yes, it is usually a woman), even if their labor is unpaid, it's a lie that it's free. In addition to lost wages, women who leave the workforce to care for children lose access to their employer's health insurance and retirement programs. They may find it harder to find a new job later or be penalized with lower earnings, exacerbating the gender wage gap.
Treasury secretary Janet Yellen has called child care "a textbook example of a broken market," and experts agree that subsidization is necessary to save the industry. Biden's Build Back Better legislation would have provided universal preschool for all 3- and 4-year-olds and expanded access to high-quality child care for low- and middle-income children. These programs ended up being cut from the Inflation Reduction Act, along with proposals for paid leave and child allowances, largely over concerns from Joe Manchin about the size of the bill. But there is a lot of precedent for this: In addition to just about every other rich country in the world, which heavily subsidize care for young children, the U.S. funds public education for children once they turn 5. According to the Treasury Department, the U.S. spends less than $500 a year for children under 2, compared to $12,800 for children ages 5 to 18. Child care in the military — which is supported by over $1 billion in Defense Department funding a year — has also been touted as a model for how universal child care can improve quality, worker retention, and wages while also cutting costs for families.
There are some subsidized child-care programs available to low-income families, but they only reach a fraction of eligible children. After spending the first year of her son's life caring for him full-time, Meredith, a dancer and adjunct professor living in Philadelphia, discovered that her family qualifies for free day care through Early Head Start. She says it took months of research, and the eligibility is stringent: To qualify for free day care in Philadelphia, a family of three must make under $27,000. But since Meredith got access to it, free day care has been a godsend. She sends her son for four hours each morning while she teaches and does admin work. "It's only been a couple weeks since he started, and I'm still totally amazed at how much mental space having child care opened up for me."
When I think about the sheer amount of time my daughter spends at day care just so I can be glued to my computer, I wonder if someday I'll look back on the early years of her life and think I made the wrong choice. My own mother often tells me that being a stay-at-home mom was the best decision she ever made. But I know that I've been far happier since my daughter started day care, and I think it's good for her, too.
I've seen people roll their eyes at the idea of babies and toddlers going to "school," but for parents who use day care, that's undeniably what it is. My daughter is 2 and absorbing information about the world at a stunning pace. She returns from day care singing songs she learned and recounting minor dramas (usually involving hitting and time-outs) with her friends. It's a thrill to pick her up and hear her classmates shout her name as she waves, "Bye! Bye!" I'm glad she spends her days surrounded by other children. I want her to have a life outside of me. In our case, it's hard for me to believe that either of us would be better off spending 24/7 together.